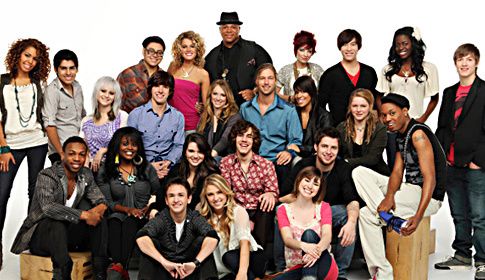 As I sit and wait for this season's American Idol to finally get started, that familiar buzz starts taking hold. The excitement at getting to know some new talent is a wonderful thing. You never know, on Idol sometimes you will find it, and sometimes you won't. But it is the process that can be so exciting and exasperating. Will we find someone to watch for the season, or maybe even long after? Thursday night, 2 girls and 2 boys will be leaving, and one hopes it isn't your favorite.

Oddly enough, it is also nice to see Ryan again. I am sure that will pass quickly. He introduces the girls, and waves at the boys before introducing the judges, Simon Cowell, Randy Jackson, Kara DioGuardi, and in her first live show, Ellen DeGeneres. Ellen releases the tape of Simon groping her, and like many things on Idol, it goes on just a bit too long.

First up is Paige Miles, who talks about wiping snot from kids noses, and singing with the King of Pop's background singers. She chooses to sing a 1973 rock song, All Right Now, by the British band Free. Lead singer Paul Rodgers wailed on that song, and is tough to top. I was rather unimpressive, ended with the big note. Simon loves her, not the song. Randy, Kara and Ellen basically agree with mixed results. Next up will be Ashley Rodriguez. She is a 22-year-old student and a huge Jordin Sparks fan, and singing a 2009 song of another diva, Leona Lewis, with Happy. She struggles a bit with the opening, a bit too low for her, and seems at her most comfortable when she is wailing on the notes heavy. Kara starts, pointing out there were highs and lows of the performance. I mean, do you really wanna name check two singers crowned on Simon's reality shows right off the bat?

Up third is Janell Wheeler, a 24-year-old wine salesperson from Florida. She sings What About Love by the band Heart. Wow, taking on Ann Wilson, that is brave. This is not working out for her. She flies in and out of tune throughout the chorus, and even on the perceived glory notes. Randy leads the opinions, and was mixed, thought the song was bad choice. Ellen liked her the best, the others all disliked the song choice. Soon we have Denver's Lilly Scott, a struggling artist who lived out of her car prior to American Idol. She is singing Fixing A Hole by the Beatles from the 1967 Sgt. Pepper Lonely Hearts Club Band album. Interesting choice. She is the first to bring out a guitar. She gives it her own quirky spin, and does rather nicely. I like her. Ellen kicks off the reviews with a rave, which keep on coming. Apparently, this is the start of a Beatles parade, as the next two ladies will also be pulling from that catalog.

Nineteen-year-old Iowa native Katelyn Epperly is on next and sings Oh Darling from the Abbey Road album. She does rather decently, although Simon likes her but thinks it was a bit of a mess. She gets props from Kara and Randy, and from Ellen, too. Somehow, the whole things turn, and it is all about Kara, who calls herself a bitch. Judges, this is a show about the singers, remember? Haeley Vaughn is a 16-year-old from Colorado, and was very excited to get her nose pierced. Woohoo. She is singing I Want to Hold Your Hand, from 1963. She is big voiced, but slips all over between on key and off. She mixes up the song a bit and plays her guitar, which was nice, but hitting all the notes would be nicer. Kara leads by pointing out there were some issues, but the personality is so big. Randy and Ellen agree, but Simon calls it a mess, and she was like a wind-up doll.

She of the brilliant red hair, Lacey Brown is a 24-year-old singer from Texas. She chose to sing Landslide by Fleetwood Mac. Yikes, this isn't working for me. There are all kinds of quirk and key issues going on there. It gets better, but not great. It was rough for me. Randy thinks it was the wrong song and pitchy. Ellen thinks she is better than that performance. Simon thought it was depressing to think he had to listen to the whole thing. Kara resorts to the fact she is pretty [Paula flashback!]. Ooooh, Katie gets her first pimping. Michelle Delamore is a 22-year-old Miami-based singer/retail sales rep, and a gorgeous girl. She performs Fallin' by Alicia Keys. Alicia had a hit with it in 2001, and Michelle changes it up some, adding a bit more jazz flavors, but maintains the diva side as well. Ellen says it is fantastic but push harder. Simon liked it, but felt it was karaoke. Kara says she lacks believability. Randy wants risks. Of course, they shoot down risks usually, but they always want them.

Didi Benami is a 23-year-old from Tennessee but now lives in Los Angeles. She sang Kara's song, her highlight, aside from tears. She sings The Way I Am by Ingrid Michaelson. Wow, another quirky indie/folk girl. There were a few rough spots, but basically it was good. Simon thought the song was dreary. They all think it was nice, but lacking. Glass-blowing apprentice Siobhan Magnus sings Wicked Game by Chris Isaak, a great artist. She does an interesting job, and it is sung well, kind of nice in a night of wailing diva wannabees. Kara brings out the quirk card, but thinks she is in the moment. Randy wants big songs and big voices. I'm shocked. Ellen loved it. Simon is not as enthused. And a tad confused. I like that.

Only two more ladies remaining, and they are both highly anticipated. Both had a lot of screen time during Hollywood week. Ryan reminds us on Thursday, people will be going home. Subliminal message is but not these two, people, be real!

Twenty-four-year-old Crystal Bowersox is a singer/songwriter from Ohio, as well as a mother of an infant. She sings Alanis Morrissette's Hand In My Pocket from 1995. She nails it, complete with the guitar/harmonica instrumentation. Randy loves her. So does Ellen. Simon thinks she can do much better. Kara loves her, but thinks she has greatness to deliver. That leaves 17-year-old Katie Stevens, who has seen more pimping by the producers than anyone this season. They really seem to like her. She is a high school student from Connecticut, and helps out with her Grandmother. She sings Feeling Good, which Seacrest attributes to Michael Bublé, and he already gets on my nerves. Come on, that is not even the best version of that song. There is Nina Simone and Muse, for God's sake. Well, big-voiced Katie does a nice job. Ellen loved it, but wants her to be cute and younger. Simon agrees. It was a big pageant-like. Kara is stunned she was so pitchy, but adores her. Randy felt she was pushing so hard, it was going sharp. She agrees with the judges.

So, if I was to guess who was safe from this group, it would be tough to say. Lilly would be my choice for best of the evening. Katie, Crystal, Siobhan, Lilly, Michelle, Haeley, and Katelyn are definitely safe, as, I would guess, is Didi. That leaves Paige Miles, Ashley Rodriguez, Janell Wheeler, and Lacey Brown to fight it out on the bottom. There will be two girls leaving on Thursday night, and it will be interesting to see how the voting goes.