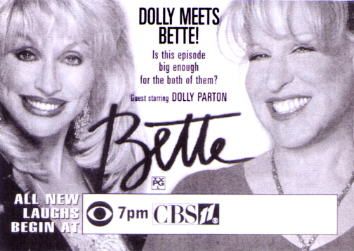 In 2000, Bette Midler had a short-lived television series,
Bette
. In the third episode, she had Dolly Parton guest star, and they performed Patty Griffin's
Moses
was performed as a duet on the show, with Parton also playing the guitar. The harmony is magnificent. I'd like to thank Rich Overton of RJO Artists Relations and Management for tweeting about this clip. You can follow him at
@RJOArtists
.