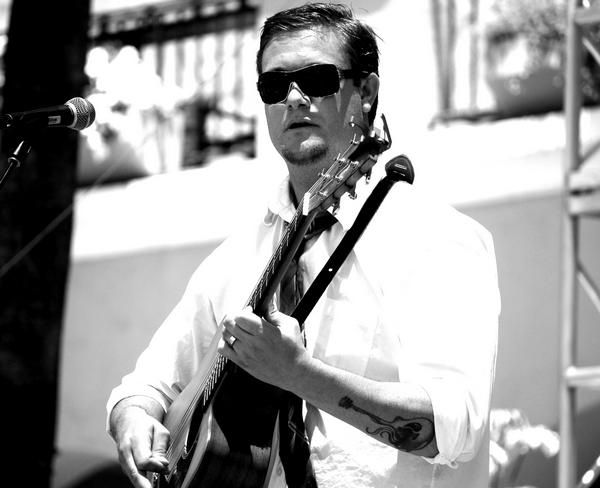 Here is another musician I found on Twitter, via my friend @bsayasane. She sent me to his MySpace page and I listened to a couple of songs and liked them, so I purchased
The Coffeehouse Rebellion
from iTunes, 7 songs for just $6.93. But before I dive right in, perhaps I should offer up a bit of background about Chad, at least what little I know. Chad is from the San Diego area, and, as the headline implies, is married singer/songwriter. According to his blog, he is also a stay at home and a very proud father. He also produces a local artist showcase, an open mic night spotlighting San Diego area artists, with is fully booked months in advance. Yep, he's a busy guy. He has an acoustic folk feel at heart, showing the influences of Dylan as well as those of Crosby, Stills, Nash and Young. He delivers his music with a slight quirk in both singing and cadence, but I do enjoy that quirk. I'll start out with giving a taste of his music, although this song isn't on the debut. This is
We Got Love
, an obviously personal and truthful song.
The Coffeehouse Rebellion
is a seven-song offering that kicks off with the highly enjoyable
Ride Back To Your Heart
. This jaunty number talks about how a person can strand themselves out in the wilderness, hoping to find their way back to the one they love to help ground them. Next up is
All I Have To Give
, another song of love, this time defining the ground rules, giving your all for love.
The Coffee Song
comes on next, another up-tempo song that is autobiographical, a day in the life of a stay-at-home Rock Star in need of that first cup of coffee. The fourth cut,
House Ain't A Home
, slows it down a bit, acknowledges it isn't the structure that makes a home, it is the love inside it, discovered because of a broken relationship. If I were a betting man, I would think this song were written for his wife.
She Don't Know
is a confessional, talking about his love. 'She don't know what she's doing' to me.' The next to last song is
Give Up Everything
, "Can you feel what I feel? Cn you sing what I sing? Can you dance to the beat of my heart?" This is a lovely up-tempo love song, so very heart-on-your-sleeve. Finally, there is a classic folk/blues number, a story way too common during tough financial times.
Dead Man Walking
tells the tale of the helplessness as bills piles up and the calls start to come in. Yet you still have to figure out how to make it work for your family. Here it is on video from a live show.
Finally, I wasn't sure if I would include this or not, but just the truth of it all convinced me I must. The song is also not on the album, but it was written when his daughter was born.
I'm Your Daddy
is just that sweet song for her, and the song most would love to have their daddy sing to them at some point.
Chad's MySpace page
here
. If you'd like to purchase his debut release,
The Coffeehouse Rebellion
, from iTunes, click
here
. Also, you might enjoy his blog, Stay at Home Rock Star, found
here
. You can find a more complete schedule on the MySpace page, but in the meanwhile, this is his schedule coming up.