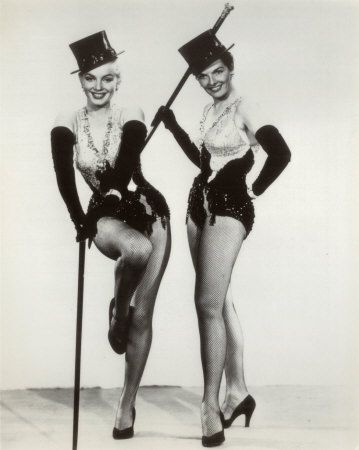 The 1953 movie was everything a movie was supposed to be: sexy, musical, sparkly, with one of the gayest scenes of all the 50s movies ever. Starring sex goddess Marilyn Monroe and the evocative Jane Russell, I couldn't resist watching it on Sunday morning, and knew I wanted to do this post. It was based on a novel by Anita Loos, who later went on to write the story for the 1949 Broadway musical starring the irrepressible Carol Channing. The film combines the music of songwriting teams Hoagy Carmichael & Harold Adamson and Jule Styne & Leo Robin. The songs by Styne and Robin are from the Broadway show, while the songs by Carmichael and Adamson were written especially for the film.
The story is a classic one - two best friends/show girls, Lorelei Lee and Dorothy Shaw, take a cruise to find themselves new men, in Lorelei's case, a wealthy one. Hilarity and musical numbers ensue. It starts with Dorothy and Lorelei [Russell and Monroe, respectively] singing how they are just
Two Little Girls From Little Rock
.
Two Little Girls From Little Rock
Before leaving on the trip to Paris, Russell & Monroe say
Bye Bye Baby
to their friends and loved ones, along with everyone else on the cruise.
In a scene that I think could be the gayest ever, Jane Russell sings
Ain't There Anyone Here For Love
with a background of buff Olympic gymnasts in nude-colored Speedos exercising, wrestling, and posing to the music. Oh, daddies!
In
When Love Goes Wrong
, Russell and Monroe expound the pain of lost love in a Paris cafe with a blues song, complete with children cheering them on.
Having been disappointed by her fiancee, Monroe performs a song tailored to her character's heart,
Diamonds Are A Girl's Best Friend
. Some might thing this looks remarkably like a Madonna video, but I feel the need to point out this was shot before Madge was even born.
Russell does her best Lorelei Lee drag to fool the French court that she is Monroe, complete with a reprise of
Diamonds Are A Girls Best Friend
. She does it up!
The journey complete, the ladies have met their goals. Fifties musicals always have tidy endings!
The End