In 1996, a little musical opened that might very well have changed the landscape on Broadway forever. It was named 'Rent', starring a cast of relative unknowns, most of whom went on to much more. They were Taye Diggs, Wilson Jermaine Heredia, Jesse L. Martin, Idina Menzel, Adam Pascal, Anthony Rapp, Daphne Rubin-Vega and Fredi Walker. The show ran for 12 years, until 2008.
To quote Wikipedia, "'Rent' is a rock musical with music and lyrics by Jonathan Larson based on Giacomo Puccini's opera 'La Bohème'. It tells the story of a group of impoverished young artists and musicians struggling to survive and create in New York's Lower East Side in the thriving days of Bohemian Alphabet City, under the shadow of AIDS."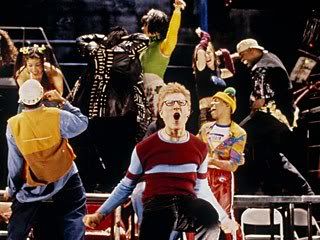 The first video clip is video of the opening night performance of "Today 4 U", featuring Wilson Jermaine Heredia, who won a Tony for his portrayal of Angel. The quality isn't great, but it was the opening night!
The second clip is when the entire original cast flew to Chicago for the 1996 Democratic National Convention to perform "Seasons Of Love", a truly great song. The lyrics are so beautiful I used them at my sister's wedding when I made the toast at the reception, as I was her 'maid of honor.'
Just amazing!