UPDATE: Part 2 found
here
.
So, on Friday afternoon there was a change of plans when I received a phone call from my friend Rickey, and we had tickets for the American Idols Summer Tour. So I headed to my sister's home after the Aiden James concert in Philly, and woke up Saturday morning in New Jersey. I chatted with the kids, and had some fun, and got ready to go to another show.
Rickey is the blogger behind the hugely successful
Rickey.Org
, a must-visit site for American Idol fans. Rickey and I have been going to the AI concerts for the last three years, and this made four. I have been his unofficial photographer, taking pctures of the show and if he meets up with the idols. I also guest blogged for him about the show, offering my own instant impressions of the performance and results shows. So there we were, in the Prudential Center in Newark, going to another show.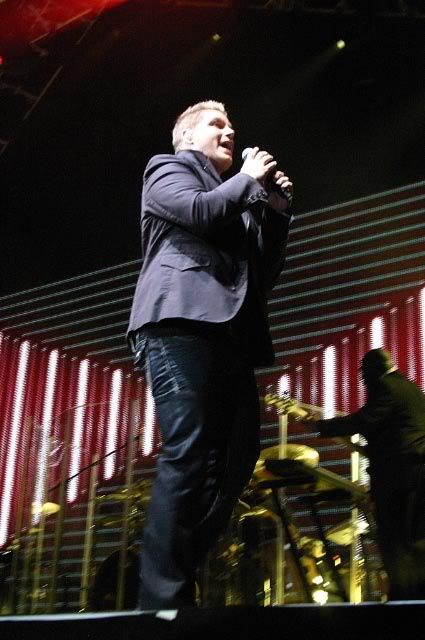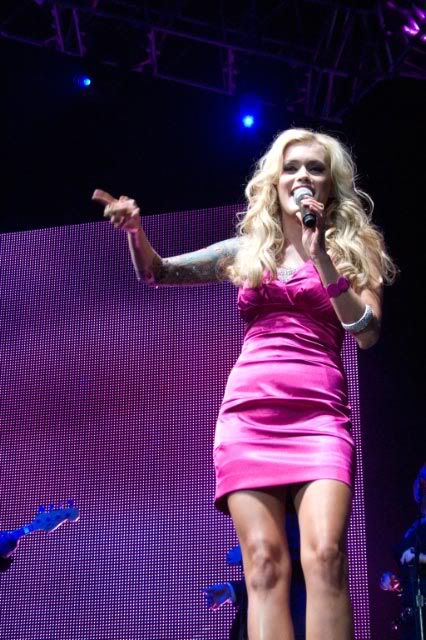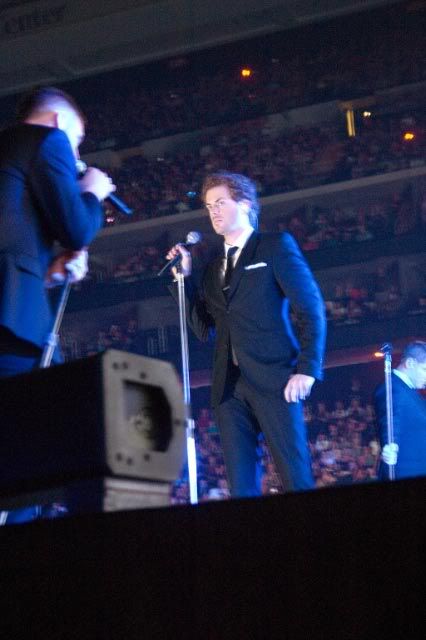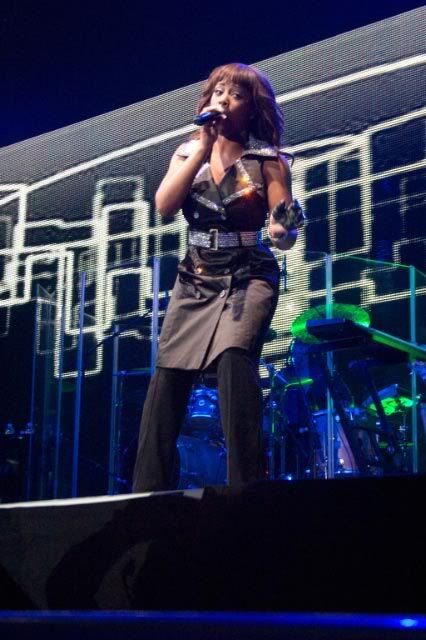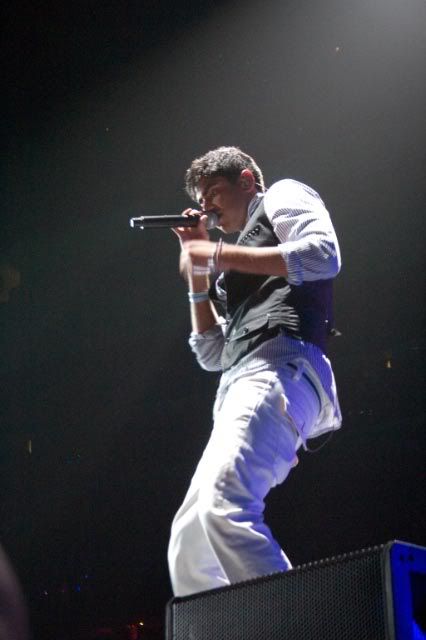 Top Row: Michael Sarver, Megan Joy, Scott MacIntyre
Bottom: Lil Rounds, Anoop Desai, Matt Giraud
So, Rickey and I had front-row seats on the on the side of the stage, with a nice view of the stage. While sitting there, several fans came up to get pictures and a moment with Rickey - in this world, he is a rock star. The show started, with Rickey Twittering away, having an open cell line for a cell-cast online, and taking pictures/videos. Yep, he was busy. I was there with my camera taking pictures, a veritable underachiever in the scenario. LOL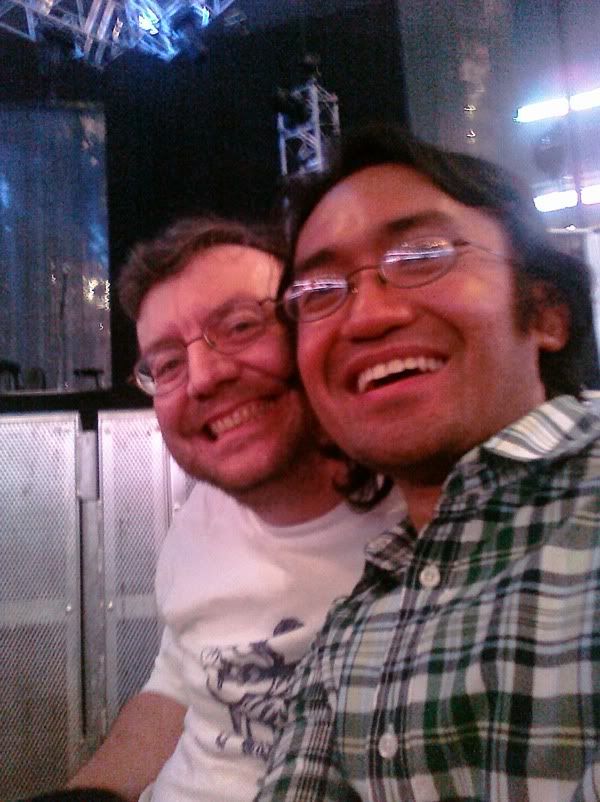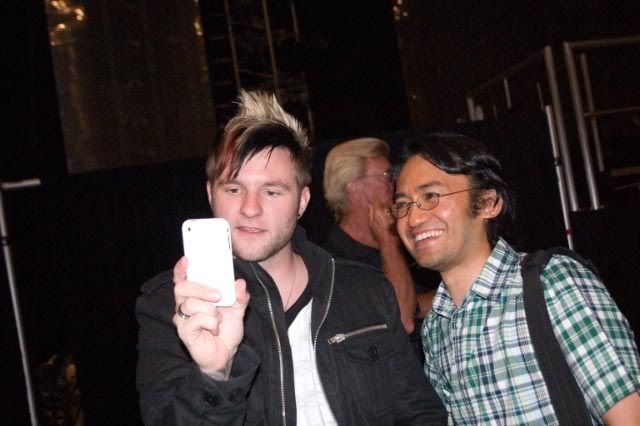 Me & Rickey in our seats [photo by Rickey]; Rickey with Blake Lewis
While there, Rickey was also getting Tweets and reports that Blake Lewis, second place winner in Season 6, was there and wanted to see him. We stopped to see him after the crowd gave him some breathing room after the show. He said he was out to promote some new music, and decided to catch the show since he was in the area. The first act of the show featured the performers who finished in 10th thru 5th places, Michael Sarver, Megan Joy, Scott MacIntyre, Lil Rounds, Anoop Desai and Matt Giraud. After each sang a couple of songs, the six ended it with a group number that included the dueling pianos of Giraud and MacIntyre.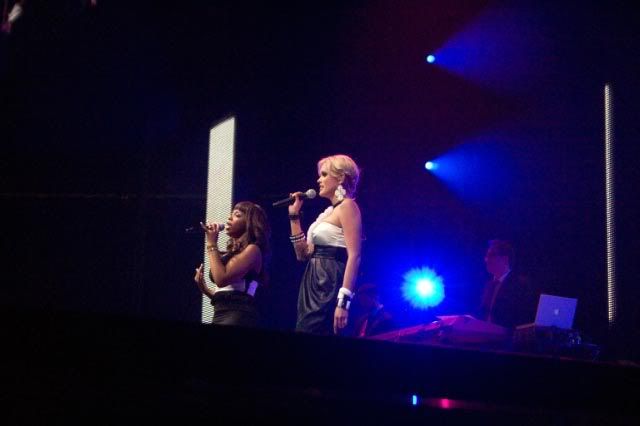 Clockwise: Lil & Megan; Matt & Scott at the pianos; Scott & Megan; Sarver.
If history is any form of a predictor of things to come, this is a moment for these folks to savor, for it is doubtful if they will find this glory again. In the eight seasons to date, while this group might have had some minor success in other fields (i.e. Jim Verraros in the movie
Eating Out
and the sequel; Corey Clark, noted for claiming to have willingly had sex with Paula Abdul; Jennifer Hudson, who went on with win an Oscar for
Dreamgirls
, but still seems to have a tough time selling records; Constantine Maroulis, who has a Tony nomination for his work in
Rock of Ages
; Kellie Pickler, who has made some noise on the Country Music scene; and Sanjaya Malakar, a punchline for many who has gone on the lose in the TV show
I'm A Celebrity...Get mMe Outta Here!
. So that is 6 out of 42 contestants, and two of them are ore notorious than anything else.
In a brief recap, only one of this group really made me think differently about them than before. Lil Rounds really did come across as much stronger live than on the show, when the pressure seemed to have gotten the better of her. Scott, Matt and Anoop sang decently enough, but proved to be somewhat unspectacular. For me, Sarver and Megan missed the boat, but weren't so bad you needed to cover your ears, as might have happened in previous years.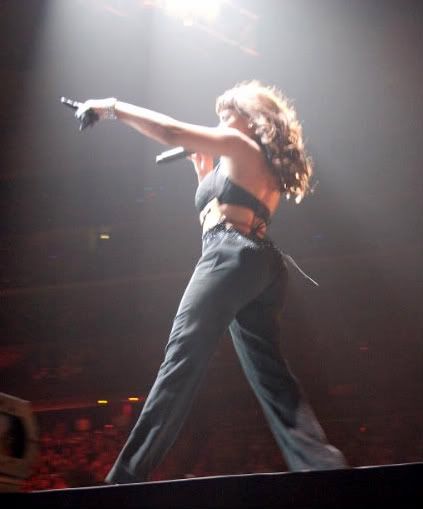 Lil Rounds came out strong.
The photos are all taken by me, save the shot of me & Rickey, which he took and Tweeted immediately. I will be recapping the top four, Allison Iraheta, Danny Gokey, Adam Lambert and winner Kris Allen soon.