I have already mentioned my love of Chris Cornell - the voice that makes me listen with amazement. He sings with passion, such depth, such raw grit. Starting with his work with Soundgarden, then to Audioslave, and then solo work, I have listened with deep appreciation and respect. And he is really hot! His wife, also a stunningly beautiful woman, is damn lucky, and he makes being a daddy really sexy.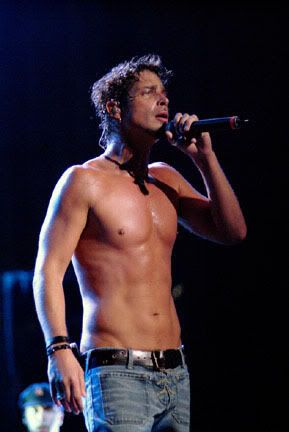 Cornell recently released Scream, a new CD I really enjoy. It has a more pop, accessible feel to it, but he still rocks on it. This week Cornell released a new video, for the song
Long Gone
.
Previously, he released
Scream
, the lead song on the CD. I think
Long Gone
is a much better song. Earlier, he release
You Know My Name
from
Carry On
. This is a video of the song performed live on MSNBC. Good Lord, how sexy. I mean, talk about a growl.
You can find out more about Cornell at his
website
.