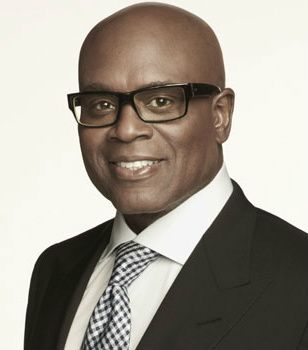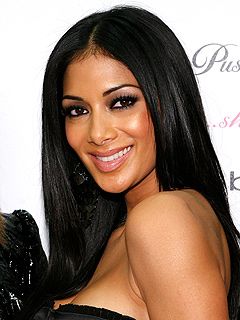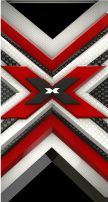 Left to right: LA Reid, Nicole Scherzinger, Paula Abdul, Simon Cowell and Steve Jones.
We are back to the normal routine for the X-Factor, and only one act will be heading home Thursday night. There is still discussion about the judges from last results show, with little mention of the two teens that were sent packing. They will sing two songs tonight. The first will be a Dance hit. Host Steve Jones introduces the judges, and we get right to the action. Simon introduces the first act,
Melanie Amaro
. She is performing a dance remix of Adele's
Someone Like You
, complete with dancing robots on the stage!
It was a bit of a risk, but she laid it down, and was fantastic. Melanie has an amazing voice, and just gets stronger and stronger each week. It was unanimous, all the judges just loved her. Next up, LA introduces
Marcus Canty
, who has been in the bottom 2 the last two weeks. He will be performing
Ain't Nobody
, sung by Rufus & Chaka Khan in 1983.
Keeping it going, I find that to be yet another disappointing performance. Once again, I find his vocals to be thin and tending toward the unpleasant. So I am surprised and confused when the judges all give him props for the performance. So I will just move on. Simon is back to introduce his other act,
Rachel Crow
. Simon makes it clear she chose the song. She sings
Nothing On You
, made known by rapper B.O.B., featuring Bruno Mars.
As is often the case, she is a delight. She has an amazing voice for one so young, and a sweet, contagious joy. The judges all love her. Next up, Nicole gives the introduction to her last remaining contestant,
Josh Crajcik
. He performs
We Found Love
, the first single off Rihanna's latest album,
Talk That Talk
.
For the second week in a row, I am totally underwhelmed by Josh's performance. I might add it is the second week of disappointment in his song choice, too. I just feel that Josh is better than he has shown lately, and hope he can do better with his second song. LA agrees with me, but Paula thinks it was great and shows versatility. Simon backs up LA and me, but Nicole gets all huffy about it all, forgetting it is about the contestant, not her. LA is back to introduce the final member of the Top 5,
Chris René
. He sings
Live Your Life
, by
T.I. featuring Rihanna
. I think it is his weakest performance in weeks. Totally disappointing after the advances he made last week. Then Nicole and Paula call it his best, and I am at a loss for words.
For their second song tonight, it was supposed to be the Pepsi Challenge, where the audience chose the songs. However, there was a problem with the voting, and the Pepsi Challenge will happen next week, with the Top 4. Instead, they are going to sing the song they picked as their "Save Me" song. It appears they only had 24 hours to get it together. Odd, were they only getting 24 hours for America's choice, too? Hmmm. First up is
Melanie Amaro
, and she tackles a Mariah Carey and Whitney Houston duet! She picks
When You Believe
.
Once again, she sounds wonderful. She nails it again, and proves to be the creme of this crop. The judges fall all over her again, offering little by way of constructive criticism for her. Simon introduces a good friend in the audience, Clive Davis. Next up is the second performance by
Marcus Canty
. He sings Leon Russell's
A Song For You
.
Once again, this didn't work for me. He over-sings the song, yet doesn't have the voice to finish what he attempts. For me, he tries to be Ray Charles or Donny Hathaway, but is at best a karaoke version of Bobby Brown. Nicole and Paula fall all over him, and I can't figure out what drugs they are doing. Simon calls is alright, but says he's likable, so that helps. Next up, we get the charming and delightful
Rachel Crow
. Again she chose the song, and it is Michael Jackson's
Music & Me
.
There is a little nervousness in her voice, but she delivers a lovely and nuanced performance. The judges love her, and she just glows. Next up, we get Josh Krajcik, who performs
Something
, the huge hit from The Beatles, written by the great George Harrison.
He does a nice job, but this is such an expected song choice, I kept hoping for more. He's got a great voice, but seems to get a little lazy with it. I wish his mentor would push him harder, rather than allow him to wallow. LA calls it good, but a touch karaoke. Paula thinks it is phenomenal. Simon thinks it was way better than the first. Nicole calls him the 'male Adele', which is all kinds of wrong. But I let it go, and move on. After he is introduced by LA, we see as
Chris René
is with Marcus and they get a call from the great Stevie Wonder. Chris performs an original song,
Where Do We Go From Here
. It started off well, and then he seemed to run out of inspiration on the song, and I got very bored with his meandering lyric. The judges all love it, and seem to be loving this song. Simon calls it "a stroke of genius." Go figure.
With only five acts remaining, the results will be difficult, indeed. For the bottom two, I am just not sure. I would have to go with
Marcus
, who has been in my bottom 2 all season long. I have to think
Melanie
is safe, for she was wonderful tonight. And while not a strong night for
Josh
, he has such a great voice, he should be safe. That leaves
Chris
and
Rachel
battling for the third place slot, and I would give the edge to
Rachel
. So, might the bottom be
Marcus
and
Chris
? I don't know. Guess we will all have to tune in Thursday night at 8PM on Fox for the results. Who will go home?