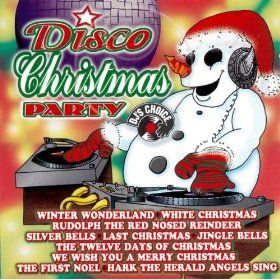 The Hit Crew made a name for themselves making sound-alike versions of hit songs in the 90s and 2000s. They also made some specialty albums, like the Christmas Disco Party album, with a relatively generic disco sound, taking some traditional Folk and Pop classics to a new genre, Disco. The first to sample is "We Wish You A Merry Christmas".
Who hasn't wanted to get their groove on to the Irving Berlin song, "White Christmas". Sure, it was made famous by Bing Crosby, and sung by countless others, but this is unlike any of the others.
It is interesting, but no one had heard of Rudolph, The Red-Nosed Reindeer until he appeared as a poem by Robert L. May in 1939. His brother-in-law, Johnny Marks, enjoyed it so much, he put it to music in 1949. It became a big hit for Gene Autry, and, several years later, by Burl Ives. In 1972, it became the center of a holiday special, using stop-action. And now, it can also be a disco song! Here is "Rudolph The Red-Nosed Reindeer".
Silver Bells is a song by Jay Livingston and Ray Evans and first performed by Bob Hope and Marilyn Maxwell in the motion picture "The Lemon Drop Kid", released in 1951. It was written as a slow ballad, and quickly became a standard during the holidays.
You can find these great disco Christmas favorites on
iTunes
, and on
Amazon
.