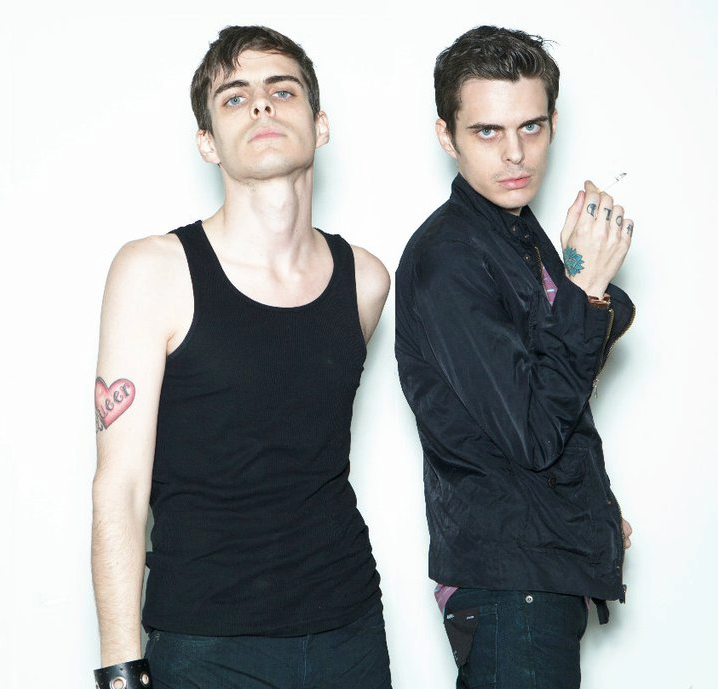 Clockwise: Elephant, Jimmy Somerville, The Young Professionals, and Sir Ari Gold.
As it is the last Friday night of 2011, I thought I would end it with a review of some great party/dance music from the year to date. And some very hot gay men, too. Well, that is just a very nice bonus point, at least for me. And, as you will be able to hear for yourself, some of my favorite dance music comes in all kinds, from Punky Hip-Hop to Neo-Disco to Euro-beats.
I will start off with one of my favorite tracks from the homo-twins, Coleman and Jackson Vrana, with their biting social commentary set to their own brand of Hop-Hop that sounds more Punk than Pop. Using the group name Elephant, the twins assault the listeners with strong language, hard beats, and bold ideas on the four songs off their debut. Take, for example, their video for the song
Notorious H.I.V.
off the
Queer Nation
EP. Being a Friday night post, I just think I will mention this is not safe for work, but great for everywhere else.
You can purchase the
Queer Nation
EP on
iTunes
and
Amazon
.
I have made no attempt to hide my complete infatuation with Ivri Lider and his music. I tell you, if I were to ever meet him, I fear I would embarrass myself, and ask him to marry me or something along those lines. Well, that aside, I was eagerly awaiting his first English-language album, which still has yet to hit the stores. However, we were treated to a release by The Young Professionals, an electronic duo featuring Ivri and Yonathan Goldshtein. Their first album,
9:00 to 17:00, 17:00 to Whenever
, is a pure electronic pleasure, one irresistible song after another. Check out their video for the single
D.I.S.C.O.
, and just try to not dance while you listen.
You can purchase
9:00 to 17:00, 17:00 to Whenever
on
iTunes
and
Amazon
.
Not only is Sir Ari Gold unmistakably hot, he is also incredibly talented. And if you pair him with a legendary voice like Miss Sarah Dash, and you have a single that is impossible to resist. And that would give you the song
Sparkle
, the second single off
Between The Spirit & The Flesh
. That is a great album, starting with the sexy first single,
Make My Body Rock
. But here is the video for
Sparkle
.
You can purchase
Between The Spirit & The Flesh
on
iTunes
and
Amazon
.
And finally, a night of dancing isn't complete without a some Jimmy Somerville to shake my groove-thang to. And this year, Jimmy released the
Bright Things
EP, and I just had to buy it. I mean, I've been buying Jimmy's music since he was with the Bronski Beat 27 years ago, and I've been addicted to that voice since. Jimmy might have turned 50 this year, but he hasn't lost a step with that voice, and just makes me hungry for more from him. Check out
Overload
, off
Bright Things
.
You can purchase
Bright Things
on
iTunes
and
Amazon
.