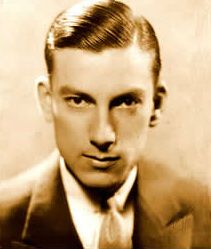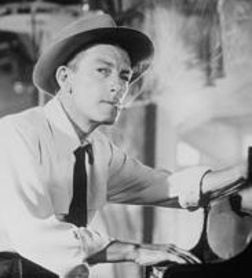 Howard Hoagland "Hoagy" Carmichael was born in 1899 in Bloomington, Indiana. He was an American composer, pianist, singer, actor, and bandleader, best known for writing
Stardust
,
Georgia On My Mind
,
The Nearness of You
, and
Heart and Soul
, four of the most-recorded American songs of all time. As an actor, he was in several films in the 30s and 40s, often playing a musician or a bandleader, performing his own music. In 1926 he earned a degree at the Indiana School of Law. While at the school, he became friends with Bix Beiderbecke, a noted jazz musician. It was with Bix that Hoagy found his love of music, and jazz in particular. While still in Indiana in 1927, Carmichael wrote
Stardust
, arguably his most famous composition. In 1933, Hoagy wrote
Lazybones
with legendary writer Johnny Mercer. In this following clip, Carmichael sings and plays his the song with some novelty dancing by Peter Ray and Dorothy Dandridge. Dorothy went on to become the first African American actress nominated for an Academy Award for Best Actress, for her role in the 1954 film
Carmen Jones
.
The next two clips both come from the same film,
To Have And Have Not
. The 1944 film starred Humphrey Bogart, Walter Brennan, Lauren Bacall, Dolores Moran and Hoagy Carmichael. Hoagy played Cricket, the piano-playing best friend to Lauren Bacall's Slim. Here he sings
Hong Kong Blues
.
In the next clip, Cricket is once again playing the piano in the club, and this time Slim joins him in a bit of a duet. The pair sing
Am I Blue?
, which was written by Harry Akst and Grant Clarke in 1929. Indeed, with the wealth of material Carmichael had written, he sang a song written by others.
In the final clip, Hoagy sings
My Resistance Is Low
with Jane Russell in the 1952 film
The Las Vegas Story
. Carmichael wrote the song with Russell in mind, as they had worked together before. Carmichael wrote one of my favorite songs from
Gentlemen Prefer Blonds
,
Ain't There Anyone Here for Love
, when we follow Russell around a gym with men in flesh-colored bathing trunks. She and Monroe also sing
When Love Goes Wrong (Nothing Goes Right)
, two out-of-luck American dames in a Parisian cafe. But in this clip, Russell and Carmichael are flirty with the song.