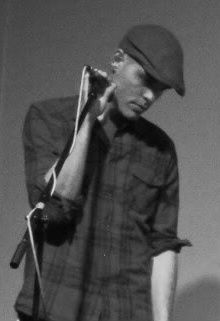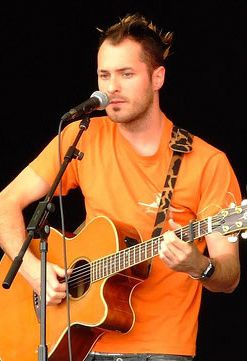 Clockwise: Brett Every, Christopher Dallman, Matt Alber and Declan Bennett.
Last night I started talking about the great music that was released in 2011, and today I have continued that trend. That is because there was just that much great music out there, and then some. And one of the things I love about this group, is that they are four massively talented gay men, all very different. And all are valued part of my music collection, and I would urge you to take the opportunity to add them to yours.
Since I first heard the music of Australian Brett Every, I have been a fan, and a bit enamored of his talent. He combines classic Pop with Jazz and Folk to make he sound of his very own style of storytelling entertaining and very real. I have all three of his albums, but still think his latest just might be his best. Watch and listen to the video for
Man Walks Into A Bar
, from the album
Menu
.
You can find
Menu
on
iTunes
and
Amazon
.
I have been a fan of Christopher Dallman since I stumbled across his debut album,
Race The Light
, several years ago. I thought it brilliant, and couldn't wait for a follow-up. Well, I had to wait a while, but finally there were a series of releases in 2009 and 2010, and the amazing
Light The Love
earlier this year. The EP contains five songs that communicate the love and beauty in Dallman's life, and I adore it. Watch as Christopher sings the title track,
Light The Love
, at a live show in California.
You can find
Light The Love
on
iTunes
and
Amazon
.
Once I found the music of Declan Bennett, I knew I was in trouble. It immediately spoke to me, whether he was recording under the name "sumladfromcov" or under his given name. From 2005's
The Painter's Ball
to the new release, I could, and have, listen to him all day. So when I first listened to
Record: Breakup
, I was not surprised I was deeply moved, and almost addicted to listening to it. Tell me what you think after watching Declan sing
Freer
from the album.
You can find
Record: Breakup
on
iTunes
and
Amazon
.
Matt Alber can, and most likely can, sing anything he would like to sing. He performed as a part of the award-winning group Chanticleer, has written and performed Country, and had a magnificent debut album of great Pop music. He co-wrote
Who We Are
with Tom Goss, a moving song supporting the LGBT veterans and the movement to take down Don't Ask, Don't Tell. So when it was time to pre-order his new album, I thought it was a no-brainer, and stepped up right away. And I can't tell you how glad I am, for Constant Crows is a beautiful collection, a little different from his debut. It has a little more Folk feel to it, more personal, more introspective. He wrote most of the music on it, and included one cover song. Here is a video of Matt as he sings
Take A Bow
, a cover of the Madonna song, from a live performance at Joe's Pub in New York City.
You can find
Constant Crows
on
iTunes
and
Amazon
.