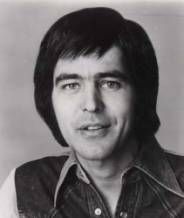 When he was still in high school, Jim Stafford was part of a band that included Country songwriter/producer Bobby Braddock, singer/songwriter Lobo (of
Me And You A Dog Named Boo
fame), and Country-Rock pioneer Gram Parsons. I bet that was a band worth hearing. In the late 60s, Jim worked as a writer and producer on the cutting edge television show,
The Smothers Brothers Comedy Hour
. In the 1970s, Stafford started recording his own music, and had some success with his self-titled 1974 debut. He had the greatest success with the charming and sweet
Spiders & Snakes
, which made it to #3 on the Billboard Hot 100. The sales were certified gold.
The next song was also off his debut album.
Wildwood Weed
was written by Don Bowman, a novelty song that was too scandalous to perform in 1962. But when Stafford recorded it for the 1974 release, it made it to #7 on the Billboard Hot 100.
The second single off the album was cute and playful
My Girl Bill
. There was a bit of faux-scandal, with the hint of man-on-man relations quite taboo at the time. Of course, in last few lines of the song, we discover the true humor of the song. Stafford made it to #12 on the Billboard Hot 100 with the recording.
Stafford never found how to repeat this success, although he had a rather solid career in television and in Country music. He now owns and performs in his own theater in Branson, Missouri, where he still performs with his family. You can find him on the site for his theater by clicking
here
.