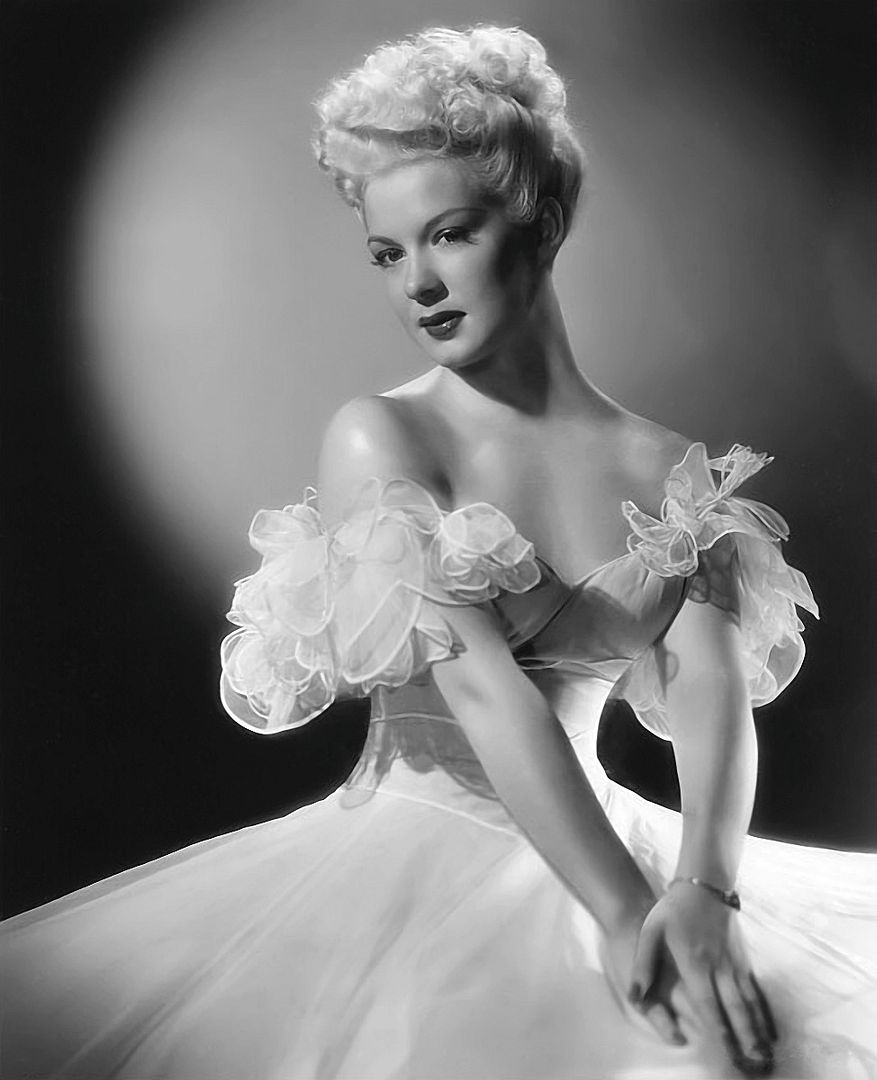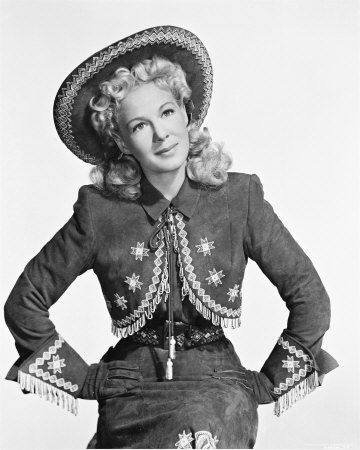 Betty Hutton's story is an interesting one, to say the least. Born Elizabeth Thornburg, her father walked out on the family, leaving her mother a single parent to her two girls. The next word they had from the father was notice that he had taken his own life. Soon the family changed their name to "Hutton" and Betty and her sister Marion were singing in speakeasies and the like, until her mother started making a living as a bootlegger. This kept the family just ahead of the police while Betty was growing up. Betty, who had a been singing in saloons, started singing with bands in the Detroit area. In 1939, she appeared on Broadway in supporting roles, as well as in some musical movie shorts, which soon lead to her early movie appearances. In her first film, Betty played "Bessie Day" in the 1942 Paramount Pictures production
The Fleets In
. She proved to be quite the talent when she stole the movie with this number written by Johnny Mercer and Victor Schertzinger, written specifically for her. Watch as she sings
Arthur Murray Taught Me Dancing In A Hurry
.
In 1943, Hutton had another hit with the song
Murder, He Says
. In his introduction, Bob Hope, host of Armed Forces Radio Service show
Command Performance
, makes mention of the "Three Flying Huttons," a reference to when she would sing with her mother and sister in the bars. This was a hit for Hutton when this show was recorded in 1943. In an interesting side note, the B-side to this song was
It's Oh So Quiet
, which was covered in 1995 by Icelandic singer Bjork.
Betty performed
Doctor, Lawyer, Indian Chief
from the 1945 Paramount movie
The Stork Club
. The song was the first of Betty's recordings to reach #1 on the Billboard Pop chart. It was obvious she could not only sing, but also deliver a wonderful comedic performance.
Betty Hutton performed
Rumble Rumble Rumble
in the 1947 Paramount movie
The Perils of Pauline
. It was another bold and brash performance, the movie was a great success, and made her the leading candidate to replace an "exhausted" Judy Garland in the 1950 musical,
Annie Get Your Gun
.
By the mid 50s, Betty had a dispute with the movie studios, and stopped working at what was the height of her career. By the mid 60s, following the death of her mother and the end of her fourth marriage, Hutton was soon fighting an addiction problem, which eventually lead her to sobriety and a new found belief in the Catholic Church. She worked as a cook in a Rhode Island rectory, a fact that was widely publicized and gave a short resurgence in her career. It wasn't for long, and soon she was back at that rectory. She was also estranged from her three children, and it seemed like her own dysfunctional childhood was being replayed. Eventually, she got back in touch with the children, although they were not close. Hutton passed away in 2007 after a battle with cancer. She was 86.