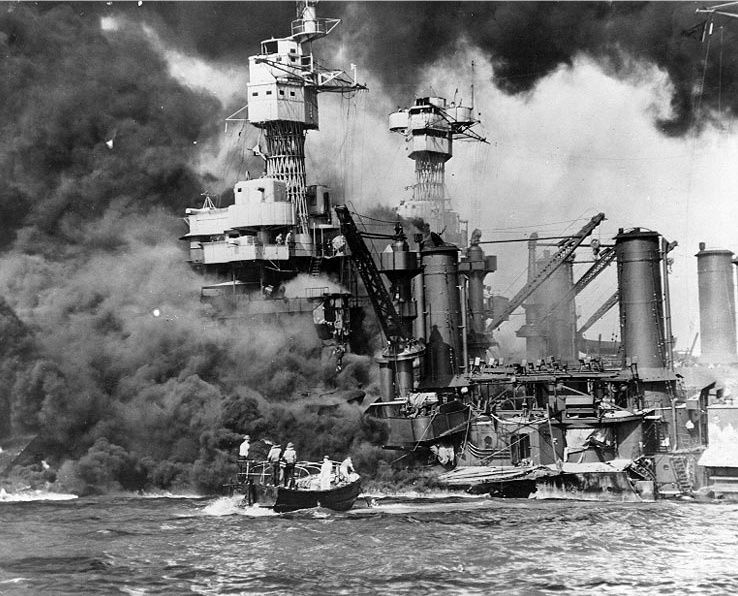 Seventy years ago, something truly monumental happened to this country. While far too many saw nothing on the horizon, the Japanese Imperial Forces drew shock and surprise around the world. The Japanese launched the assault as a preemptive measure against the American Navy, hoping to prevent them from interfering with Japanese interests in Southeast Asia. There were 353 aircraft taking part in the attack. Eight U.S. ships were hit, and four were sunk. 2,402 Americans were killed, and another 1,282 were wounded. Every year, Americans note the day with a memorial to those who lost their lives in Hawaii. To take note of the date, I will post some of the great songs from the year 1941.
While tracking sales through the charts was still in it's infancy in those days, many believe the Glenn Miller Band recording of
Chattanooga Choo Choo
to be the top song of the day. With music by Harry Warren and lyrics by Mack Gordon, the song was certainly a huge hit for the Glenn Miller Band. The song was featured in the 1941 film
Sun Valley Serenade
, featuring vocals by Tex Beneke, Paula Kelly, and the Modernaires, followed by a production number showcasing Dorothy Dandridge and an acrobatic dance sequence by The Nicholas Brothers. It became a #1 song on December 7, 1941.
Sammy Kaye & His Orchestra had a weekly show on NBC Radio. The orchestra would play live, including their great hits. On December 7, 1941, their show as interrupted to announce the attacks. Their most successful song of the year was
Daddy
.
Bandleader Artie Shaw was considered by many to be "one of jazz's finest clarinetists." While a gifted musician and bandleader, his private life was a bit of a mess. In total, he married eight times, and two of those famous wives, actresses Lana Turner and Ava Gardner, spoke of emotional abuse during the relationship. In 1941, Shaw had a huge hit with his recording of Hoagy Carmichael's
Stardust
.
Both Jimmy Dorsey and his brother Tommy were brought up in Pennsylvania. Jazz great Charlie Parker often noted that Jimmy was his favorite of his. In 1947, Dorsey and his orchestra had a bit hit with
Green Eyes
, with Bob Eberly and Helen O'Connell on vocals.
Aquellos Ojos Verde
s was written by Adolfo Utrera and Nilo Menéndez.
The last of the great songs of the year I will be posting comes from Lady Day herself. The song was written by Billie Holiday and Arthur Herzog, Jr. in 1939, yet not recorded by Holiday until 1941. Here is Billie Holiday & the Count Basie Orchestra singing
God Bless The Child
.
It was the attack on Pearl Harbor that lead President Franklin D. Roosevelt to proclaim December 7, 1941, "a date which will live in infamy."