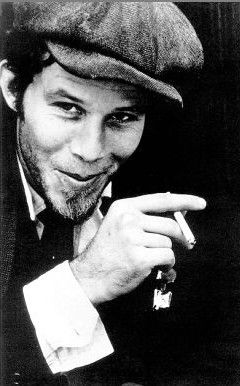 Clockwise: Dylan Rice; Breathe; Tom Waits; and Shane Mack.
I decided that since we are coming up on the last week of January, it was time to discuss all those New Years Resolutions that were made in a fit of panic, or a somewhat altered state. No matter the case, for a majority of people, by this time all the Resolutions made have been broken in one way or another. They have been forgotten, actively abolished, or willpower has not held. But, no matter the reason, they hare a thing of the past, much like certain bets in bars with your best friend, or promises to call that one-night-stand the next day. So,whenever I hear resolutions or the aforementioned promises being made, I feel like shouting one thing: lies! Even on New Years Eve, as a friend is sipping on their cocktail, once they start the sentence with "my New Years Resolution will be..." I hear Dylan Rice singing in my head, to his amazing song off the 2004 album
Wandering Eyes
. Yes, my mind starts hearing
The Lie
.
I have always loved that song, and that whole album. You can find Dylan Rice on
iTunes
and on
Amazon
.
There are also times when my 1980s retrospective comes online, and the next thing I know, I am hearing the lovely voices of Breathe sing on of their big hits,
Don't Tell Me Lies
from the 1987 album
All That Jazz
. Man, this is so infectious, there are times I swear I can't get it out of my head!
See, now it might be stuck in your head! You can find Breathe on
iTunes
and on
Amazon
.
And there are many times she the gorgeous voice of the handsome Shane Mack comes into my head, singing to something I or a close friend has said. Well, that he sang, as part of the soundtrack to the Movie
Shelter
, released in 2007. I have been waiting for at least five years for Mack to put out an album, and have yet to be greeted with a definite answer. Until then, I will be content to listen to
Lie To Me
by Shane.
That song is all kinds of sexy and sultry, I think I would lose it if I saw him performing that in person. You can find Shane Mack on
Music From The Here! Original Film Shelter
on
iTunes
and on
Amazon
.
And, finally, we have a sweet little ditty by the same name by the outrageously talented Tom Waits. Here is Tom singing
Lie To Me
from his 2006's
Orphans
album. And check out this clever video for the song.
I just find Waits almost impossible to resist. You can find Tom Waits on
iTunes
and on
Amazon
. And that is what I think of New Years Resolutions!