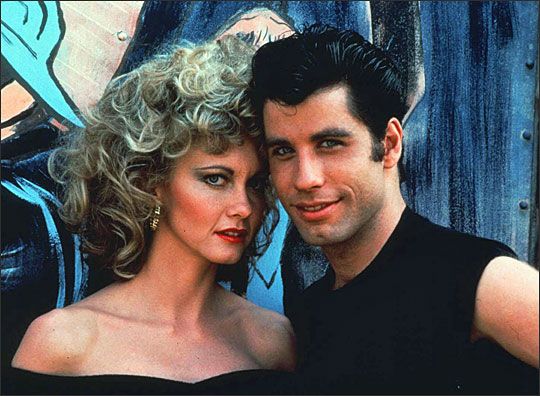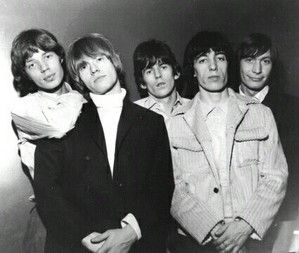 Clockwise: Roberta Flack; Rihanna; Olivia Newton-John & John Travolta; The Rolling Stones; Usher & David Guetta; 5th Dimension; and Maroon 5.
The show kicks off with a musical number, as Mercedes and Sam tell their own sides of their summer romance to their friends with
Summer Nights
, from the musical
Grease
, and the movie featuring Olivia Newton-John and John Travolta.
Becky is up next, and we are hearing her diary, talking about the boys in the school. the voice has a surprising English accent, and the voice of Helen Mirren. Seems Becky has a thing for Arty, a fellow handicapable student. Sue tells her to ask him out, although she preferred the guy she asked to prom. And the next thing we know, Coach Beiste is married to Cooter, for they eloped. This makes Miss Pillsbury wistful, and she sings
Wedding Bell Blues
, the great song written by Laura Nyro for the 5th Dimension.
Sam is chasing after Mercedes, trying to get a date. She refuses his advances, for she has a boyfriend now, Shane. But memories of their time together does bring a smile to her lips as she walks away. Artie seems to be interested in asking Sugar Motta out, but she turns him down. But this gives Becky the opportunity to ask him out. He hadn't answered, but the shot goes to black as she brushes his bangs, like Streisand and Redford in
The Way We Were
. Mr. Schuester decides to ask Miss Pillsbury to marry him, and asks the kids to come up the perfect song. Sam decides he needs a varsity letter, so he joins the synchronized swim team. The coach is Roz Washington, played by NeNe Leaks, of Real Housewives fame. After his first practice, he gets dueling slushies, and Mercedes tries to offer a hand to clean up before Shane wants to take her away to class. Artie decides Mr. Schue needs to show off his great moves, and thinks the song should be the Maroon 5 hit,
Moves Like Jagger
.
They perform it as a mash-up, of course, with the Rolling Stones great song,
Jumpin' Jack Flash
.
Becky watched as Artie sang, and we learn that was going to be Artie's idea of a date. Becky has other ideas, and made reservations at the restaurant. Soon it is time for the girls to give Mr. Schue their song. After hearing him tell of the first time he met Miss Pillsbury, they know the choice. They sing
First Time Ever I Saw Your Face
, written in 1957 by Ewan MacColl for Peggy Seeger, who was later to become his wife.
While they sing, we of course see shots of their own loves. Rachel sees Finn, Tina sees Mike, Santana sees Brittany, and Mercedes, she sees Sam. She is unsure about what she should do. Mr. Schue decides to ask Miss Pillsbury's parents for her hand, and they refuse. They think she is too crazy... Back in the chorus room, the kids try a GLEE-tervention, and tell Artie to be careful with Becky, and Artie is angered that they were being so mean about Becky.
Soon we see Mr. Schue, Miss Pillsbury, and Carole and Burt, Finn's mother and step-father, joining Finn in a room. Mr. Schue has mentioned Finn's desire to join the Army, and be a war hero like his father. We learn his father didn't die a hero in battle, but was back in Ohio, and it was an overdose, as he was struggling with his addiction. Becky approaches Arty in the hall, and she is more than flirtatious. She also sends him a shot of herself, and he goes to Sue. She gives him the great advice, to treat Becky like any other girl. Back in their apartment, Miss Pillsbury talks about marriage to Will, and he puts it off, mentioning she might be too deep in her illness to handle a baby. She is hurt, and tells him she does her best, and he needs to think about what he wants, and what he doesn't.
Finn, Kurt, and Rachel are eating at Breadstix, and having a bit of a pity party. As Finn is complaining about having nothing "special" in his life, Rachel sings
Without You
, the song by David Guetta featuring Usher.
While Finn meets Rachel so they can make out in the classroom, Mr. Schue has to consider so many choices he will make, including the song to use for a proposal, if he even does ask Miss Pillsbury to marry him. After a commercial break, it appears Mr. Schue has done his thinking, and he invites Miss Pillsbury to join him in the pool area, where the girls sing
We Found Love
by Rihanna, and there is synchronized swimming going on.
Mr. Schue, in a white tuxedo and tails, jumps in the pool, and comes out to make a proper proposal of marriage. She, of course, says yes. Artie talks to Becky, and tells her he doesn't want to date, but to be friends. We hear her British inner-voice to say she knows it is because she has Downs Syndrome. She cries, but Sue is there to hold her hand, and help her through it. Finn is with Rachel on the stage, fand he wants to talk to her. He explains how much he loves her, and asks Rachel to marry him. She is surprised, and doesn't answer right away. And the episode is over. But there is previews for the next episode, a Michael Jackson theme on January 31st.