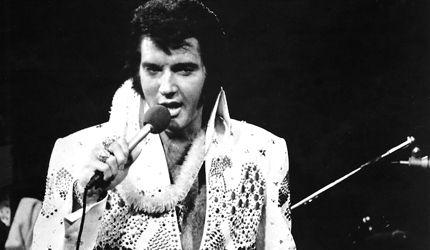 It just occurred to me that we needed a little bit of Gospel from Elvis. I mean, how about having the King bring a little bit of Sunday morning to everyone. We can start with Elvis singing a gospel music arrangement of an 18th century hymn. That would be
Oh Happy Day
.
And then we can give a listen to
How Great Thou Art?
, a Christian hymn based on a Swedish poem written by Carl Gustav Boberg in 1885, set to the melody of a Swedish folk song. British missionary Stuart K. Hine made the English translation, and also added two original verses of his own composition. It has been performed by some of the biggest names in the music business, but not sure if any would be bigger than Elvis.
Peace In The Valley
was a song written in 1937 by Thomas A. Dorsey for the great Mahalia Jackson. Elvis began singing it in the 1950s, with the support of the legendary The Jordanaires. The song also managed to make it on the soundtrack of the Broadway smash
Million Dollar Quartet
, sung by "Elvis" on Broadway eight times a week. Here is Elvis from the Ed Sullivan Show, with The Jordanaires behind him.
Thank you very much, y'all.