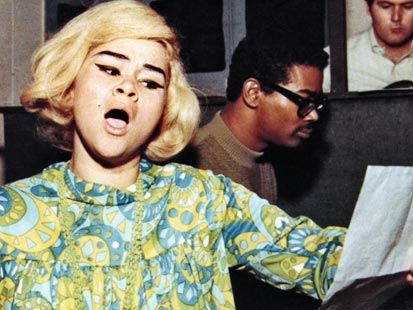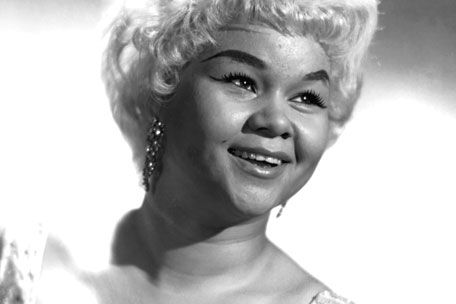 Yesterday, January 20, 2011, the world lost a voice , one that spoke with an honesty and the depth of her soul, supplied only by a life well-lived. Now the woman who has shared of herself so freely is gone, but has left so many great recordings behind for all to listen to, and learn from. Of course, there was the song for which Etta is most strongly remembered, At Last. The song was written in 1941 by Mack Gordon and Harry Warren for the musical film
Orchestra Wives
. While other recordings do exist, it was Etta's magnificent 1961 recording that will always be regarded as the definitive version of the song.
This year, a cute thirteen-year-old made quite the impact on television when she sang a song first recorded by Etta. Young Rachel Crow took to the stage on the X-Factor, and did an amazing job with
I'd Rather Go Blind
. But it was James' 1968 that propelled the song, written by Ellington Jordan and Billy Foster, to become a blues classic. Here is Etta performing the song with BB King and his orchestra, and Dr. John.
The album
Tell Mama
was recording in December of 1967, and released in 1968. The first single was the title cut, and it was released before the album, and created a bit of a stir with strong reviews. Here is Miss Etta James performing
Tell Mama
live at the 1989 Montreux Jazz Festival.
In 1989, Etta James released what many viewed as a 'comeback' album. Like many others, Miss James had fought her demons, and it seemed like she finally had them conquered. She released a new album of blues music, including the next song,
Damn Your Eyes
, off the album
Seven Year Itch
. It was written by Steve Bogard and Barbara Wyrick, and sung to perfection by Etta James.
In 1963, James released
Etta James Top Ten
, and collection of her hits from the previous couple of years. It is certainly a collection worth owning, as it includes some iconic songs, like
At Last
,
Fool That I Am
, and
Sunday Kind Of Love
, as well as a wonderful song written by Etta, Leroy Kirkland, and Pearl Woods. Here is a live performance of
Something's Got A Hold On Me
.
Rest In Peace, Etta James. You earned it.