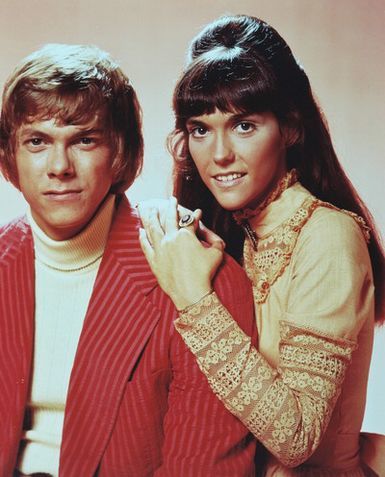 When I was a youngster, I used to get an allowance for taking care of certain chores. What did I use that money for? I'd buy music, of course. While I am pretty sure my first album purchase was Barbra, I do remember another of those early buys was the Carpenter's
Now & Then
, released in May of 1973. Their music was hard to escape during that time, as they had hit after hit song, and dominated many of the radio stations.
The Carpenters were both born in New Haven, Connecticut, Richard in 1946 and Karen in 1950. It was said Richard was a bit of an introvert, and spent much of his time in his room, listening to music. Karen, on the other hand, was quite outgoing, and would often be found outside with the neighborhood kids, playing softball. In 1963, the family moved to Downey, California.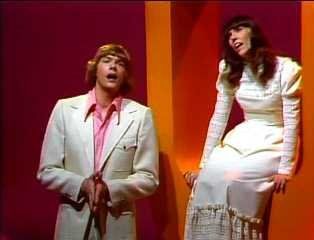 Soon Richard was enrolling in college at Long Beach State, now known as California State University, Long Beach. At the same time, Karen was started high school, and discovered she not only was good at playing the drums, she also enjoyed it. In college, Richard was meeting people who felt about music the way he did, including future songwriting partner John Bettis, as well as many of the guys who would later be a part of Richard's band. In 1966, the Richard Carpenter Trio came into being, and in 1967, Richard joined Karen and others in a band called Spectrum. Richard kept busy doing session work and the like, and sometimes Karen would tag along. Once she was asked to sing on a demo, and her vocal talents were discovered. In 1969, they were signed to A&M Records, the brother-sister duo billed as Carpenters. They had moderate success with their first single, a cover of the Beatles
Ticket To Ride
. They were quickly back in the studio and in 1970 released a second album, called
Close To You
. The first single was released, and immediately caught the attention of the public. It was written by the great songwriting team of Burt Bacharach and Hal David.
(They Long To Be) Close To You
entered the charts at #56, and was soon at #1, where it stayed for four weeks.
That song was followed by
We've Only Just Begun
, written by the team of Roger Nichols and Paul Williams. The song peaked at #2 on the Pop charts, and seemed to signal that the Carpenters had something for the music-buying public. This song was huge, and became the 'theme' for many high school proms for the next decade.
While that success was going on, Richard and Karen want back into the studio to work on a third album. In 1971, they released Carpenters, and the first single was a song Richard first heard in a movie,
Lovers And Other Strangers
. The song was written by Fred Karlin, Arthur James and Robb Wilson, and just perfect for Karen's voice.
For All We Know
went to #3 on the Pop charts.
The second single off the album was another hit that became a trademark song for the duo. Like
We've Only Just Begun
, the song was written by Roger Nichols and Paul Williams. The brooding melancholy of
Rainy Days And Mondays
went to #2 on the Billboard Hot 100.
This is just the beginning of the journey for the siblings who owned the music charts in the 1970s. I look forward to bringing you more of their music next week, when I will bring you songs like Superstar, written by Bonnie Bramlett & Leon Russell. For more about the Carpenters, check out their official website here. You can purchase
Carpenter's Gold
, a colelction of their greatest hits on
iTunes
and
Amazon
, and the third album
Carpenters
.