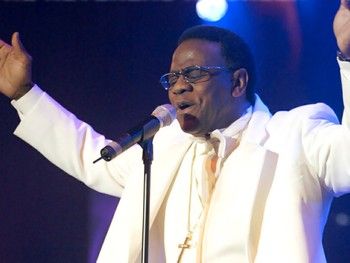 Just thought it was time to bring in the Reverend. So here he is, the Right Reverend Al Green, born Albert Greene in Arkansas over 65 years ago. The Reverend Al came into the public eye singing R&B in 1972, when he was singing classic songs he had written, like
Let's Stay Together
. Of course, that went on to be a huge hit for Tina Turner, too. After an unfortunate happening in his life in 1980, Al Green decided to make some changes in his life, including the study to become a real reverend, and to start making Gospel records. And while
Take Me To The River
was written before the Gospel period, it certainly fits well into the genre. It was written by Green, and later became a big hit for Syl Johnson and again for the Talking Heads.
The Reverend Al Green bcame a true pastor, and soon had his own church, and was often tending to his flock. For eight years, the Reverend recorded and performed only gospel music. Here is an incredible recording of the Reverend singing
Amazing Grace
and
Nearer My God To Thee
. Just sit back and enjoy.
Enjoy your Sunday.