One of my favorite singer/songwriters has a new DVD coming out. Eric Himan, who totally has me under a spell, just announced he is about to release his first DVD,
Under The Ink: LIVE!
. The DVD was recorded at a live show in Tulsa, as well as a few songs from an
Acoustic-Requests Session
. It showcases Himan's storytelling, as well as that incredible voice we have all come to know. It is songs featured on his latest album,
Supposed Unknown
, as well as some treasured songs from his catalog, and a very special cover. To give you a taste, here is a live performance of a song on the DVD, but taped by me at a recent show at MilkBoy Coffee. This is
Little Boy Blue
, originally off the
Resonate
album.
I am so excited, I just had to get my order in right away. When I went to the Order page, I noticed there were several combinations from which to choose. The first is the opportunity to pre-order the DVD, and get a free download of a live album. The DVD and the live CD get their songs from the same places, but their is a differing line up. For just $20, you can get both by going
here
.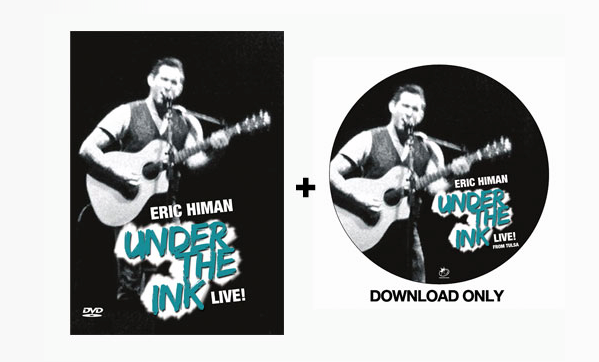 You can order the DVD, the CD, and an opportunity to have a 3 song, 15-minute performance by Eric on Skype. You get to pick the songs from Eric's catalog you like the best, and enjoy your private slice of heaven.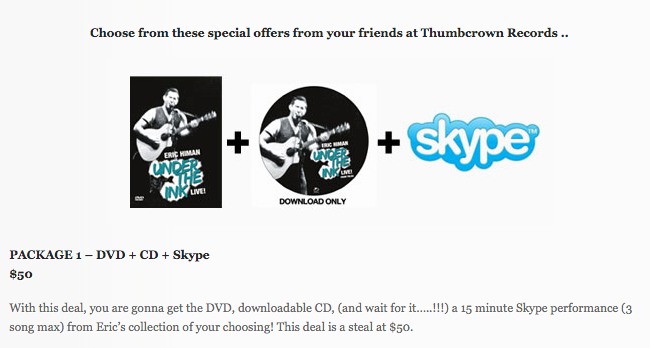 You can also purchase the DVD, the CD, and a live house concert. This is a 90-minute performance at your home. He will perform selections from the DVD, and maybe even a special request or two, if you ask nicely... And Eric will be glad to meet you and your guests, and autograph your copy of the DVD.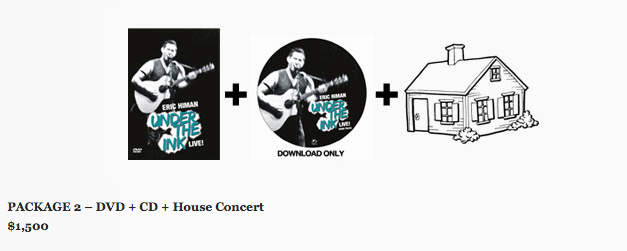 And for those die-hard fans who want the complete Eric Himan experience, you can purchase the package that includes the DVD, the live CD, a 90-minute House Concert, and give you a chance to taste his cooking, as featured in the
Trial And Eric
videos online. That is right, you get to have roadie Eric set up, Chef Eric cook the meal, and Rock Star Eric give a live show for you and a few friends.
I placed my order, have you placed yours? And once the order was placed, I was able to download the live CD, and it is certainly worth having. Right away, I had to listen, and when he played Patti Smith's
Because The Night
, I was in heaven, I tell you, up in the fluffy clouds! And there is special guest performances from Namoli Brennet and Angel Adams, among others. I hope you have placed your order, and you are getting ready to download the live CD. You won't regret it!