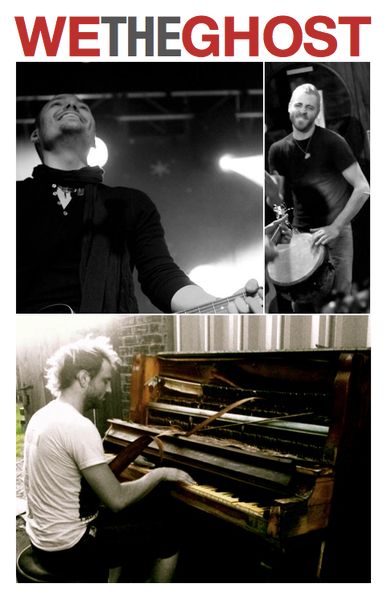 Clockwise: We The Ghost, Robert German, Dudley Saunders, and Chad Cavanaugh.
I think there is plenty to look forward to in the New Year, but I will only touch on a couple of those things. Four, to be exact. Yesterday, we already had the great fortune of knowing that songster Aiden James released a new album. The great thing about a new year is just that, it is new. As the ball drops in Times Square, it can act like a great eraser, clearing out some mistakes so we can start fresh. We can promise ourselves we will try to get to see more live music, and to support those artists whose music we love.And, to the best of my knowledge, I think there are some people working on new music that get me more excited than it should.
That would include a band from Tulsa, Oklahoma, that is starting afrresh, writing some music and getting ready to put on some shows. We The Ghost, which features Beau Tyler, Dain Samuelson and blog favorite Jimmy Dean Adams, have started working together to make their own music. We can start with a clip of Beau singing an acoustic version of a song they wrote,
Let The Love In
.
You can find We Are The Ghost online at
Facebook
and
ReverbNation
.
When it comes to Robert German, I am completely coo-coo for Cocoa Puffs. I love his music, and have practically worn out my version of
Sirens of Brooklyn
. So when I heard he is working on not one, but two new projects, I get a bit giddy. I understand they will be released separately, but it certainly means something is coming, something is in the pipeline. And I love that he sent out little teasers, videos with demos of songs, giving us a view into the creative process. In the following clip, we get a taste of
Duct Tape & Super Glue
, and I love it!
Demo - Duct Tape & Super Glue by robertgermanmusic
You can find Robert on
Facebook
,
ReverbNation
and
Twitter
.
It has been far too long since I have had some new music from San Diego-based Chad Cavanaugh. I eat up
Coffeehouse Rebellion
, and adored
We Got Love
. The miltary veteran's pairing of classic folk with interesting rhythms keeps me wanting more. I know he was talking about going back in the studio, and certainly hope he has made it there. Until then, check out this live performance of his song
Troubadour
.
You can find Chad on
Facebook
,
ReverbNation
, and
Twitter
.
I know that handsome Dudley Saunders has been writing new music, and I hope he has been hitting the studio, or is making plans to do so, for I would love to have some new music from him. I enjoy the Billy White Acre Sessions, and just love The Emergency Lane, but still, I am greedy, and want more. Here is a taste of some new music, Monster. He posted it on YouTube from a live performance. I love it.
You can find Dudley on
Facebook
,
ReverbNation
, and
Twitter
.