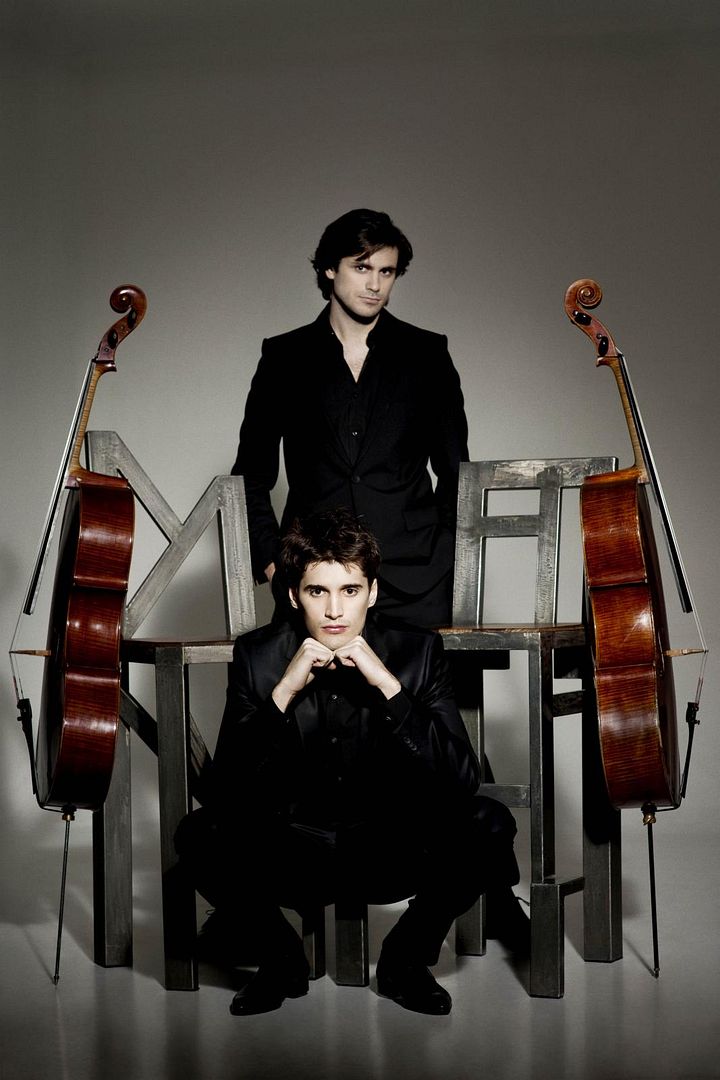 Standing: Stjepan Hauser and Sitting: Luka Sulic.
I have already written about the amazing music being made by the absolutely brilliant duo of Luka Sulic and Stjepan Hauser, better known as 2Cellos. They have made some excited interpretations of some Pop and Rock classics, by Nirvana and Michael Jackson. Watching them play their instruments with the amazing passionate and kinetic energy just keeps me entranced. But this fine Saturday morning, I will go just a little bit easier, as the handsome duo takes on
Fields of Gold
, written and performed by Sting.
I will also share with you a rather beautiful version of a song by the King of Pop, Michael Jackson. They add something just a little special to Michael Jackson's 1983 hit
Human Nature
. The song was off the colossal album
Thriller
.
While I am mentioning Michael Jackson, I see that the boys will be appearing of the next episode of GLEE this Tuesday, the episode devoted to Michael. They will be performing the 1988 hit,
Smooth Criminal
. I think it will be Santana singing it with Kurt's rival for Blaine's affection, Sebastian. Should be great, since I have been loving Santana's voice each time we hear it. But first, let me move on. And for the last song this morning, the boys tackle
Californication
, the song written and performed by the Red Hot Chili Peppers, from the 2000 album of the same name.
They are a brilliant combination of Classical music with a renegade twist, tossing a bit of Jazz and Pop in the mixture, along with some real Rock Star bravado as well. You can find many of the songs on the album 2Cellos, on
iTunes
and on
Amazon
. I am so glad I made my purchase, and sure you will be too.