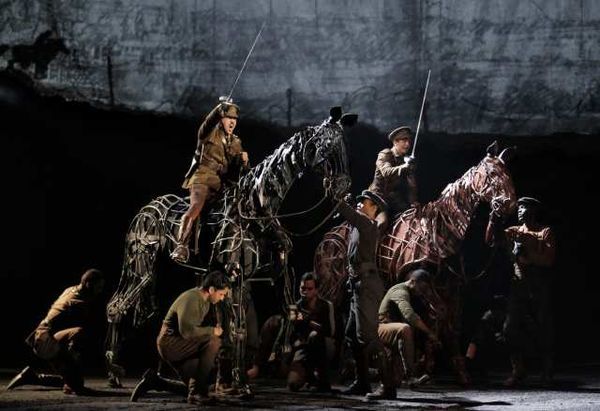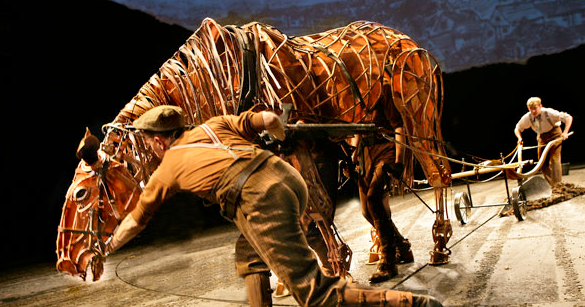 War Horse
is a play based on best-selling 1982 novel of the same name by acclaimed children's writer Michael Morpurgo. It was adapted for stage by Nick Stafford, originally running on London's West End. Unlike the other shows I have covered, it is not a music, but a "straight" play. However, the ingenious use of puppetry in place of actual horses is brilliant, and only adds to lend to the beauty of the animal. The show opened in London in October 2007 at the Royal National-Olivier Theatre. It moved to the West End's New London Theatre, beginning performances in March 2009. War Horse began performances at the Vivian Beaumont Theatre on Broadway in March 2011, and continues to run now. The Broadway production features Matt Doyle, whose music I have featured on the blog
here
.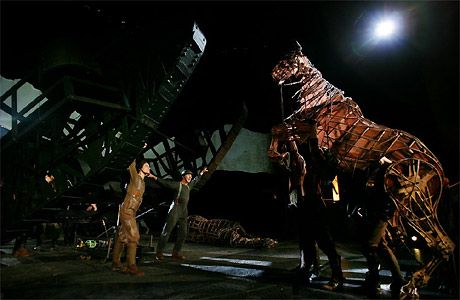 On Wikipedia, they list the following as a synopsis of the story. "In Devon at the outbreak of World War I, "Joey," young Albert Narracott's beloved horse, is sold to the cavalry and shipped to France. Joey serves in the British and German armies, befriends "Topthorn" (another army horse), and gets caught up in enemy fire; death, disease and fate take him on an extraordinary odyssey, serving on both sides before being alone in No Man's Land. But Albert cannot forget Joey, and, still not old enough to enlist in the army, he embarks on a dangerous mission to find and bring him back to Devon." Check out this promotional clip.
And while that certainly lays a good groundwork for the film the following clip has me mesmerized, my attention totally rapt. There is something about this production that keeps me wanting to see the show, to feel in person what keeps me engaged on YouTube.
For more about
War Horse
, visit their website
here
.
War Horse
has received incredible reviews, including
Time
magazine saying "A landmark theater event. Thrilling!" and the
New York Times
calling the show "Theatrical magic!" There is a link to get tickets in you are interested and plan to be in New York City soon. You can find Matt Doyle's release,
Daylight
, on iTunes
here
and on Amazon
here
.