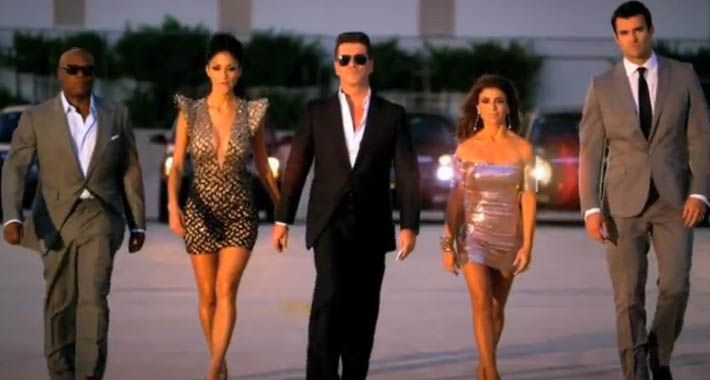 Left to right: LA Reid; Nichole Scherzinger; Simon Cowell; Paula Abdul, and Steve Jones.
It is Rock Night, and even Simon Cowell admits it could very well be a train wreck. As Joan Jett & the Blackheart's
I Love Rock 'N Roll
plays, announcer Steve Jones comes out to tell us it only gets tougher for everyone, included the mentors, who come in to Bon Jovi's
Living On A Prayer
. I will admit looking forward to hearing some, and fearful of some others.
LeRoy Bell
is up first, singing a song by the great Bob Seger. Nichole tells him he is a heartthrob, yet LA Reid suggests he is just boring. He plans on singing
We've Got Tonight
. The performance was a bit off for me, both vocally and emotionally. There was some breaking, but it was quite karaoke. LA repeats his boring critique, Paula agrees there is something lacking, and Simon tells him they need much more, and Nicole is not giving him the opportunity to win. Nicole is not happy, and reminds us all that LeRoy is a 60-year-old grandfather. I am reminded that, at times, the contestant is forgotten in all the judging drama.
Rachel Crow
is up next, and will be singing a song by the Rolling Stones. She is singing
(I Cant' Get No) Satisfaction
.
I find this to be an odd choice for the pre-teen to sing, but she has the big voice and puts it in gear. It is good, although it lacks the raw sexuality of the Mick Jagger interpretation. By the end of her performance, all four judges are on their feet, and offer up glowing reviews. They are enchanted by this girl. This includes mentor Simon, who is obviously thrilled with her. LA Reid introduces his first performer this evening,
Chris Rene
. He will be singing a song by Rock 'N Roll Hall of Famer Bob Marley,
No Woman, No Cry
.
Well, I didn't see all that much he offered to the song, by way of being new or fresh. It is a great song. He fell off key from time to time. And it was not really rock at all, just flat-out reggae. Nicole liked him, but was confused. Paula thought it was original, which loses me altogether. Simon liked the performance, but wonders where the rock was, and LA Reid attacks
Drew
instead of defending the material. Well, Nicole introduces her next artist,
Stacy Francis
. Stacy will be singing a song made famous by Meat Loaf,
It's All Coming Back To Me Now
. This is a classic power ballad, and unfortunately, shows the flaws of Stacy's voice. It was weak. LA starts off, and tries to be polite. Paula is less polite, and says it is her least favorite performance to date. Simon tells her it is terrible, more cabaret than rock. Stacy is standing on stage listening, looking a bit shell-shocked. Nicole tells her she loves her, although it might have been a bad song choice...
Simon introduces
Melanie Amaro
, telling us she is going to sing a song by R.E.M. She is singing
Everybody Hurts
, a favorite of Simon. It is a great choice for her. It is a wonderful acoustic version, just her and a piano. It was really lovely. LA Reid attack's the rock cred of the song and performance, despite having put karaoke Marley up on that stage. Nicole thinks it lacked emotion... Has she heard herself sing? Paula loved it, but would like to see her really let loose. Simon loved it. Nicole introduces
Josh Krajcik
by also crowning Foo Fighters as the biggest rock band now. Hmmm. I did think he had the best chance of giving a great performance. He performs
The Pretender
.
He is very good, and really rocks. He got the job done. The judges loved it. LA thought he was the only one to rock tonight, Paula thought he was great, and Simon thought him "bloody wonderful." Nicole spent her time talking about herself, and finally mentioned Josh. Sigh. LA declares
Astro
the most popular contestant on the show, which kinda surprises me. He performs his own rap to the Police's
Every Breath You Take
, much like Puff Daddy's
I'll Be Missing You
. Well, it is a Rock song. His earnest precociousness is annoying me. His talk of bringing Hip-Hop back, well, annoying. But the judges seem to love him. So I move on. Paula introduces her final act in the competition,
Lakota Rayne
. Saying they will be performing a mash-up. They sing The Outfield's
For You
and Fleetwood Mac's
Go Your Own Way
. For me, it is their strongest performance so far, although far from great. They get a little lost in the choreography, making the vocals uneven. LA is unsure of them, while Nicole thought they found their strength, Country Rock. Simon thought it was a disaster, and Paula just loves them. Simon's final contestant of the evening is
Drew
, who will be performing a U2 song. She sings
With Or Without You
, a great one indeed. She slows it down, and brings her unique voice and original phrasing to it, making for a truly interesting performance. LA introduces his final contestant,
Marcus Canty
. He sing's
Piece of My Heart
, by the great Janis Joplin.
I was unimpressed, and thought it was uninspired and a bit silly. He certainly doesn't have the vocals to take on Janis. His voice is too weak and thin. However, Nicole loved it, as did Paula. Simon did not think it worked, and LA was upset with that, despite having told a 14-year-old girl she was boring him. I just gotta roll my eyes.
So, my top two for the night are Josh and Melanie, both with strong and bold vocals. in the bottom for me, I'd have to say Stacy and LeRoy, with Marcus and Chris close behind. Again, I can't be sure I am on the same page as the voters, but the bottom two from last week were in my bottom three. So I guess I will have to tune in tomorrow night for the result.