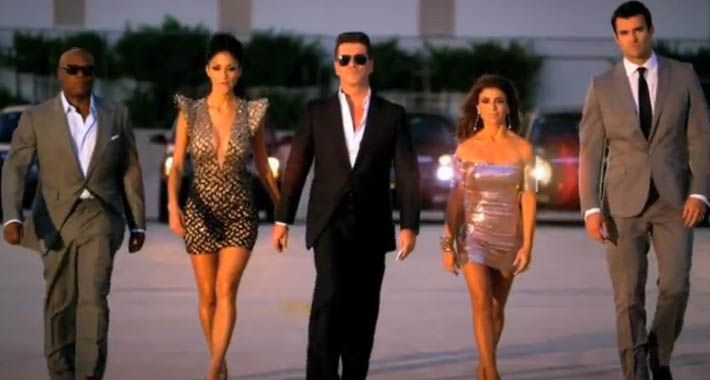 Left to right: LA Reid; Nichole Scherzinger; Simon Cowell; Paula Abdul, and Steve Jones.
It is a night of giving thanks, celebrating the holiday week. However, there won't be too much celebrating, for this is a week for double elimination, and leaving 7 grateful acts, while two will be crying in their cranberry sauce. To get right down to it,
Rachel Crow
kicks off the evening in a magical way when she sings
I Believe
, originally sung by Yolanda Adams as part of the soundtrack for the 2003 movie
Honey
.
It is light, bold, and uplifting, everything this evening should be about.
Rachel
is just perfect. And the judges all agree with me, even LA Reid, who comes out early noting he was looking to shoot her down. Simon Cowell looks as proud as can be of his young charge. It is tome for LA to introduce his first act of the night,
Marcus Canty
. He is going to sing
A Song For Mama
by Boyz II Men. Obviously, he dedicates the performance to his Mama. I am unimpressed, but that tends to be my state with
Marcus
. He is oddly anachronistic, seemingly displaced in this time. He certainly never gives me the idea he is current, that is for sure. And the song often betrayed his weak vocals. However, the judges obviously heard something else, for they give him glowing notices. Next, Simon introduces his second entry for the evening,
Melanie Amaro
, who will be singing
The World's Greatest
by R. Kelly.
Melanie
is simply amazing on this song, and outsings R.Kelly on the original. It is brilliant. Afterwards, the jubilant singer gushes about her gratitude to Simon for bringing her back to the competition, and to the audiences to their support. LA can't find a reason to criticize, and a tearful Nicole asks for a hug. Paula loves it, but complains about the choir. Yes, Paula complaining about too much production. Funny. Simon begs the audience won't let her go. LA introduces
Chris Rene
, who is grateful for his program sponsor who is helping in his growth and sobriety. He is performing a mash up of Lennon/McCartney's
Let It Be
and his original
Young Homie
.
Chris
gives the Beatles' song a reggae beat, which doesn't work for me. When he segue's into the second song, it maintains the reggae beat, but goes into a rap-heavy song. For me, the second works better, for the first is a bit of a waste of airtime. But I must admit I am lost as to why he feels the need to live in a reggae beat. LA believes in his performer, and Nicole thinks it proves his strength. Paula loved it, and Simon agreed with me on the first song, but liked the second much better than I did.
Lakota Rayne
, giving thanks for their parents and grandparents, who have stood behind them and made performing an option in their lives. They started out singing Taylor Swift's
You Belong With Me
.
It started off a bit weak, but quickly gained in confidence and strength. It was, perhaps, their strongest performance thus far. LA Reid agrees, and thinks they were even exciting this week. Nicole loved them, and dragged out the old 'it's your concert' canard once again. While Simon noted there were some pitch issues, he felt it was their best so far, too. Paula is a tearful mess saying stuff I don't understand.
LeRoy Bell
is up next, and he gives thanks for his Mom, who backed him to follow his dream, who passed away two years ago. It still leaves a hole for him.
LeRoy
sings Sara McLachlan's
Angel
. It is a beautiful song, although a tough one to sing. I thought it started off sluggishly, and never really took off. It was an internal dialogue rather than an something shared with the audience. LA starts off by saying it was not
LeRoy
's best, and Paula immediately disagrees. She thinks it was amazing. Simon agrees with Paula, and Nicole loves the performance.
Astro
is up next, and it immediately goes into damage control mode, and that he is apologizing, and we are given lots of abandonment excuses. He is doing another original song/rap,
Show Me What You Got
. After the song,
Astro
again apologizes. The judges all express their admiration, and love him. It all seems very orchestrated and scripted. Simon Cowell introduces his final entry,
Drew
. She is grateful for Shelby, her best friend. She is singing Skyscraper, by Demi Lovato.
She tells her bestie it is their song. I can't say it is a great song, but she does a fine job with it. LA refuses to talk about the performance, but instead complains that Simon assigned her a song for old people. I'm sure that surprises Demi. Nicole says she connected with Drew's performance this week, and Paul loved it too. Simon takes his time to fight with LA, leaving the 15-year-old to be the adult on stage listening to the 'mentors.' Nicole introduces the final act of the evening,
Josh Krajcik
. He talks about the one he is grateful for, his daughter Rowan. There is a clear bond between the man and his daughter. He starts at the piano, and sings a very simple version of
Wild Horses
. He takes the Rolling Stones and brings them home, Josh-style. He does a very nice job, and the judges fall all over him.
Two acts will be spending the Thanksgiving holidays with their families, not needing to prepare for next week. If I were to pick a bottom three for the week, I would have to place
Marcus
,
LeRoy
, and maybe
Lakota Rayne
. But I am not sure if all the damage control can keep
Astro
in safety this week. Perhaps it can, but I don't know. I have to believe
Josh
and
Melanie
, the strongest of the night, will be safe. Surely
Rachel
can survive being in the opening slot with that great performance. And
Drew's
performance should be strong enough to not be lost in the judge's petty battling. Was
Chris
memorable enough with his Island tribute? But you never know when it comes down to the votes. And remember, two of the acts will be heading home.