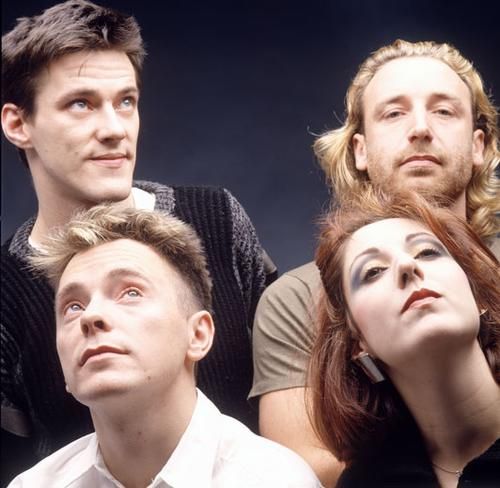 Out of a tragedy can come beauty. If you need proof, just check out this 80s sensation. In the 70s, the Joy Division was an art Rock band really making a name for themselves. Ian Curtis, Peter Hook, Stephen Morris, and Bernard Sumner were a sensation in the UK, and were about to bring it to the US with their first American tour in 1980. That is when fears and depression and all the other emotions took their toll on vocalist Ian Curtis, who took his own life. Devastated but determined to continue on Sumner, Hook, and Morris added keyboardist Gillian Gilbert and started New Order. The sound was something new, a combination of Electronica, Rock and Post-Punk, sometimes called New Wave.
Now, I have to be honest and say that New Order never really fared that well on the American Pop charts, although they did make inroads on the Dance charts. That said, many of the people I knew in New York were aware of the band, and anxiously awaited each new release. I loved, no, I adored their music. One of the first singles I remember rushing out to buy was the 1983 single,
Blue Monday
. It was a great introduction to the band, who achieved an inspired industrial sound. It made it to #5 on the Billboard Dance Club Songs chart.
When
Shellshock
came out in 1986, it was pretty much a revelation for me. I listened to it over and over, often dancing with my arms flailing. "It's never enough, until your heart stops beating..." Of course, it didn't hurt this was on the
Pretty In Pink
Soundtrack.
I don't know if there is a more iconic song from New Order than
Bizarre Love Triangle
. Just hearing the first few bars of the song makes the joy well up in my body. Surprisingly, it only made it to #4 on the Billboard Dance Club Songs chart.
The opening bars of
True Faith
have a bit of a military feel, but then the synthesizer takes over, giving a strong melody. Soon, the song builds more, and just seems to wash over your body and soul.
True Faith
made it to #3 on the Billboard Dance Club chart.
For more about New Order, check out the website endorsed by the band
here
. They are still making music, And occasionally play shows together, although rarely all four together. But they also have their own careers going on, as well as personal lives. But none of that effects me when I hit play and listen to this great music again and again.