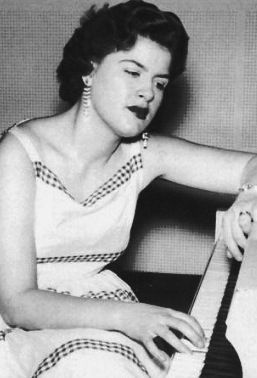 Clockwise: Patsy Cline; Loretta Lynn; Skeeter Davis; and Kitty Wells.
Big Band singers certainly didn't have a corner on the Torch-song market. About five decades ago, the ladies of Country Music were singing what was weighing on their hearts, and it was often men. So I went back 50 years, and started with one of my personal favorites, the extraordinary Miss Patsy Cline. She began recording music in 1955, and was taken from us in March of 1963 in a terrible plane crash. But in between those dates, her amazing voice left us some of the most remarkable music, including the song written by Willie Nelson that took the world by storm,
Crazy
. In 1961, the song went to #9 on the Billboard Hot 100, and #2 on the Billboard Country chart, and the same on the Adult Contemporary chart.
Much like Patsy Cline, Skeeter Davis was no stranger to both the Country and Pop charts. In the early part of 1963, her recording of
The End Of The World
, written by Arthur Kent and Sylvia Dee, was everywhere. It was on the radio, and on the television. It was on several charts, making it to #2 on the Billboard Hot 100 and Country chart, #1 on the Easy Listening chart, and #4 on the Billboard Rhythm & Blues chart. Here she is, singing on a television appearance.
Kitty Wells spent the 50s and 60s at the top of the charts, and gaining the name "The Queen Of Country Music." It was with songs like
Searching (For Someone Like You)
that went up the charts, securing her position as one of the most successful women in Country music. Here is the song, released in 1956.
Loretta Webb was almost 13 when she married her husband, Doolittle Lynn. Right away, she put her energy in her family. When she was in her 20s, her husband gave her a guitar for their anniversary. Soon, she taught herself how to play it, and was writing her own music, and playing it. By 1960, Loretta Lynn was being noticed by the music business, and was starting her recording career. In 1966, she released
You Ain't Woman Enough (To Take My Man)
, which she had written.
Hope you enjoyed the songs!