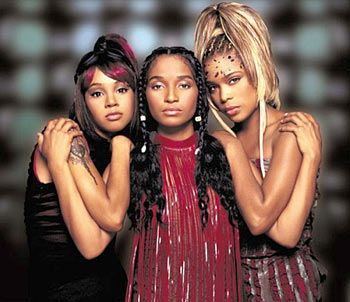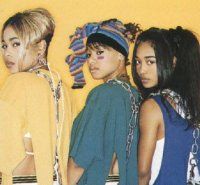 There were three ladies who ruled the airwaves in the early 90s, making their own combination of R&B, hip-hop, soul, and funk. Tionne Watkins, Rozanda Thomas, and Lisa Lopes started making music that made it to the Billboard Hot 100 Top 10 in 1992, and went up from there. They went by the names "T-Boz," "Chili," and "Left-Eye," and called the group TLC. After forming in Atlanta, Georgia, T-Boz and Chili made their way to Los Angeles with Crystal Jones, the original "C" in the group. Soon they were working with LA Reid and Babyace Edmonds, who quickly replaced Crystal with Rozanda Thomas, or Chili. Their second single was released in 1992.
Baby-Baby-Baby
was written by LA Reid, Babyface, and Daryl Simmons. The song made it to #2 on the Billboard Hot 100 singles chart.
In 1994, TLC had their first #1 on the Billboard charts with
Creep
. The song was written and produced by Dallas Austin. It was the first single off the 11 times Platinum selling album,
CrazySexyCool
.
Their next #1 song was not only an iconic song that was written by Marqueze Etheridge, Lisa "Left Eye" Lopes, and Organized Noize. It was the third single off
CrazySexyCool
, and spawned a video that was both beautiful and perfect for the song. Making it to the top of both the US Billboard Hot 100 and the R&B music charts in 1995, they released
Waterfalls
.
In 1999, released the first single off a new album,
FanMail
. The release was a Six-times platinum album, which made it to #1 on the Billboard album chart. The sing was written by Kevin "She'kspere" Briggs, Kandi Burruss, Tameka "Tiny" Cottle, and Lisa "Left Eye" Lopes. Burruss is better known today as one of the
Real Housewives of Atlanta
. The song was
No Scrubs
, which was a Gold-selling song, and hit #1 on the Billboard Hot 100 chart.
The second single off FanMail was the second consecutive #1 single for the group. The beautiful single
Unpretty
was written by Dallas Austin and Tionne "T-Boz" Watkins, and featured a different sound for the group. The sound was more of an acoustic alternative rock band than hip-hop superstars. It dealt with the need for everyone to learn to love themselves as they are, to accept just how bright their light shines from the inside.
This was the last single to make it to the Billboard Top 30. The ladies continued to tour and record music. Then, in 2002, Lisa "Left-Eye" Lopes died in an automobile accident. T-Boz and Chili took some time off, but recently have made a few appearances together. There is talk they will be making new music together.