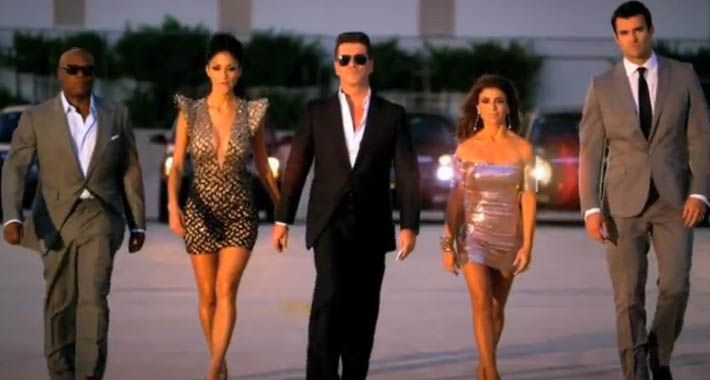 Left to right: LA Reid; Nichole Scherzinger; Simon Cowell; Paula Abdul, and Steve Jones.
After what seemed like endless audition rounds and judging rounds, it is finally time for America to vote on who is the favorite, and who will go home. I will admit I have seen little of the show so far, trying to make sure I had fresh eyes and ears for the performance leg of the season. After the introduction of the judges, they are quick to jump into the action as there are 12 to sing tonight, six per hour of tonight's episode. In a quick recap, the contestants are broken up into four groups, each mentored by one of the judges. Simon is mentoring the Girls, while LA is mentoring the Boys. Nichole has the backs of the Over 30s, and Paula has the groups.
To kick everything off, Paula introduces the first group of the evening,
The Stereo Hogzz
. After seeing footage of them rehearsing the choreography with Paula, they are ready to go on, and perform Janet Jackson's
Rhythm Nation
in their own military inspired red coats.
They perform the choreography well, but I thought the vocals were a touch off. They had fantastic energy, and did kick off the show well. But the judges fall all over them. After an introduction by L.A. Reid,
Chris Rene
sings
Superstar
, the great song by Leon Russell and Bonnie Bramlett. He updates it with Hip-Hop beats and a combination of singing and rap. He does a really good job, and the judges all give him a good critiques.
Nichole introduces 59-year-old
Leroy Bell
, who is missing his 13-year-old son. He also tells us about a note from a granddaughter. He sings
I'm Already There
, first made popular by the Country band Lonestar. He has a wonderful voice, but does have a tendency to pull back while singing, instead of reaching out to the audience. The judges offer up a bit of a mix reviews, with L.A. and Simon not in support of the song choice. Simon announces the show was picked up for a second season, and then introduces 13-year-old
Rachel Crow
, who will be singing
Walking On Sunshine
, the huge hit for Katrina & the Waves.
Rachel is a little stick of dynamite, just exploding over the stage with a big voice. The judges love her, although we see the beginnings of a judges battle between Simon and Nichole, distracting us from the singers... But soon Paula introduces
Lakota Rayne
, who come out to sing a lazy version of Fleetwood Mac's
Landslide
, only it is more like a lifeless version of the Dixie Chicks cover. Their voices are weak, and it is a shame, for they are pretty girls. Paula has dressed them like they are Miss America rejects, which is shocking since they are so young. Simon says something, causing another song to
Josh Krajcik
is up next. After his introduction by Nichole, there is an discussion about the appropriateness of his song choice. He sings
Jar of Hearts
by Christina Perri. He is doing an amazing job. Wow, he really nails it. And the judges think the same. By far the best so far.
Melanie Amaro
has the introduction by Simon, and we are reminded he tried to cut her, and realized he made a huge mistake. She sings
Desperado
, the song by The Eagles. She sings the crap out of the song. She is amazing. She and Josh are so much better than the rest. And the judges agree with me on that. LA Reid introduces the next performer,
Astro
. The youngster is a rapper, and does his own original stuff. He is a charismatic performer, I will say that. However, I can't get all too excited about him, as I am not really seeing much more than a slightly outdated act. However, they judges just adore him.
It is time for Paula's next group,
InTENsity
. She thinks of them as her own version of GLEE, and has them sing a mash up of Kim Wilde's
Kids In America
and LMFAO's
Party Rock Anthem
. They are an explosion of sound and energy, and such fun to watch. And the judges loved them. Great job.
After a break, Simon introduces his final act,
Drew
. She is getting involved in the music, and Simon is loving her. She is taking on Nelly's
It Was Only Just A Dream
. She does a great job, and has the most interesting performance of the night. She is wonderful. The judges love her, and even Simon is just charmed by her. LA, however, wants to steal her from Simon! And speaking of LA, there is his final act of the evening,
Marcus Canty
. LA Reid has him singing a song he wrote for Bobby Brown, continuing the comparison. He does
Every Little Step
, and is dancing up a storm. Frankly, I lost the vocals a bit in all the movement, and I thought it was a bit underwhelming. The judges, however, love it.
The last song goes to Nichole's talented
Stacy Francis
. She takes Simon's advice, and has Stacy singing Gospel. She sings Patty Griffin's
Up To The Mountain (MLK Song)
, and she sings it big. I want to love her, but her high end goes a bit shrieky to me. the low end of her voice is quite nice.
Well, at the end of the first performance show, I am surprised to say there are several talented acts on the show, and would place Josh Krajcik, Melanie Amaro and Drew to be the top three this evening. My bottom two would include Lakoda Rayne and Leroy Bell. Who will America decide to keep around for another performance, and who will be sent packing? We will learn that tomorrow, Thursday evening at 8PM on Fox.