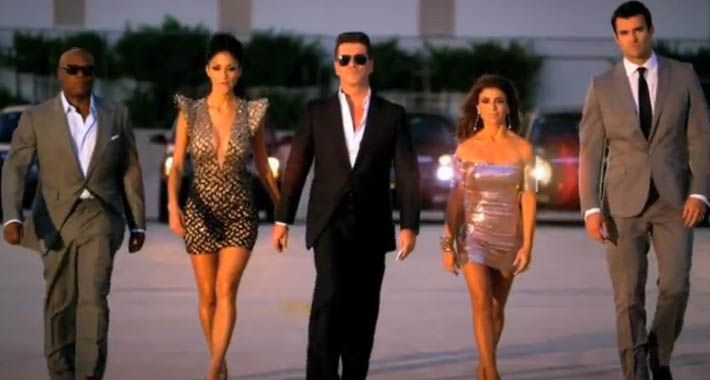 Left to right: LA Reid; Nichole Scherzinger; Simon Cowell; Paula Abdul, and Steve Jones.
This is the second week of audience participation for the show, and I hope to get a better handle this week, as my bottom two last week were both safe, and I didn't see the eliminated act,
InTENsity
, going home. I thought they were the strongest group. Hope I figure it out this week. We get to see video clips of the contestants hanging out on the red carpet with Adam Sandler at the
Jack & Jill
opening. Hilarity ensued, I am sure... Tonight the music featured will be
Music From The Movies
, which could be just about anything. I mean, so many movie-makers are using Pop music in the soundtrack, there is much from which to choose.
Stacy Francis
starts it all off with the song from
The Bodyguard
,
Queen of The Night
. I feel she was still shrill on the top end, and there were moments when she broke in the song. It was a bit weak as an opening number, even if it was uptempo.
LA Reid, who co-wrote the song with Whitney Houston, Babyface, and Daryl Simmons, suggested she picked the wrong song. I would agree. Paula didn't like the song, but thought she did well with a bad choice. Simon thought it was the wrong choice, and the wrong style. Mentor Nicole thought it was fantastic, and that Stacy is an inspiration for women everywhere. I admit I rolled my eyes.
Marcus Canty
sings
I'm Going Down
, sung by Rose Royce from the soundtrack of the movie
Carwash
. Introduced by mentor LA Reid, Marcus puts aside the dancing, and and he is a much better than last week, although there are a few notes he pushes too hard on. And the jacket was a bit blinding. The judges all loved him, and didn't mention the moments I noticed.
Drew
is up next, and the 14-year-old is introduced by mentor Simon. She is singing
Fix You
, which was part of the soundtrack to the movie
You, Me and Dupree
. The Coldplay song seems perfect for Drew, who once again delivers a stellar performance. LA is getting a bit bored, thinking she sounds the same each week. Paula and Nicole love her, although Paula takes a cheap shot at Simon by telling her the dress is awful. We then discover the teenager designed it herself. Nice, Paula.
LeRoy Bell
is up next, and he will perform
I Still Haven't Found What I'm Looking For
, by U2. It is a wonderful song, one of my favorites from the band. While better than last week, I thought his performance was a bit bland, and the vocals a bit frail in spots. The judges fawn over him a bit, more than I could. Mentor Nicole just loved him, of course, and thought it was a concert. Because that is an image that hasn't been used way more than it should, right...
Lakota Rayne
, the group I thought was destined to be eliminated last week for a soul-less performance, are up next. Mentor Paula tells us they will go with a song from
How To Lose A Guy in 10 Days
, a Country Pop song. They sing Keith Urban's
Somebody To Love
.
I remain unimpressed by this group. The vocals are weak and listless once more, and the harmonies not that strong. Again, LA gives a weak compliment about being his favorite girl group in the competition - they are the only one. Nicole and Simon give way too many compliments. Paula gives a standing ovation. Next, LA Reid introduces his next act,
Astro
. The youngster will sing
Lose Yourself
, written by Eminem, Luis Resto, and Jeff Bass from the movie
8 Mile
. He takes the beat, the music, and lays down his own rap. I will admit I don't get it. He seems to be writing well out of his own experience, but I seem to be alone in my thoughts.
Quickly, we are told
Melanie Amaro
is sick this week, with a sore throat. She was put on vocal rest... She is singing a song from the movie
This Is It
, the Michael Jackson song
Man In The Mirror
.
I am confused when LA Reid complains about her singing the same way every week, since his rapper just went out rapping yet again... Nicole disagrees, and think she is amazing. Paula loves her as well. Simon thinks it was her best yet.
Stereo Hogzz
are up next, and will perform a song from the movie
Get Smart
.
Ain't No Other Man
, by the amazing Christina Aguilera, is the choice for them. Interestingly enough, it is a relatively recent song, from 2006, yet when they did it, I thought it sounded much older, much more dated. It was like I was listening to a second-rate Temptations. LA once again goes bitchy, complaining he doesn't know the song, which was Top 10 throughout the world. Might that say more about LA than the song? Nicole quotes Rachel Zoe, an odd choice for a singing competition. Simon thinks that are too cabaret, and I have a tough time disagreeing. However, Paula finds it easy, and yet doesn't answer why, save they are hard workers.
Nicole introduces her final contestant,
Josh Krajcik
. He sings With
A Little Help From My Friends
, the Lennon-McCartney song from
Across The Universe
. It is a big dramatic reading of a predictable song choice, although it was a bit lazy at the start. LA Reid loved it, as did the others. Simon offered a bit of criticism about the production, which again I thought was warranted. Nicole gets a bit huffy about it, and I roll my eyes. Next we have the final pupil of LA Reid, and I can't help but laugh as
Chris Rene
starts to sing Coolio's
Gangster's Paradise
from the movie
Dangerous Minds
. Really? That sounded very dated and karaoke to me. The judges fall all over themselves for him, and I just sigh.
Simon has the final act of the evening with young
Rachel Crow
. She is going to sing a song from the movie
Cadillac Records
, an Etta James song performed by Beyonce. She sings the crap outta
I'd Rather Go Blind
, and is just bold, darling and talented all at once.
The judges all adore her, and and rightfully so. She is just charm and charisma personified. Quickly, we are watching the video recap of the night, and I am slightly at a loss on where to go. I thought this week was a bit disappointing after last week. If I were to say my own choice for the bottom two, I would say it was
Stacy Francis
and
Lakota Rayne
, with
Stereo Hogzz
close behind. What will be America's choice for the bottom? I haven't any idea. Guess we will have to tune in Thursday night to discover the next act to go home.