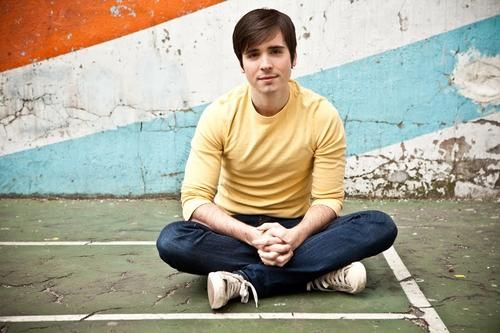 Matt Doyle has a pretty impressive resume, including big roles on the stage as well as on television. The out and proud actor has been featured on Broadway in
Spring Awakening
,
Bye Bye Birdie
, and currently in
War Horse
. He was also brought in to sing the role of Peter in the recording of
Bare: A Pop Opera
. He was cast in the recurring role of Jonathan in the CW's hit
Gossip Girl
. He's also been seen in the films
Private Romeo
and
Once More With Feeling
. So what might this talented young man do in his free time? Apparently, he writes and records music, as evidenced by his EP,
Daylight
.
The sing-song collection is a blues-inspired work, reminiscent of some great Memphis blues recordings. There are 5 original songs, co-written by Doyle with Will Van Dyke, opening with
My Arms Are Open
. There is such a nice fullness and depth to his voice. There is also an underlying flirtatiousness, a little sexy growl. Check out Matt performing the song live at the CD release.
The EP is cradled in the arms of the blues/pop music so many of us love. The bluesiest of the lot is
Lost And Lookin'
, the one cover on the EP. It was written by James Alexander, James W. Alexander, Lowell Jordan and originally sung by the incredible Sam Cooke in 1963. It is so nice Doyle found this one. He sounds amazing on it. He sounds great on
What Do You Gain?
, too, giving himself a chance to wail a bit. His voice certainly holds up to what is asked of it, and the song is the better for it. Weigh Me Down is perhaps the Poppiest of the songs, a searching ballad that gives the softer side of his voice a chance to whisper to us before the soaring chorus steps in. The final track on the EP, Home, brings me back to some of my favorite singer/songwriters from the 70s, like Karla Bonoff. The introspective quality is so nice. I thought I would leave you with a video of Doyle singing
If Morning Can't Wait
, the second track off
Daylight
.
For more about Matt Doyle, you can visit him on Facebook
here
and on Twitter
here
. You can find Daylight on Itunes
here
, CD Baby
here
, and Amazon
here
.