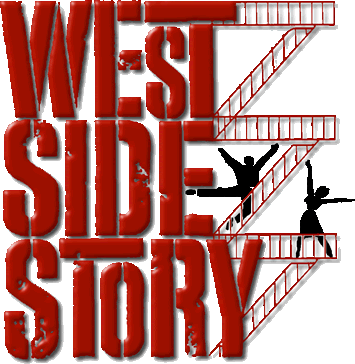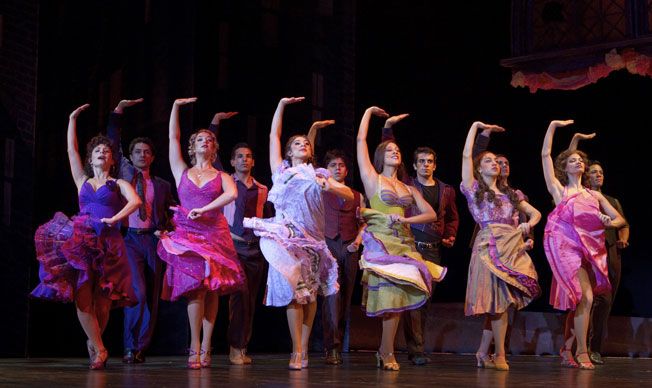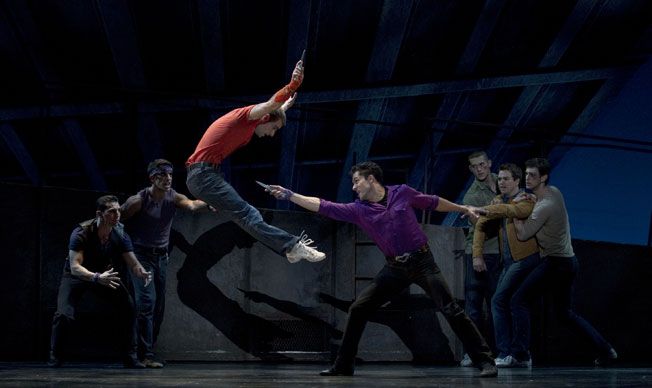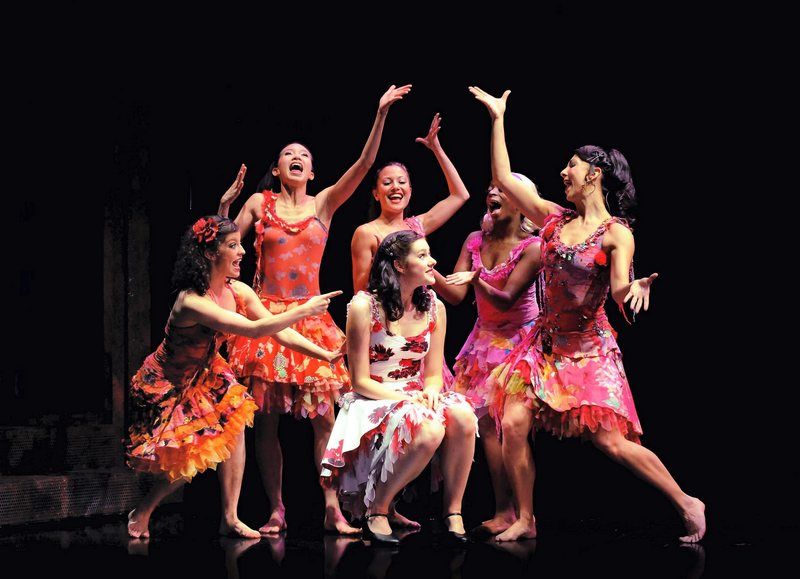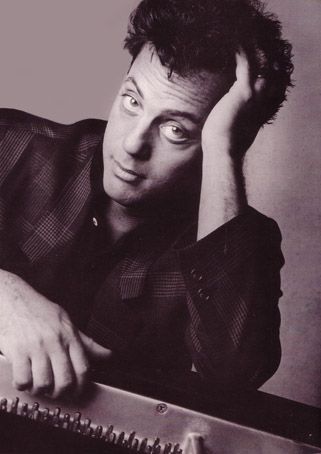 Above: Scenes from Wet Side Story and a shot of Billy Joel.
The show kicks off with Arnie discovering his true passion - bossing people around. In his position as co-director. And part of that is talking to Rachel and Blaine about the lack of passion in their version of
Tonight
, from
West Side Story
.
In fact, Artie thinks Rachel and Blaine should recall the first time they had sex and bring that quality to the song, and to their performances. However, neither Rachel nor Blaine have done it yet, and it gives them both pause to think. We also discover Coach Beiste is a virgin, and has the hots for the Ohio State recruiter, Cooter Menkins, the same one that is coming on Friday to check out the football team, and Finn. Blaine returns to Dalton to invite the Warblers to his opening night at McKinkley High School, and hears them singing Billy Joel's
Uptown Girl
.
Sebastian is singing the lead, and Sebastian is singing lead. Blaine didn't recognize the new singer, who takes less than a minute to start flirting with Blaine. As the flirting begins, we cut to Santana sings
A Boy Like That
with Rachel.
In fact, all the flirting is giving Blaine time to think, for he is intrigued by the attention. Finn goes to Puck for advice on condoms, only to learn he never uses them. Blaine goes to see Kurt, and dances away to Roxy Music's
Love Is The Drug
.
Blaine talks to Kurt about living life to the fullest, to go a little toward the wild side. Arnie finds Cooter and convinces him to ask Coach Beiste out on a date, despite her previous rebuffs. Arnie tells him to be obvious, for he knows Coach Beiste... Blaine is getting coffee with Sebastian, who is a new arrival at Dalton, since his family just moved in from Paris. Paris, France. Sebastian continues to come on strong to Blaine, show tries to explain he has a boyfriend when Kurt walks up, and immediately knows Sebastian is scheming on his man. Sebastian asks them to join him in an evening out at the local gay bar. Not to worry, he will get the fake IDs.
Rachel goes to Finn's house for dinner, and soon they are making out in front of the fire. Finn wants to know why now. She explains she loves him, and wants to do it before the opening. A very hurt Finn flees the scene. While at his locker, Mike Chang is confronted by his father, who just discovered he is still dancing. They have an argument, and Mr. Chang disowned his son. Cooter finds Coach Beiste in the weight room, pumping iron. He asks her out, and she at first refuses, feeling not as pretty as the girls she thinks he should be dating. He tells her he isn't into girls, he likes beautiful women. Like her. [Wipe the tear away...] Rachel seeks advice from Brittany, Santana, Quinn and Tina. While the first three suggest she wait for reasons of their own, Tina points out her first time was amazing, because she really felt something for the guy, and he for her.
Kurt and Blaine go to the designated gay bar, complete with bad fake IDs. Sebastian immediately resumes his flirtation with Blaine. While sitting at the bar, who should come up to Kurt? Yes, it is Dave Karofsky, Kurt's bully. But instead of a hard time, he has a nice conversation with Kurt, including warning him about his boyfriend, who is dancing with Sebastian. The music playing is ABC's
Poison Arrow
.
Soon, Kurt takes to the dance floor, getting between the two as much as he can. When it is time to leave, Blaine is a bit tipsy from his one beer, and gets a little frisky with Kurt. He is not happy nor flattered, wanting their first time to be special, not alcohol-induced in the back seat of the car. Rachel and Blaine are concerned their virginity will keep them from giving an honest performance for the audience. Artie is panicked as well, fearful everything is wrong. The cast, however, are grateful, and he is moved. Soon we are watching Puck singing
America
with an amazing Santana.
Mike Chang looks out in the audience to see the empty seat his father is not in. After the show, Blaine is practicing a dance move he missed in the show. But soon he is talking to Kurt, and both are apologizing for being silly the other night. Instead of the after-party, Kurt wants to go to Blaine's house, for a special evening. Rachel also skips the party, and goes to see Finn. He is down, for the recruiter thinks high school is the end of the line for his football career. Finn is crushed, seeing no future for himself. Rachel is uncharacteristic in her understanding, and wants to just be his girlfriend, and to make the night memorable. At his house. So, the couples are looking to head home to do it. Cut to a flashback of Rachel and Blaine singing
One Hand, One Heart
from
West Side Story
.
We see Coach Beiste glowing next to Cooter, Finn looking on lovingly from the audience, and Kurt smiling from the wings. Soon, we cut back to the happy couples cuddling in their respective homes, kissing.