I swear that every time I hear new music of handsome Aussie Anthony Callea, I tell myself he can't get any better, and then more music is available, and he proves me wrong. Such is the case with
Last To Go
, the EP released this morning worldwide, which I was lucky enough to get an advanced copy. Anthony had his hand in the writing of the song, and it shows with a strong bond between the artist and the music. The versatility of his voice is remarkable, being able to sing whatever is asked of him. I first came to appreciate Anthony's talent about 8 years ago when I came across a video of him singing
The Prayer
, and the exquisite beauty of his voice and the gift of his phrasing made me an instant fan, importing albums and DVDs so I could feed my addiction. Well, with this release I don't have to wait for international shipping, for I just went to iTunes and "Presto," I was listening.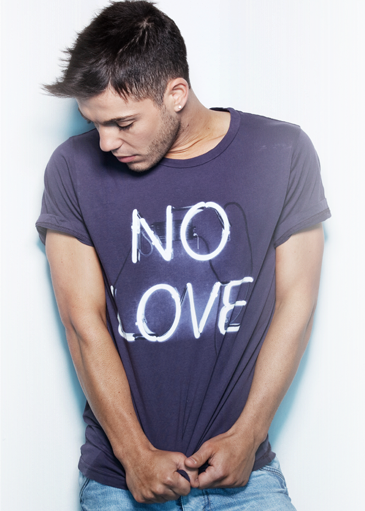 Last To Go
kicks off with the single he release earlier, the dance track
Oh Oh Oh Oh
. I still love the playfulness of the song, as well as Anthony's ability to give full-throat to much of the song. You can find the video and my original thoughts in the the post
here
. That is followed by the latest single, the title cut,
Last To Go
. The feel is once again club-oriented, addressing that feeling we've all had, of just wanting to go out, have a few drinks, and dance your troubles away, and be the last out of the club. OK, for me it is more of a fond memory than a reality, but I sure remember the feeling.
Tangled
is next, a mid-tempo ballad about love that is complicated. This is another great song, squarely in Anthony's wheelhouse.
Last night
is anthemic, big and bold leaves no one mistaken the intention - treat your life like the last night. The next song is about as "what-you-see-is-what-you-get" as you can.
I Don't Care What You Say
is a bold, in your face song that says "screw what other say, live your life." If more could do just that. The next two tracks are amazing acoustic versions of the first tracks,
Last To Go
and
Oh Oh Oh Oh
. They are beautiful, featuring Anthony's amazing voice.
For more about Anthony Callea, visit his official website
here
, where you can find an exclusive Behind The Scenes look at the recording. You can also find him on
Facebook
and
Twitter
. You can find the EP
Last To Go
on
iTunes
and
Amazon
. It is great music, and you deserve a gift today, so check out
Last To Go
and get it on your iPod.