Tonight at 9PM/8PM Central, BBC American will air the latest episode of the supernaturally good series
Being Human
. This episode is
Hold That Front Page
, and it is another amazing combination of great writing, strong direction, and fantastic acting. But before I start in on tonight's episode, I will begin where I left off for
A Spectre Calls
. Annie had just asked Hal to leave. At the police station, vampire Cutler arrives, and gets Tom out, showing the video of Tom kicking in the air - the vampire victim won't show up on tape, remember? They leave together, and Cutler tells him he is a friend. Hal packs the car silently, as Annie watches. He drives away, with Annie crying. Kirby comes up to her, and she confesses she is glad he is there.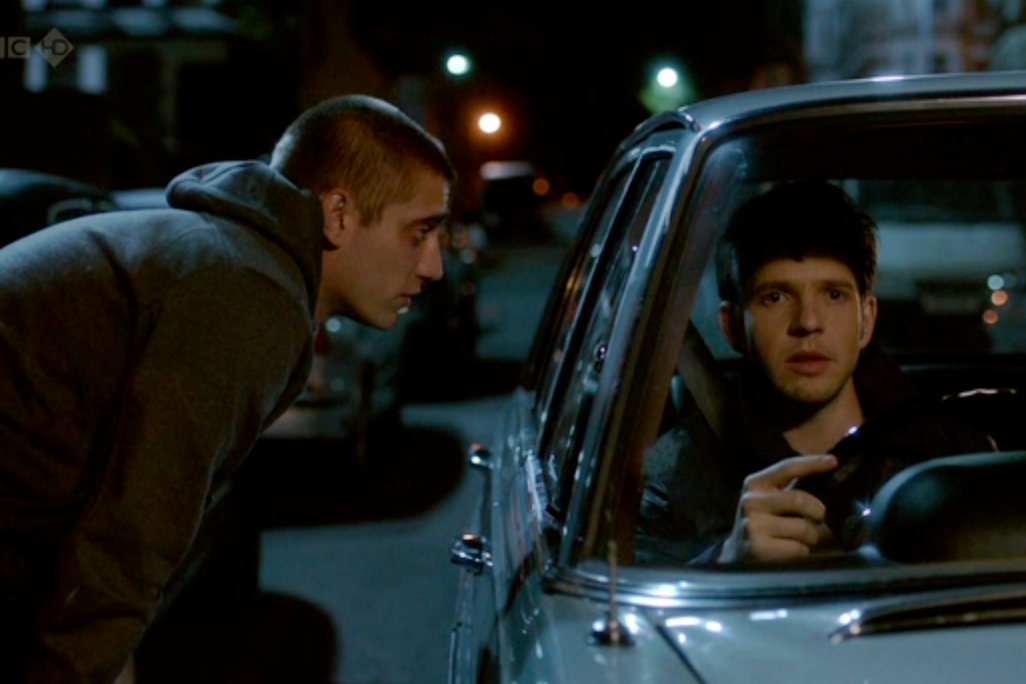 Kirby then goes for her, tearing at her very core. He tells her she drives people away with her personality. He starts talking about himself, "the Toy Man," a toy salesman who killed a string of women. He revels in his evil, and picks at her until she smokes off into the ether. She is gone. Kirby met his goal, and is now alone with Eve. Tom finds Hal driving, and apologizes for freaking out. They quickly figure out Kirby was behind the unravelling of the trio. Back at the home, Kirby is dancing through the rooms, until he is interrupted by the blond on the television. She wants him to kill Eve, and do it fast. She knows Hal and Tom are returning. They come through the door, and figure out he is there to kill the baby.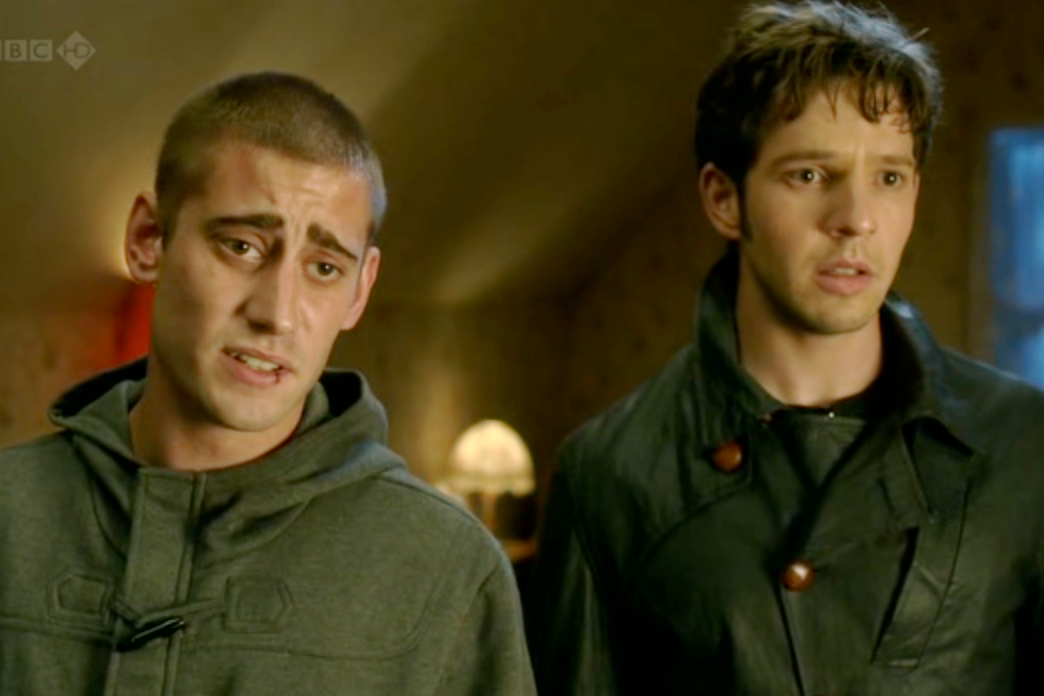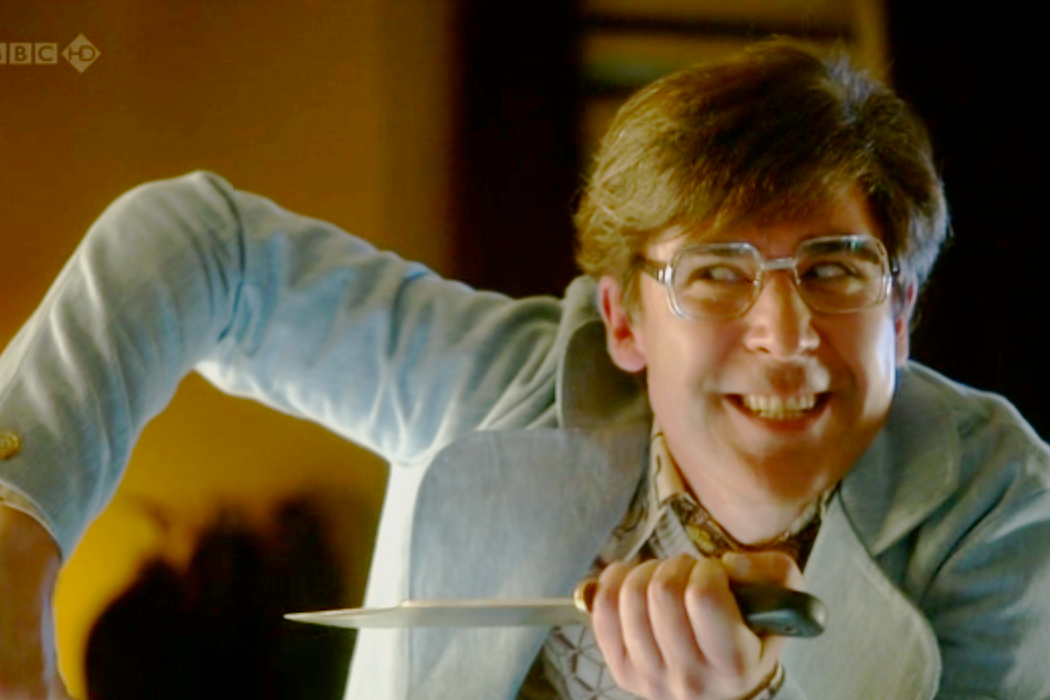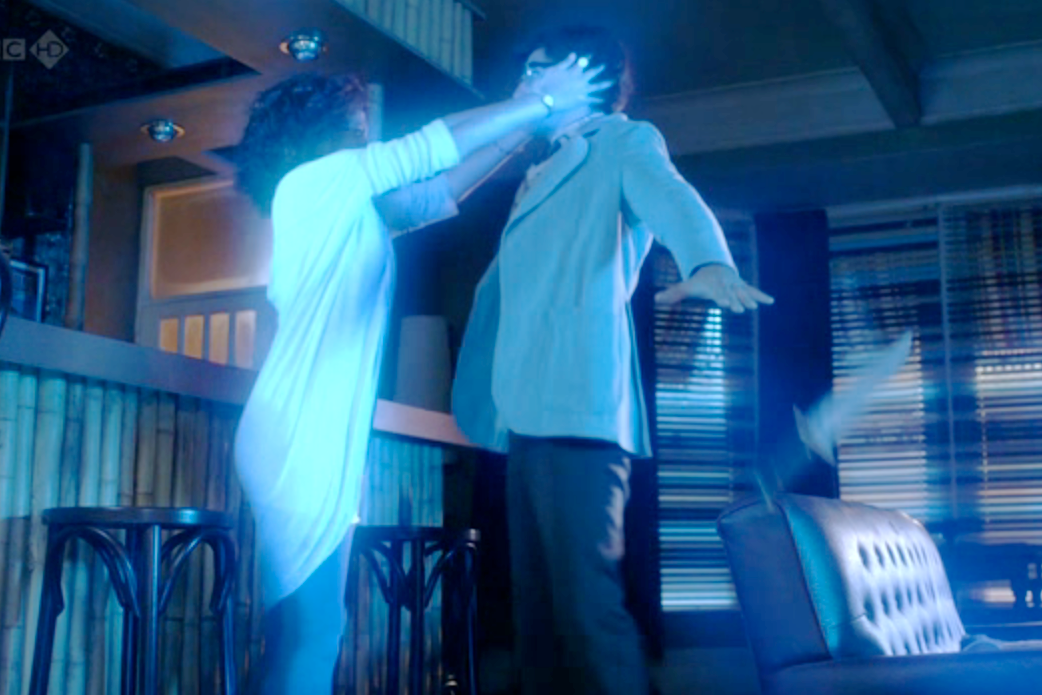 Kirby vanishes to the living room, where the guys find him with a knife pointed at Eve. He threatens to kill her, and the lights flicker. He laughs at them, for they didn't recognize him - the Toy Man. Even told this, they have no idea what this means. Kirby's ego is bruised by this, and he presses to explain it to them. He goes to get Eve, when the lights go out. And Annie comes back, and sends Kirby away, and the power returns. And so does the Annie we all know and love, pointing out she has the worst taste in men, ever. Cutler is meeting with the coroner, and she tells him of the visit of another vampire. This makes him nervous, and he bites out. Back in the hotel, Tom makes jokes with Hal, until Annie calls for them both to come running. She has a birthday cake for Tom. She sings to him, asking Hal to join in - but he doesn't sing. Tom is overjoyed. Annie and Hal apologize to one another, and Hal points out Kirby had no burn on his arm, as the prophecy called for. Annie give him a hug, as awkward as one would suspect. He needs to take a moment, and goes to his room. It is there we see a burn on his arm, left by Tom's blood. Is he the nemesis of which the prophesy spoke?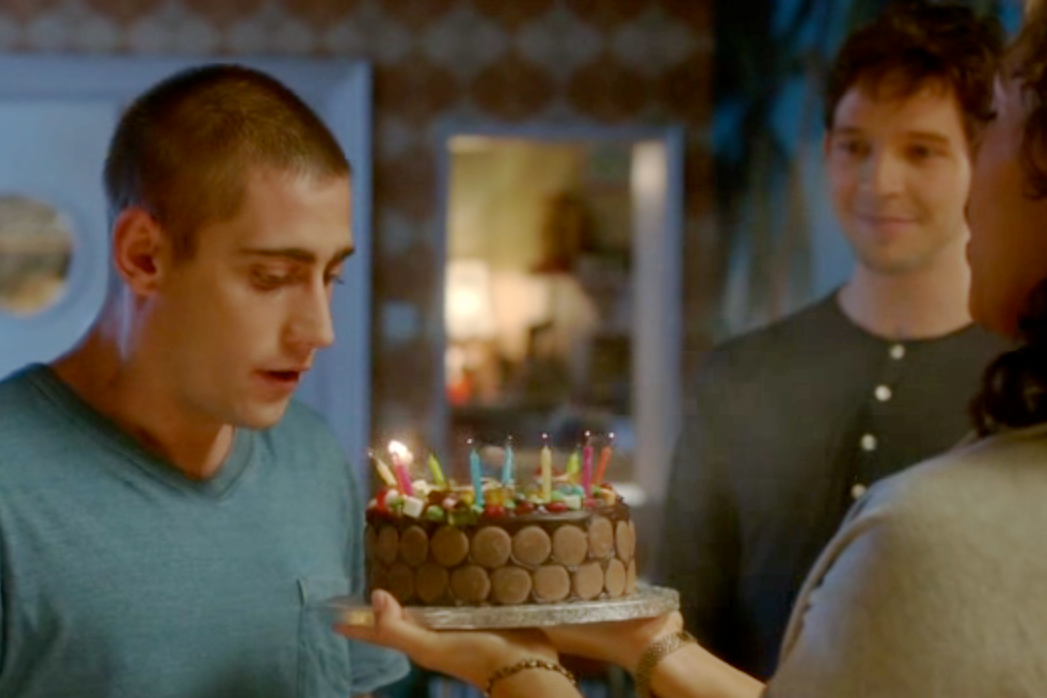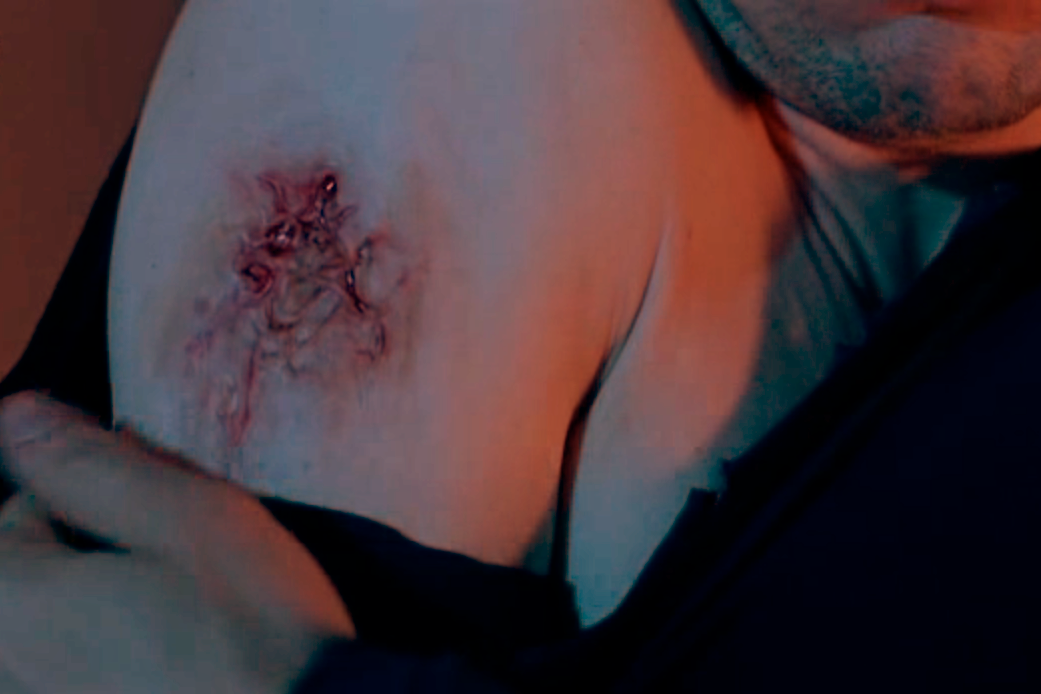 Now that we are up to date, we can start on
Hold The Front Page
! The episode opens up at a Catholic school for girls, and one girl running to meet someone in an old section of the building. We see how it is; Adam, the overly hormonal teen vampire from Season three. We aren't sure what he wants, other than the girl. He certainly wants a grope, and soon goes for a drink, only to be interrupted by a female voice of authority.
Back at the house, Hal is doing dishes and singing
Reach Out (I'll Be There)
, the huge 1966 hit for The Four Tops.
Annie and Hal are interrupted by insistent knocks on the door. Tom wakes up and joins them, wondering who it is. It is Adam, and he is not alone. He brings in Yvonne, the school mistress, his "girlfriend." And he makes it clear they are doing it, whenever he can. She sends Tom off to get dressed, for he has done this scene in his undies. Yvonne walks up and introduces herself to Annie, who is taken aback. A Human can see her?
Yvonne asks if Hal is the father, and then "the naked fellow." When he learns that Aidan, George and Nina are all gone, he becomes subdued, at least momentarily. Yvonne apologizes for imposing, and for the trouble to come. Before Hal could ask why, Tom comes down, dressed. While shaking Yvonne's hand, he is caught off guard and intrigued. Hal asks what the trio can do to help, and is told by Yvonne that they duo are on the run. Seems their love affair was discovered at the school, and was making headlines - Middle Aged Schoolmarm with Teen Boy. It seems they are in love. She tells of constantly having to fight off unwanted attention, from fathers of the kids, to Brad Pitt. She speaks of Adam as mature beyond his years, causing Annie to roll her eyes.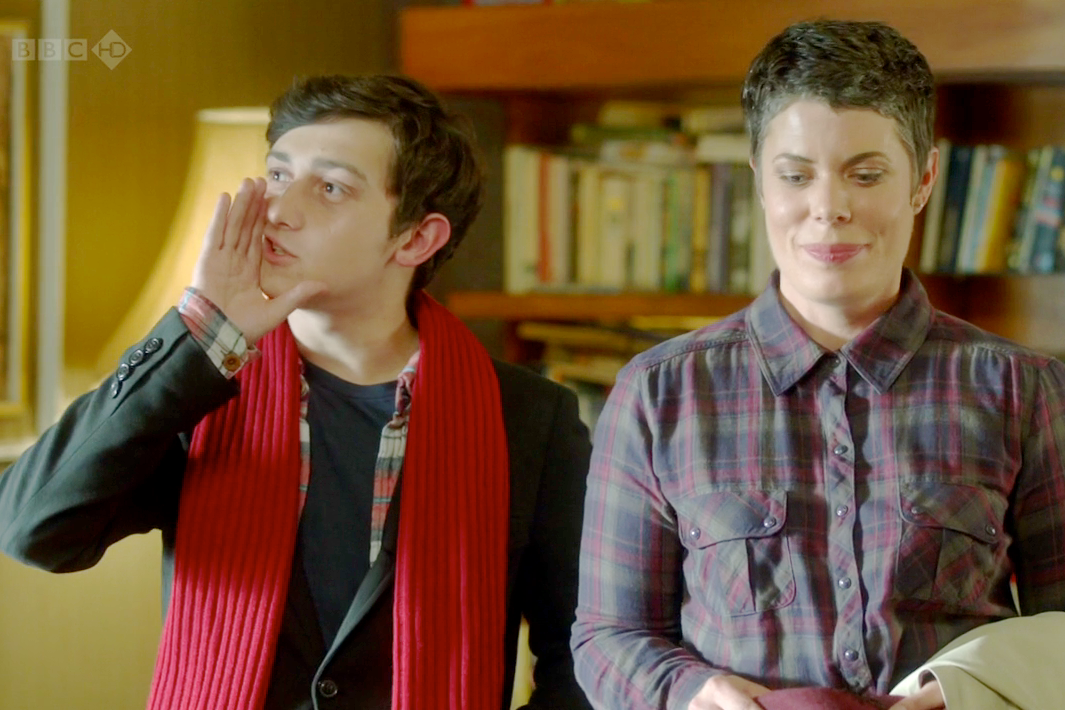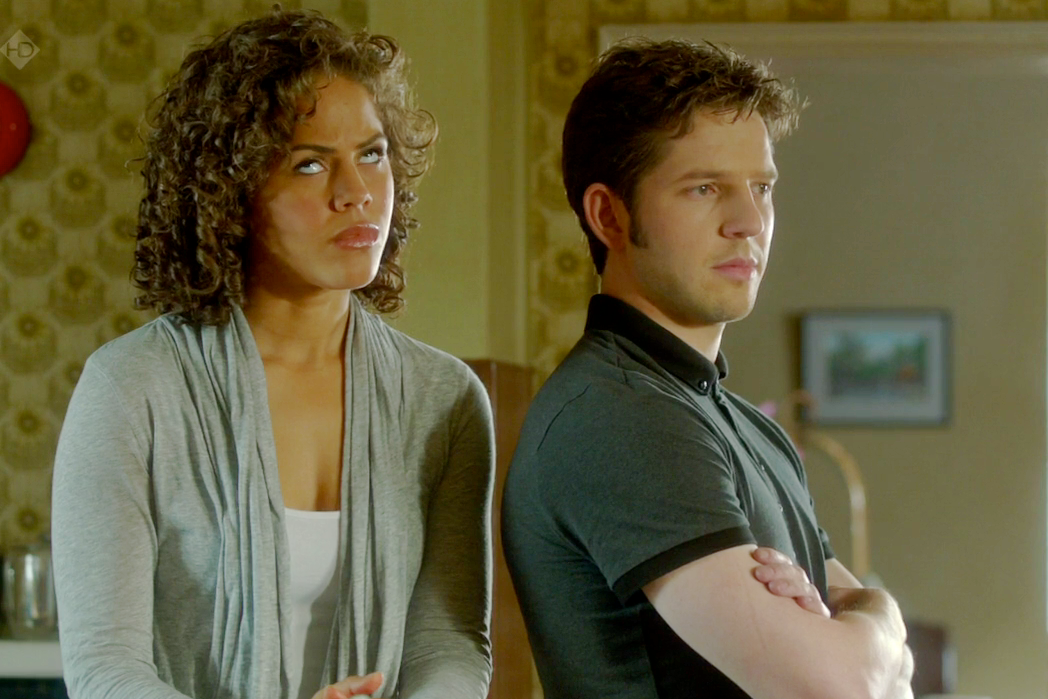 It is then that Annie realizes that Yvonne doesn't know or understand what Adam is. She wanted to face the press head-on, pose for a few pictures, sell the story, give the money to charity, and move on. Adam thinks he has cleverly lost the press, only to discover them outside the door. Yvonne wants to go out to see the press with Adam at her side. The trio try to stop them, but Yvonne is a force. However, they manage to stop her, although she wants an explanation. In the woods, Cutler is dragging a bundle, obviously a body. Back at the house, Yvonne was just told her boyfriend is a 47-year-old vampire, visiting a vampire, werewolf and ghost. She doesn't believe it, and feels it is Adam trying to break it off. The trio learns that Yvonne has only had two lovers in the past, and both died. Adam is already, so no risk there. She fears they are all suffering from delusions. But they must all lay low together, to avoid the press. That makes Tom happy, wanting to spend more time with Yvonne. Tom goes off the nap. Back in the woods, preparing a body for something, but what? He leaves it in the woods.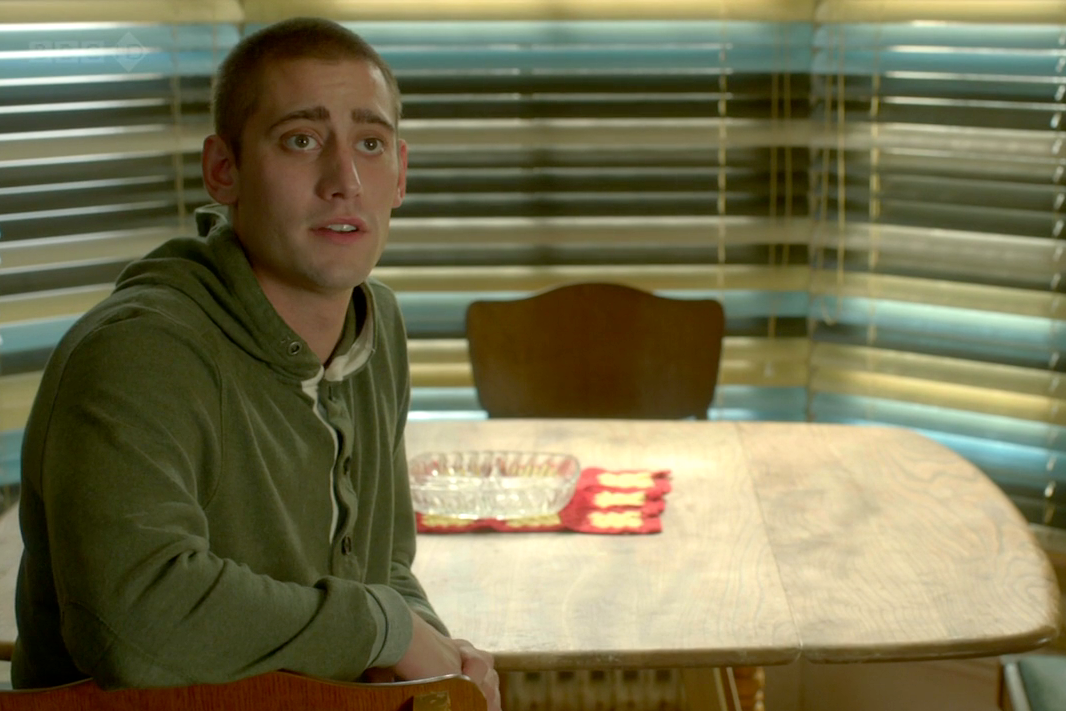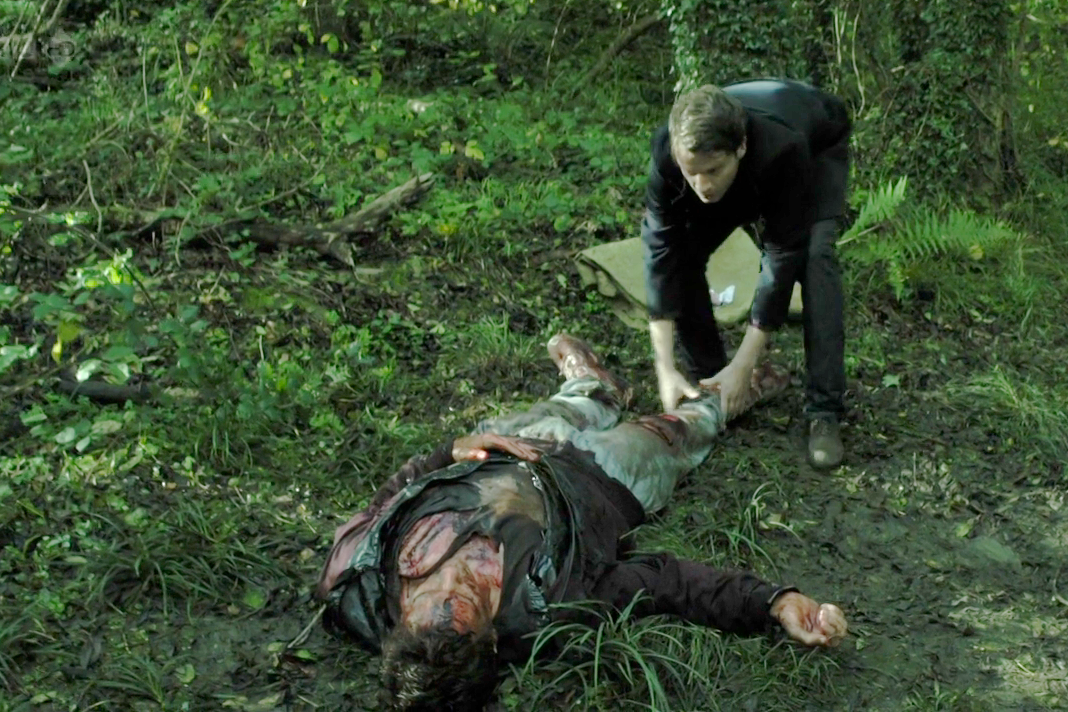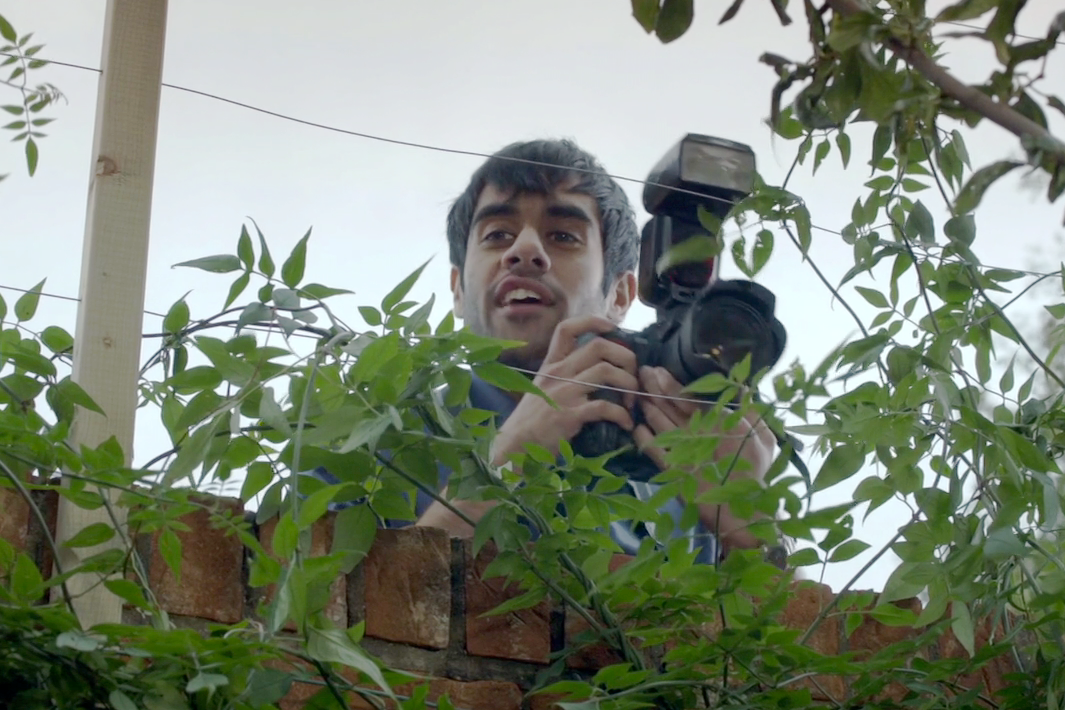 Tom is having a dream, and it features Yvonne. She is a barrister, and Tom has a thing for them. She speaks Latin, and starts to disrobe. She asks him to finish undressing her, and Tom wakes up. Hal is watching Eve, and she spits up on him. When he starts to clean it up, we are reminded of his burn. Adam comes in, and soon comes to his point. He wants Hal to stay away from his woman. Hal has no interest. Adam goes out for a smoke, and Tom comes in, speaking of Yvonne, and if she'd like flowers. Our Tom is smitten, it seems. Outside, Adam is caught by a photographer, named Peter, only there is no Adam in the picture, making the paparazzi pause to think. Poor sweet and innocent Tom is trying to impress Yvonne, who wants nothing to do with him. Adam comes back, and the Peter shouts in, willing to show Yvonne the pictures he took. Tom and Annie go out to speak with him, to try and diffuse the situation. They go in, and Tom tries to discredit Adam in Yvonne's eyes, while Annie tries to convince Hal to go rough up Peter, to get him to go away. Yvonne puts a hand on Hal's shoulder, and his mood shifts. Peter decides to take action, and goes to see a lawyer, Of course, it is Cutler he goes to see. He knows Cutler got Tom out of jail, and wants to know more. And he has a copy of the tape of Tom kicking and punching the air. Cutler admits to it, Tom was kicking the crap out of a vampire, and Cutler was trying to cover up. Vampires aren't the scary ones, he tells the photog. It is the werewolves he must fear. He'd like to work with Peter, if he could find out where he is staying, to he could see what he has...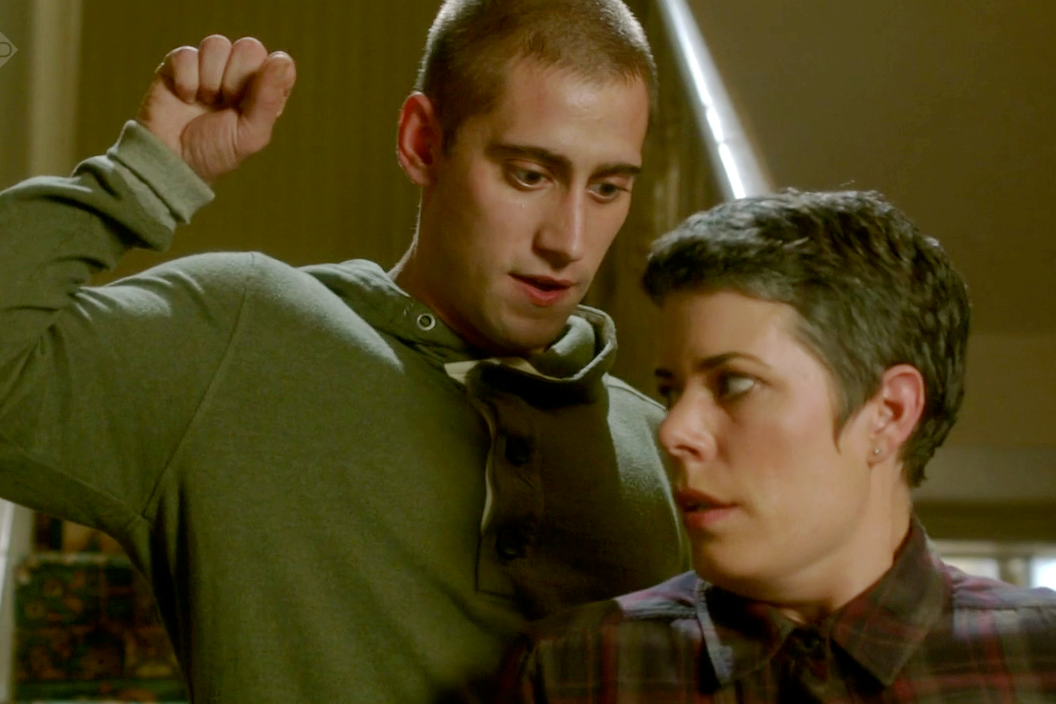 Back at the hotel, Hal is having a dream, starring Yvonne. She wants him to feed, to embrace the pleasures. He wakes up shaken. He runs into Annie on the stairs, and they have a brief talk about Yvonne. Hal ventures downstairs, where Tom and Adam are fighting over Yvonne, and when they go in the kitchen, Hal makes his move. But Adam is not impressed. He quotes Yeats to her, and she blushes. Soon the three are fighting over Yvonne, when Annie comes in with Eve. Soon Tom goes after Hal, only it is Hal who triumphs. He sends Adam running.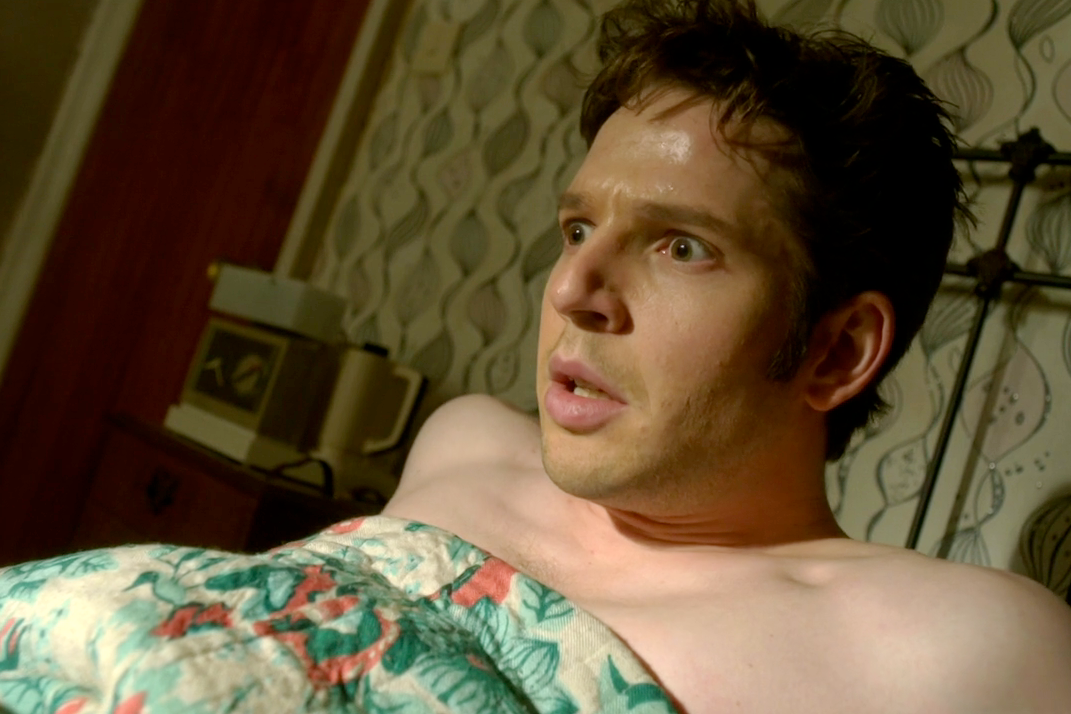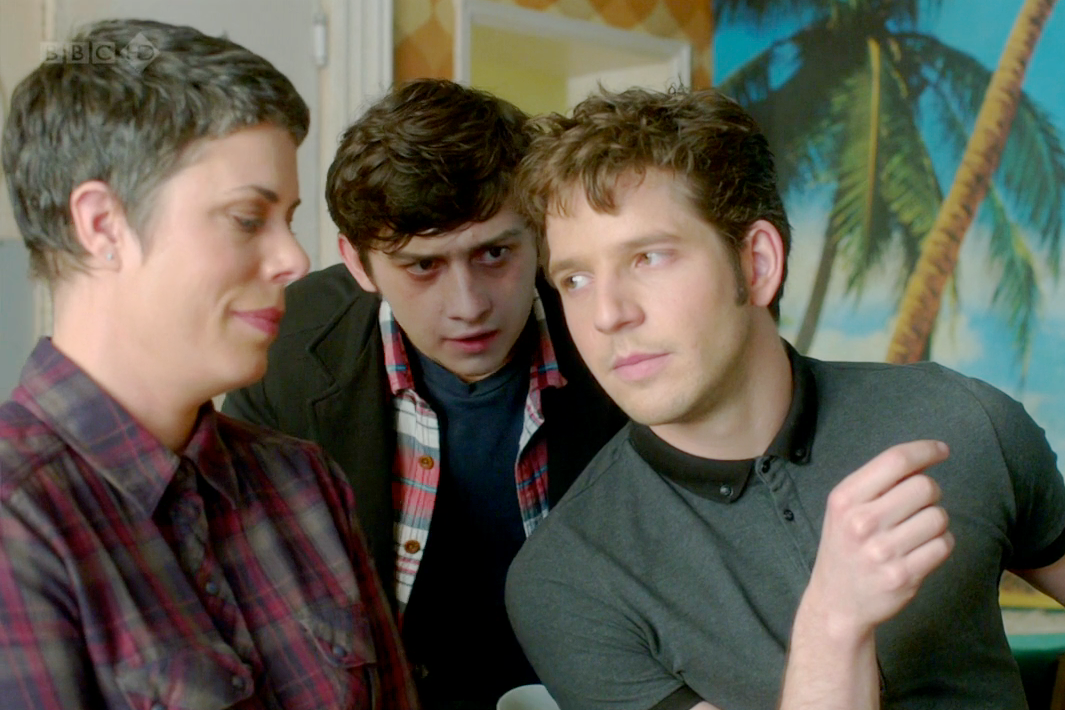 Yvonne goes to him. She wants more from him. He must now kill the baby. As he is about to stake Eve, he wakes up, all in a sweat. It was another dream. Annie comes in, wanting to talk about the photographer. Hal asks her to slap him, to make sure he is awake. He has figured it out, Yvonne is a Succubus. Annie talks to her about it, and she thinks it is crazy. Yvonne will not accept she is a succubus, or that ghosts, vampires and werewolves exist. But she begins the journey, and is quite sad. Does this mean none of her suitors have cared about her? That perhaps Adam doesn't love her, it is all just supernatural? Annie agrees to take Adam away from her, to test it out. for Yvonne truly does love Adam. Annie agrees, and while taking him outside, Tom chimes in, making the situation tougher.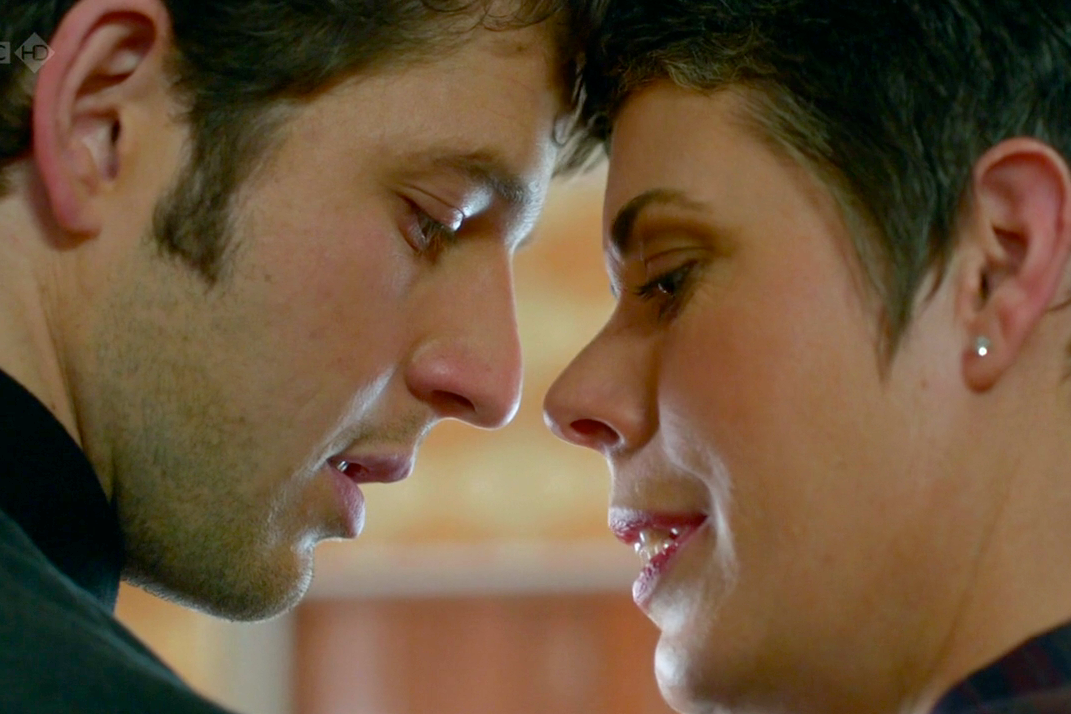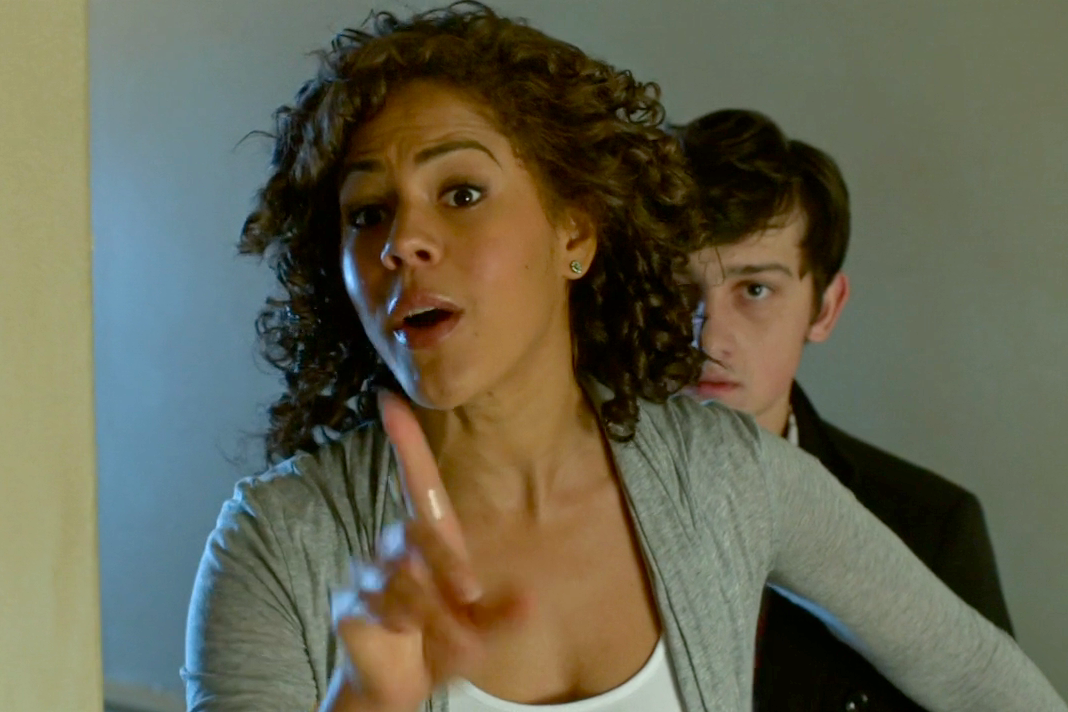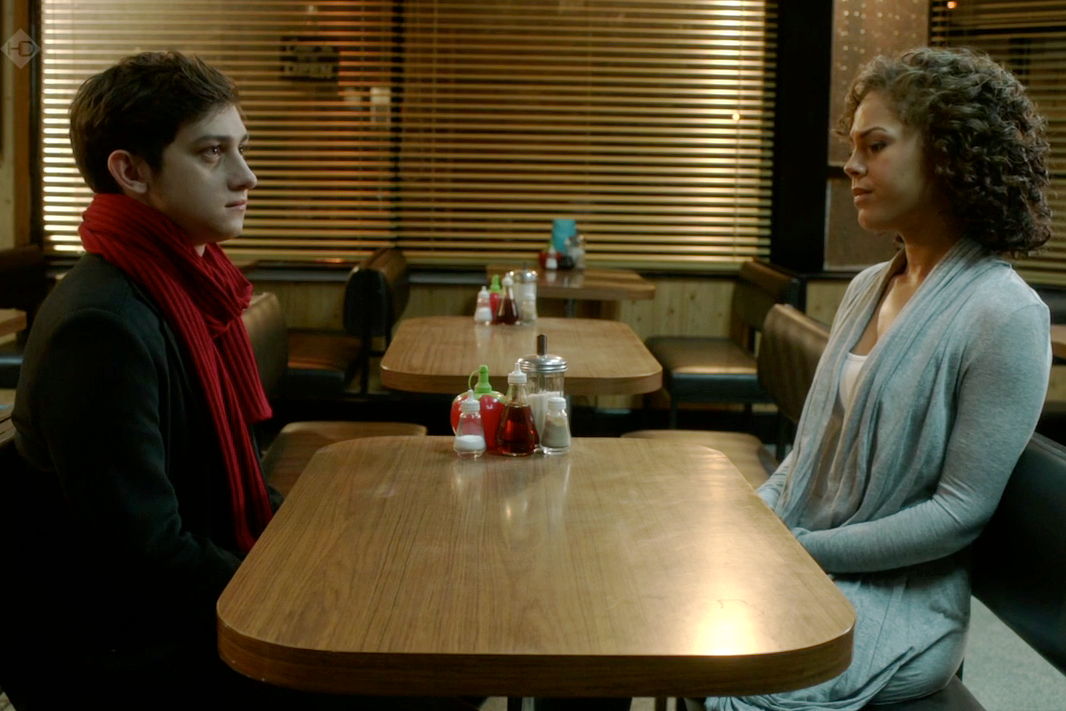 What will happen in the last 20 minutes of the
Hold The Front Page
? Will Adam still love Yvonne? Can Tom escape her spell? Can Hal resist the urges to drink? Can Peter work with Cutler to reveal the world of vampires and werewolves? Will Annie feel Adam's, uhm, swordsmanship? Who will find love by the end of the episode? Watch Saturday night, 9PM/8 Central on BBC America. Need to see a preview? Watch this...