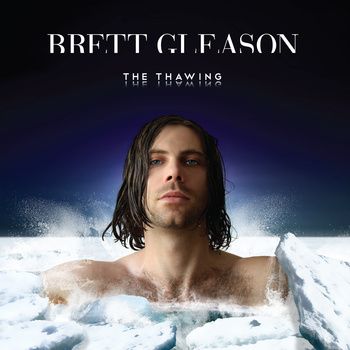 Have you been wondering when you can purchase the latest release from rocker Brett Gleason? Well, my pretties, the time is now. Finally, after a long wait, Brett Gleason's new album,
The Thawing
, is available for purchase. The five-song EP kicks off with
Destruction
, the first single. The startling and textured song features song progressive rock layered with jazz riffs, part Emerson, Lake & Palmer, and part Thelonious Monk. Check out the video for
Destruction
.
That is followed by
Unruddered
, a that ramps up the density, feeling almost operatic in structure, but the sound is pure rock. When
Calculated
kicks off, it showcases a strong melody line, once again blurring the line between Rock and Classical. There is a feeling of being seared by the darkness, but only if you pause to bask in the fire.
Polarity
is a brooding and moody song, shifting gears and tempos often, smoothly transitioning with ease. The beginning of
The Thawing
puts me in mind of a wind-up musical mechanism, seeming a bit simple on first listen, only to discover the great depth on a second playing. Quickly, the song shifts into a melancholic mood, weaving a tuneful air that takes slick twists and turns.
The Thawing
is different from the 2010 EP,
The Dissonance
, with an added melodic sophistication. There is also less apocalyptic darkness, and more brooding contemplation. For more about Brett Gleason, you can visit his
official website
.
The Thawing
in now available on
iTunes
,
Amazon
,
CD Baby
, and
Band Camp
. If music that moves effortlessly between sweet melodies and bombastic rock, then
The Thawing
is waiting for you.