Well, this week has been rather quiet in Idolland. There was no big controversy, no one sent home after being embarrassed on national television. There were some noise about the bottom three last week, all three young ladies. Sure, it was universally thought it should be Shannon going home, but at Idol you never know. But with Erika and Elise joining her in the bottom, the alarm was sounded that this could be another season that is dominated by guys, and little reason for females to get their hopes up. For the first six seasons, the gender of the finalists was evenly split at 6 each, but in the last 4 seasons, there have been six guys in the finals, and just two girls.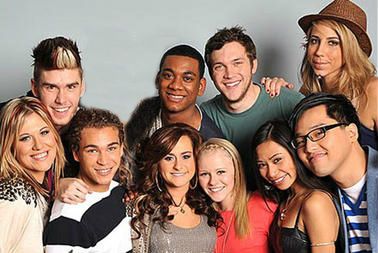 So, after last week, we are down to the Top 10, with Jermaine and Shannon both being sent home. That does leave a hole in the schedule, at least as we know it. The show is set to crown a new victor on May 24th, nine Wednesday/Thursday nights away. With 8 being eliminated during that time, that means there is one week when the judges will have to use the Judges' Save, and the following week have just one go home. Will it be this week? Only time, about 24 hours to be exact, will tell.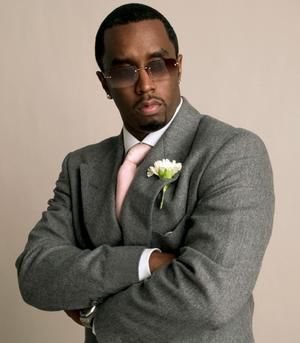 Top: Billy Joel. Left: Diddy. Right: Tommy Hilfiger.
Tonight is Billy Joel night at Idol, with all the Idols singing songs by the Long Island-based superstar. The only other time AI had a night dedicated to the "Piano Man" was Top 7 night during Season 2, which featured Motown great Smokey Robinson as a guest judge. Tonight, Diddy will be the guest mentor, joining Jimmy Iovine to give the kids the wealth of experience the two bring. And Tommy Hilfiger comes to give the kids a bit of style advice.
Deandre Brackensick
is up first, and Tommy Hilfiger thinks he needs to let the hair flow free, and get a cool, subtle look. Next, he visits the studio, and Jimmy I and Diddy hear him sing
Only The Good Die Young
, the 1977 hit off
The Stranger
album. They offer some advice, but seem more amused by what they are saying than actually interested in helping. Deandre, delivered the song better than I expected, with no real issues with staying on pitch. It was a little perky and upbeat, with no real edge to it. He wasn't threatening anyone's children at all. And he should have been. The judges were kind, but didn't really call him on the lack of emotional backing to the song.
Erika Van Pelt
sings
New York State Of Mind
, off Joel's best album, the 1976 release,
Turnstiles
. Diddy thinks Erika needs to take on the role of a New Yorker, and get down and dirty with it. Tommy suggests she cuts her hair short, to give her a slightly punky edge. She comes out on stage, and nails it. Her voice is perfect for the song, and she delivered with it all. My God, this girl has an amazing voice. The judges all thought she sounded and looked great, but they also mention wanting to put more emotion in it. Really, judges? Deandre was good, and Erika lacking? SMDH...
After a break, we learn it is time for Joshua Ledet. Hilfiger tells him he is special, and needs to be in formal attire, black tie. Next, we find out he is singing
She's Got A Way
, originally part of Joel's 1971 album
Cold Spring Harbor
, but a single off the 1981 album
Songs In The Attic
. He performs, and starts out rather sweetly, and builds to a big finish. For me, this quiet and tender song was lost for me, a sweet moment flooded with bombast. I am afraid, for Jennifer Lopez agrees with me, well, sort of. She felt he sang it, but didn't feel it. Randy kinda agrees, too. Steven thinks he sang the stuffing out of it. After the break, it is time for
Skylar Laine
to put her Country spin on Joel's music. First up, she meets with Diddy and Jimmy I, performing
Shameless
off the 1989 album,
Storm Front
. She is bowled over by Diddy, whose first not is for her to scale it back, stop forcing the song. Bless you, Diddy! Tell the truth! Hilfiger just wants to coordinate her outfit, and keep that special thing that makes her Skylar - matching boots. I thought it was one of her best so far. She heeded Diddy's advice, and didn't force it in the slightest. The judges were not as sold, and apparently like her better when she shouts instead of sings.
Elise Testone
sings
Vienna
, off
The Stranger
. Jimmy is concerned it is a song no one knows, and could hurt Elise, who is struggling to stay in the competition. Tommy wants to put her in a pair of high-waisted bell bottoms, and while she loved the idea, she opts for a long dress instead. On stage, she sings the heck out of it, and delivers the best performance of the night so far. It was sweet and tender, with a smokey jazz feel. And, man, was it heart-felt. The judges flip over it, and I am shocked. I will let it go to watch the video.
Next up we have
Phillip Phillips
, in to see Tommy Hilfiger, and he thinks Phillip needs some fashion help. Bad. He wants him to move away from gray, and get a bit of color. He doesn't want to hear it. He sings
Moving Out (Anthony's Song)
, the huge hit off
The Stranger
. Diddy wants him to put down the guitar, and get into it. For the performance, he is wearing gray, playing the guitar. To me, he made that an angry, muddled mess. His garbled vocals, the grinding, plodding tempo, all just bored me. However, the crowd went crazy, and the judges did too. Put me in the WTF category. The next contestant on the stage is
Hollie Cavanagh
, who gets a video from her brother, which is amusing, mocking his father's tears last week. By the way, he seems to have a southern accent... Go figure. Tommy wants her to dress younger, not so maternal. She is singing Honesty, the 1979 hit off the album
52nd Street
. Jimmy and Diddy want to to scale it back a bit, take away some volume, and add some emotion. There were certainly a few rough spots, some notes missed, and some honest moments covered by loud. The judges agree with me, which worries me.
After a break, we see Haley in the audience, getting ready to perform her new single,
Free
, tomorrow night. Then it is time for
Heejun Han
, who meets with Diddy and Jimmy I, and we hear nothing but that he was upset about bad reviews last week. Then with Hilfiger, he does shtick. He sings
My Life
, the 1978 hit off
52nd Street
. And he incorporates the shtick there, too. The performance misses the pitch often, and his words a bit muddled. This is not good for me at all. The judges are far more polite than they should be, and I am annoyed. They seem to be okay with laughing at him... Tommy is up first with
Jessica Sanchez
, and he just loves helping her out. Then it is time for Diddy and Jimmy I, and Diddy tells her to stop oversinging the song, and try to respect the song. Good for him. She is singing
Everybody Has A Dream
, yet another cut off
The Stranger
. In performance, she combines both the quiet Diddy wanted, but taking moments add the bombast. The judges think it is perfection, while I think Diddy was right, and she could have been a touch more dialed back. This leaves
Colton Dixon
, our last contestant for tonight. Tommy wants to try something new with the hair, which immediately turns Colton off. Diddy and Jimmy I love what he is doing, save for slight squabbling over a note. He will perform
Piano Man
, the iconic song from 1973, off the album of the same name. He does a great job with the song, making it seem timeless, with a song that often seems dated. The judges are all over him. They love every little thing about him. I think that is a bit over the top. But he will surely be safe.
If I were to pick a bottom three, I would have to say
Deandre
,
Heejun
, and maybe
Hollie
or
Phillip
, but I will be surprised if I am correct. I fear that Erika and Elise will be back on the bottom, despite strong vocals. We will know in about 24 hours.