Well, just when you thought no one was paying attention to American Idol, along come a new controversy. It seems as though TMZ got word that the back story for Jermaine Jones was less than truthful, and he had a good relationship with his father. That somehow lead to the discovery of outstanding warrants for crimes that had somehow alluded the background clearance of Idol's apparently not-so-crack staff. Jermaine was, of course, most notable this season as having been brought back following elimination by the judges. As of yet, no word has come from Idol how this will effect tonight's show, or the show going forward. If the finale is scheduled for May 23, there must be one week without an elimination between now and then. Perhaps they will let us know during the show tonight.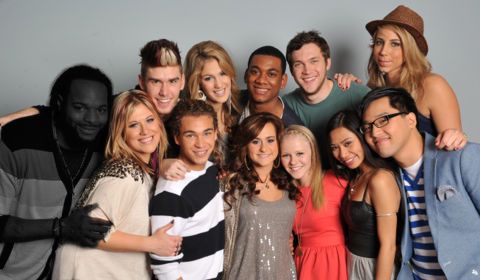 The Top 12...the Top 11 with a Ghost of Contestants Past?
Songs From The Year They Were Born
is the theme when the Top 11 (or Top 12) take to the stage tonight. It starts with a quick statement from Crusty, making note of the assistance of law enforcement... They are being serious! The judges are introduced, and Randy pulls Crusty on stage with them a bit, and then he must race around, and come down the steps. First there are the mandatory kid pictures of the judges, as well as one of Crusty.
First up is
Phillip Phillips
, and we learn he is in pain, suffering from kidney stones. He will need surgery, we hear. He was born September 20, 1990, and he takes on
Hard To Handle
, by the great Otis Redding, and covered by The Black Crowes in 1990. The people go crazy, knowing he had surgery last Thursday. I found it fairly perfunctory, but he does tend to fall behind the beat. I am not surprised judges fawning all over him.
Jessica Sanchez
was born on August 4, 1995, and will be singing
Turn The Beat Around
, made famous by Vickie Sue Robinson and covered by Gloria Estefan in 1994. Tonight, she is actually more impressive to me than last week, for it seemed less imitative than last week. I am stunned, for the judges are not too kind, and I wonder why they aren't that "honest" with all the contestants. Next up, we have
Heejun Han
, who was born in April 20, 1989. They interview his parents, who speak Chinese and need subtitles. He will be singing
Right Hear Waiting
, the huge hit in 1989 for Richard Marx.
In the rehearsal, Jimmy I and Will-I-Am are helping Heejun with diction, which is dearly needed. He really needs to learn to open up his voice, for it often feels like his is pushing it, and it is constricted. He also tends to slide on the flat side. I am waiting for the judges, and am surprised they actually call him out. That is a shock. Although Steven and Jennifer both try to soft-sell it. Born on July 29, 1983,
Elise Teston
e, talks about her experience in the bottom two last week, and having the judges save her. Soon she is singing
Let's Stay Together
, the 1983 huge his for Tina Turner. She impresses the boys in the studio, and she impressed me once again. Her voice has such depth. The judges surprise me, and love her too! Next up, we have
Deandre Brackensick
. He was born on October 21, 1994, and with the help of Jimmy I and Will-I-Am, decides to sing
Endless Love
, released in 1994 by Mariah Carey & Luther Vandross. He sounds good, but not incredibly special. He really overuses the falsetto. He seems not as comfortable on stage, not like last week. I'm shocked, for the judges agree with me once again. They feel he was lead astray by Jimmy I, and was not at his best. We discover
Shannon Magrane
, born on October 21, 1995, sang Thumbelina endlessly, and it haunted her father for a long time... She meets for the rehearsal, and right away Jimmy I gives us a commercial in the middle of the show, and I roll my eyes. She will be singing
One Sweet Day
, sung by Mariah Carey & Boyz II Men.
Her voice was also tight, and reaching beyond her range. She really just tried to mimic Mariah, and I was not impressed. Especially since she is more shouter than singer. But it seems like the judges are impressed, and we are back to being at odds. After a commercial break,
Colton Dixon
will be taking the stage. Born on October 19, 1991, Colton will be singing a song from the hard rock band White Lion,
Broken Heart
. The song first appeared on a 1985 album, but was rerecorded and released as a single in 1991. He had dinner the other night with Chris Daughtry, who gave him advice he immediately ignores. The song he sings tonight is not well known.
White Lion was a big hair band back in the day, but once he works with Jimmy I and Will-I-Am, they are loving him. Once he is performing, I am liking it, for it is a Pop song with a driving beat. He truly took command on the song. I think he really killed it, and it was a highlight. The judges are not on one page here. Jennifer liked it, and thought he looked good singing. What? Steven hated the song, and left it at that. Randy cared not a wink about the song, but thought Colton was amazing. Next on tap we have
Erika Van Pelt
, born on December 12, 1985. Her mother tells an embarrassing story about how she was a loud child while growing up. Soon we learn she will be singing
Heaven
, the 1985 hit by Bryan Adams. Jimmy and Will-I-Am like it, and think it is perfect for her. Jimmy I and Will-I-Am need to leave these kids alone sometimes... In the performance, I feel it is overly produced, and the tempo was all over the place, and she was slipping in and out of beat. Once again, the judges are confused, with Steven not liking it, Jennifer liking it, and Randy kinda liked it very much. There was no consensus.
Now, we are being getting a more in depth look at the situation, and they actually filmed them meeting him, and kicking him off. Damn, that just seemed classless, even for Idol. Did they feel better about embarrassing Jermaine publicly like that? Is Nigel that desperate to get screen time? Yikes.
We get back to the action, and
Skylar Laine
, born on February 1, 1994, and we hear she liked to bang her head on things as a kid... The sidewalk, walls, whatever. Odd story, people! We learn she will be singing Bonnie Raitt's great song,
Love Sneakin' Up On You
. This performance is leaving me cold, feeling she is working way too hard to sing it. Steven loved it, and Jennifer thought she did, although she didn't know the song. Ugh. Randy thought she was great. After a break, it is time for
Joshua Ledet
. Joshua was born on April 9, 1992, and is looking to escape his fate from last week, being in the bottom three boys. After a demonstration of how to eat crawfish, sent up by the state of Louisiana. There is an uncomfortable moment when Joshua is peeling crawfish, but not wanting to eat since he is about ready to sing. He will be performing
When A Man Loves A Woman
, Percy Sledge's great song covered by Michael Bolton. Wow, he just over-sang that song more than I've ever heard done before. And there has been a bunch of over-singing on Idol through the years. The judges are loving it, and Jennifer claims it is the best thing on Idol ever, outshining all others, including Kelly Clarkson and Carrie Underwood. This proves she is an idiot. I will move on, and
Hollie Cavanagh
, is next, and was born July 5, 1993, in the UK. They talk to her British parents, and her daddy gets so choked up about her singing. It is cute. She will be singing
The Power Of Love,
a huge hit for Celine Dion.
She does a nice enough job, being all big-voiced and all. Could have used a bit of emotion to it, and there was that last note, which was a miss. Steven loved it, and Jennifer decides that doing her job would be silly, so she refuses to comment on the missed notes, or the lack of emotion. She just isn't mature enough to sing the song other than to imitate Celine. Randy gets the cue, and refuses to do his job, too.
We see the recap, and I am reminded of the performances that didn't capture my interest. With extra time, since Jermaine was kicked off, Ryan asked the judges their thoughts on the performances. When asked who he thought was safest, Randy thinks Joshua Ledet. He thinks Heejun is in trouble. Jennifer thinks Joshua is safest, and Hollie. And Phillip. And Steven, well, he lists almost everyone as safe, and refused to say who might be in jeopardy. For me, I would think Heejun, Shannan and either Erika or Deandre in the bottom three. I hope Erika is safe, for she has a nice voice. But I don't trust the voters....
Tomorrow night I won't be around to write up the result, for I am going to see Tom Goss and Stewart Lewis performing. And I think I will be having a better time. So tune in Thursday night at 8PM for the result, or visit
Rickey.Org
for your updates.