This group, the Top 10, will be spending a lot of time together, for they make up the summer tour. However, it is likely that one of these contestants will have one last week with everyone else, and will be going home tonight. But who will it be? Last night, I suggested the bottom three would be
Heejun
,
Deandre
, and
Hollie
, with a wishful thought from me that
Phillip
would be there. My fear is that the bottom will be populated by ladies, with Hollie, Elise and Erika again in the bottom.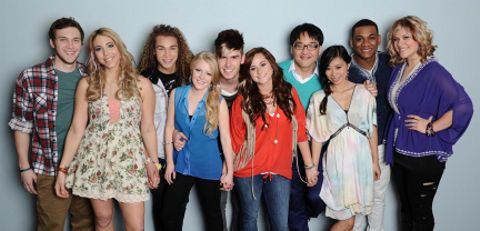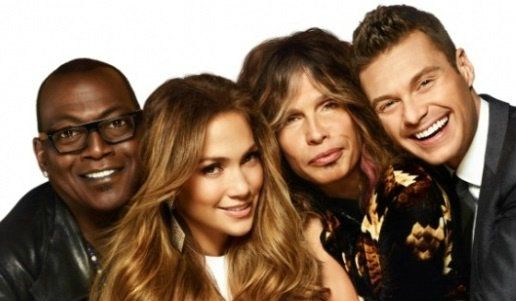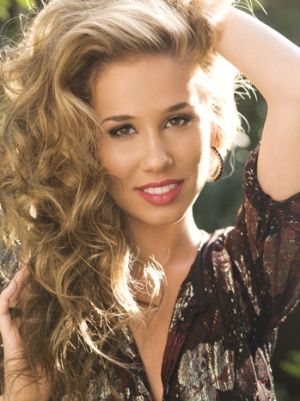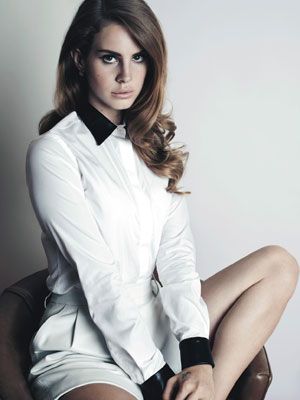 Top: Season 11 Top 10. Middle: Randy Jackson, Jennifer Lopez, Steven Tyler, Ryan Seacrest. Bottom: Haley Reinhart and Lana Del Rey.
In the first six years of the show, the male/female split of finalists for the show was 6-6, while the last 4 years was 6-2. In the first six years, the ladies won 4, while the men took 2. In the last four season, all have been won by the guys. However, we shall see this evening and start to get an idea how this season might unfold. As usual, the show starts off with a quick recap of last night, and the introduction of the judges and Crusty. He tells us about the guest on the show, and introduces the Idols to sing Billy Joel's
The Longest Time
.
It actually sounds better than one would suspect it would. Although I really don't need to see girls perched on Steven Tyler's lap again. No, really. Then we have a Ford Focus Commercial, featuring the Idols singing The Fray's
You Found Me
.
The first contestants called to the stage are
Hollie
,
Skylar
and
Elise
. Jimmy Iovine thinks it was
Hollie
's toughest night so far, but she will stay around. He thinks
Skylar
is stalling, not evolving in the competition. He thought
Elise
was amazing and should not be worried tonight. First we learn that
Hollie
is safe. We then learn that
Skylar
is safe, and so is
Elise
. That is surprising. That also means three of the remaining seven will be in the bottom. After a commercial break, we have a performance by Lana Del Rey. It seems that last week Lana was in town, and had her performance of
Video Games
pre-recorded for tonight's show.
You can find Lana Del Rey's album,
Born To Die
, on
iTunes
and on sale for $4.99 on
Amazon
.
Joe Perry comes out playing
Happy Birthday Song
for Steven Tyler's birthday. Dude stole Colton's hair!
Deandre
,
Joshua
, and
Jessica
are up next,and Jimmy I was not happy with
Deandre
, and could put him in trouble. He was also not happy with
Joshua
, who made several mistakes. He loved
Jessica
, and think she is safe. Now, time for the results.
Jessica
is safe, and hears that Billy Joel enjoyed her version of the song. It turns out that
Joshua
is also safe, leaving
Deandre
in the bottom three.
Last year, Haley Reinhart defied the odds and the judges to finish the season in third place. Often, it seemed she found little to no support from the judges, but much from the audience. Tonight, she returns to the stage with a contract from Jimmy I's Interscope Records, and her debut album coming in May. She sings her new single,
Free
.
Free
was released this week. You can purchase the single on
iTunes
and
Amazon
. You can pre-order her CD on her official website here.
There are two more that must hit the bottom before we know who is up for elimination this week.
Colton
got great reviews from the judges, and Jimmy I and Billy Joel thought he did a great job.
Phillip
was next, and the judges loved him, and Jimmy slaps him a bit for not taking advice.
Erika
had mixed reviews from the judges, but not from Jimmy I - he loved her. Not so much Randy's comments.
Heejun
had bad reviews for the most part, and Jimmy thought it was terrible. Yikes.
Colton
is the first one sent to safety.
Erika
is not so lucky, and is the second in the bottom. She is joined by
Heejun
, as
Phillip
is sent to safety.
After the commercial,
Deandre
is sent back to safety, leaving
Erika
and
Heejun
in danger of elimination. So it is up to the judges to decide, and she sings
I Believe In You And Me
, the Whitney Houston song she sang.
She did a nice job, but we need to hear from the judges, will they use the save? Randy is a total loser, saying, "Unfortunately Ryan, No." Way to show some kindness. She is sent off with the video package as a goodbye. There are tears, and they come out to say goodbye to Erika Van Pelt.