Eric Himan has been a part of my life for several years now, for I have been catching his tour stop in Philadelphia every year, something I am not willing to give up. He returned on July 26, with a show to celebrate the recent release of his new CD,
Supposed Unknown
. I loved it the first time I heard it (reviewed
here
), and it hasn't changed since. I really love the material on the album, and was excited to hear Eric tackle it live. Knowing Eric, I had no real worries, and it proved to be right. His live version of
Save The Afternoon
was just beautiful, and I thought I would share it with you.
Part of the fun of seeing Eric live is the joy and charm of Eric himself, a talented man who has such an ease and affability with the audience you feel like he has invited you into his living room. However, there is nothing too homey about Himan's soaring voice, nor his personal and strongly structured songs. Yet it all comes together to make a wonderfully intimate and glorious evening.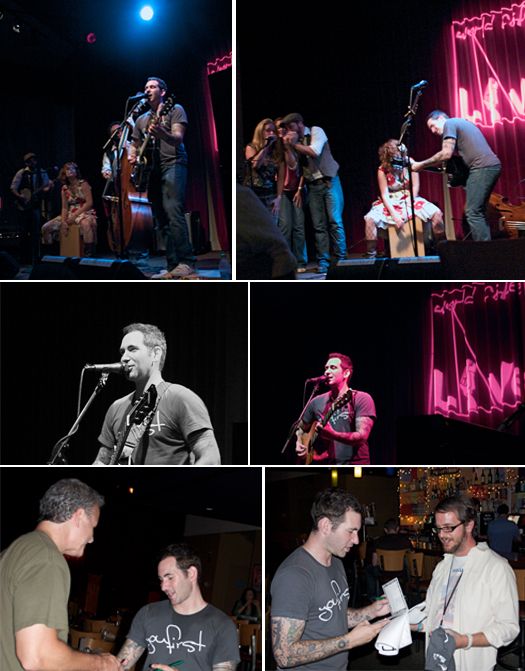 Both Eric and I wore the same t-shirt, one I had purchased from Eric via the internet when it was first made available. I have to say, it looked much nice on Himan, but that should come as no surprise. But the t-shirt is emblazoned with the title to the song I am starting this coverage with,
You First
. It is from the new album, and has a playfulness and a light and airy feel that belies the serious message of the song, that while people might be longing for change, or for rights or ideals, many look for someone else to stand up rather than be heard themselves. Give it a listen.
The next song I feature first appeared on Eric's
Out With The Old
album, which featured songs from Himan's catalog that were reworked for a piano-based arrangement. Well, except for the lone new song,
Gonna Make It Work
. On this album, Eric brings the song back to his acoustic guitar. In performance, he added another layer, mashing it up with the amazing song by The Cure,
Just Like Heaven
.
The next clip features a song originally recorded for the 2008 album,
Resonate
. Oddly enough, I remember attending Eric's show at the World Cafe when he first played the music from the album, and racing to the merchandise table after the show to buy it! While this might be an older song, one can't say Eric is afraid of mixing things up a bit. For this show, he invited Coyote Grace back on stage with him and together they sang the truly beautiful
Only
.
You can find out more about Eric by checking in on his official website
here
. To sample or purchase Supposed Unknown, go to iTunes
here
, Amazon
here
, or CD Baby
here
. I love the new album, but also all his others as well. For my money, it is a safe bet to buy any of them! Just as safe is going to see Eric performing live, for he is so charming, so talented, and so dynamic, I have never been disappointed.