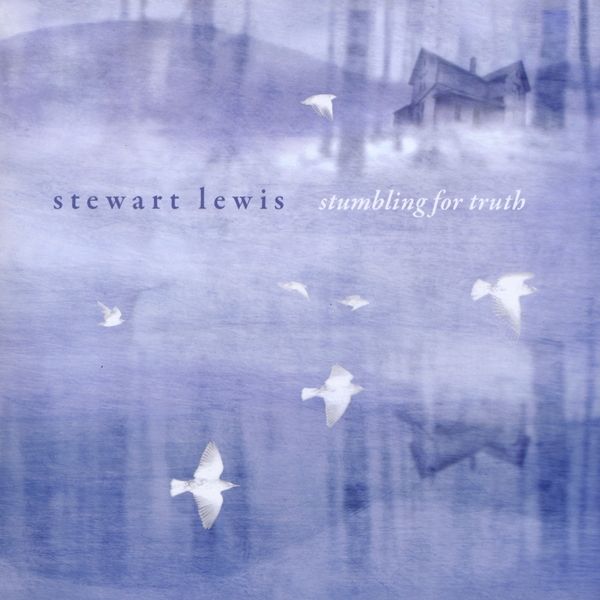 It has been a while since I featured the music of the smart and handsome Stewart Lewis, so I am twice as happy to say not only am I covering him, but it is due to a new release! Somehow or another, I missed the official release for
Stumbling For Truth
, but once Stewart told me about it on Twitter, I had to race over to iTunes to buy it! You see, I've been a fan of Lewis' work for a couple of years now, since I first purchased
In Formation
, and saw him performing live with Jake Walden and Tom Goss on the
Rock The Folk Out
tour. There I bought the rest of his music, and also his novel,
Rockstar
!
The first thing I notice when I start with the 5-song collection was the intimate, more personal arrangement of
Four Lanes To Pittsburgh
, the opening song. While his previous music was rock-flavored Pop, the latest has a more acoustic folk feel. At the core of it, the song has a personal feeling, like Lewis is sharing a slice of his life with me. And then
Leave Me
kicks in, with the bluesy feel that has a real sexy feel to it. And only Stewart can fill a love song with 'you cannon fuel a dying star.' I have to say, I am loving this song. The third track is
Rags And Bones
, which has this odd retro feel, like it was a folk song with a strong acoustic take that makes it timeless. The fourth cut is another strong folk song, only with an airier feel, a bit more billowy.
Careful Out There
is the fourth cut, which melds the folk with a Pop feel to offer a slightly ethereal movement. The chorus is just so lovely. We are come to the last cut,
House On A Hill
, with a rootsy feel set with the opening strains of the guitar. The feeling on this one runs deep, and there are moments when the arrangement offers a Country appeal. When the song if over, I realize all five songs have been heard, and it seems like no time has passed, and I want to hear more.
So far, there is no video for any of the songs from the EP, so I can't help you out there. You'll just have to trust me, and buy this. For less than $5.00, you get an excellent album. For more about Stewart Lewis, check out his FaceBook page
here
or his official page
here
. You can find it on iTunes
here
and on Amazon
here
and you can either download or purchase a physical CD at CD Baby
here
. You can preview the songs there. But what I can leave you with is an acoustic version of
Shine
, a song from his last album,
In Formation
.