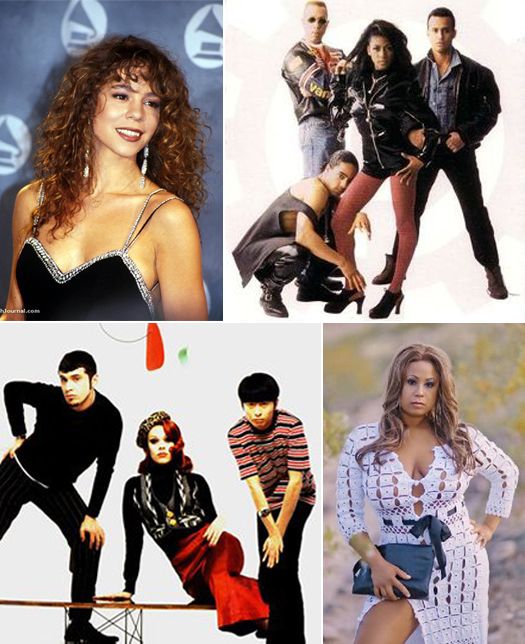 Clockwise: Mariah Carey, C+C Music Factory, CeCe Peniston, and Deee-Lite.
It is Friday night, and time to hit the clubs! What, you can't go out tonight? Not to worry, I'll bring the music to you. That is, if you don't mind dancing to the hits of twenty years ago. for instance, the #1 song on the Billboard Hot Dance Club Play chart for the first two weeks of 1991 was
The Power of Love
by the ingenious Deee-Lite. The song was off the debut album, World Clique, made by Towa Tei, DJ Dmitry, and the amazing Lady Miss Kier.
A few months later, Mariah Carey released the third single off her self-titled debut, and on March 16, 1991,
Someday
was on top of the Dance chart. The song not only topped the club chart, it made it all the way to the top of the Billboard Hot 100.
For two weeks at the end of summer, C+C Music Factory presents Freedom Williams & Zelma Davis ruled the Dance chart with
Things That Make You Go Hmmm
. For the weeks of August 31 and September 7, 1991, it was perched at #1. The song made it to #4 on the Billboard Hot 100 as well.
And as fall changed to winter, a new singer was breaking out on the scene when her first single grabbed the attention and interest of the clubbers. For the weeks of October 26 and November 2, 1991, CeCe Peniston was singing her heart out on
Finally
. Just barely 22 years old, Peniston was letting her voice be heard, and the exposure at the clubs was leading to airplay and sales, and the single went to #5 on the Billboard Hot 100 chart as well.
Hope your volume was loud and your moves were bold.