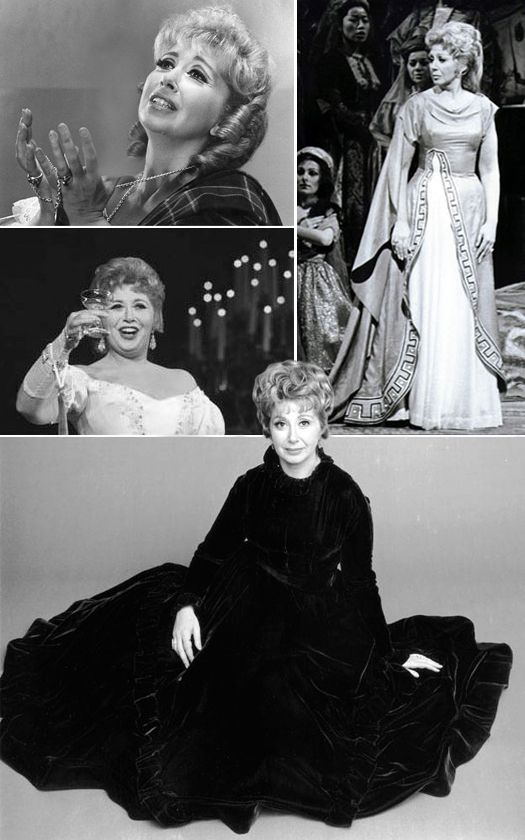 Thought I would mix it up a bit this Sunday morning, and bring a touch of opera for us all to enjoy. Beverly Sills performed around the world during the 50, 60s and 70, retiring in 1980. Upon her retirement, she took over the reigns of the New York City Opera, which she brought from a financially troubled company to one that flourished. Later, she moved on to run Lincoln Center, and, finally, The Metropolitan opera, an institution that had refused to hire her for most of her career, forgoing casting Americans in favor of European singers.
Sills always had an earthy warmth to her personality, and was beloved by many. She not only sang at the big opera houses, she also went on TV talk shows to performance and to chat with the hosts, as well as sing in smaller houses, opening up the audience of opera like few had even tried before. I remember seeing her on the television making music that seemed so very foreign to me. During her appearances, her charm with the hosts made me no fear they music, but instead to appreciate the talent and control.
In 1974, Sills appeared on
The Tonight Show starring Johnny Carson
. She performed
Estrellita
by Mexican composer Manuel Ponce.
This performance of
Follie!....Sempre Libera
was filmed in 1976 at the Wolf Trap Festival. She appeared in Giuseppe Verdi's
La Traviata
with tenor Henry Price. It was a role she was well-known for singing, excelling at it.
In her attempt to draw more people in, Sills would also sing some of the 'popular' music, including the songs from Broadway as well as the Great American Songbook. Here is a clip of her singing
All The Things You Are
, the great song composed by Jerome Kern, with lyrics by Oscar Hammerstein II. The song debuted in the 1939 musical,
Very Warm For May
. This clip is listed as from 1973, although I am not sure form what show it was pulled from.
On July 2, 2007, Beverly Sills passed away after a battle with lung cancer. She was 78 years old. I hope her voice and her grace has brought a bit of peace to your Sunday morning.