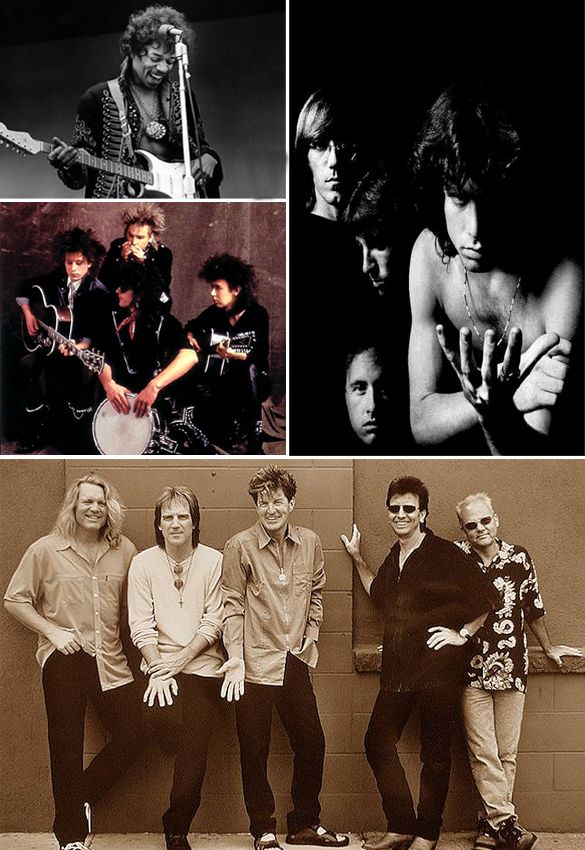 Clockwise: Jimi Hendrix; The Doors; REO Speedwagon; and The Alarm.
Rocking out while preparing for the arrival of Hurricane Irene, I was thinking I would try to rock her out to sea. So while racking my brain about songs, this is the weather-intensive rockers I came up with. I will lead off with one of the grand-daddies of them all,
Riders On The Storm
by The Doors. The song was released in 1971, and made it to #14 on the US Billboard Hot 100.
While Jimi Hendrix never released
In From The Storm
as a single. In fact, it didn't make it on to an album while he was alive, although he did play it in concert. But the Guitar God has had the song included on many of the posthumous collections. Here is a clip of
In From The Storm
.
Well, REO Speedwagon released their second single in 1973.
Ridin' The Storm Out
was the title cut from the album of the same name, and was so characteristic of the Midwest rock songs of the era. Check it out.
In 1984, one of my favorite bands were the hard-rocking Welsh group The Alarm. Always riding the fine line between Punk, Rock and Alternative Rock, they never failed to disappoint me. Check out there hard-rocking
Where Were You Hiding When The Storm Broke
, which seems so perfect for this weekend!
Be strong, East Coasters, and stay safe!