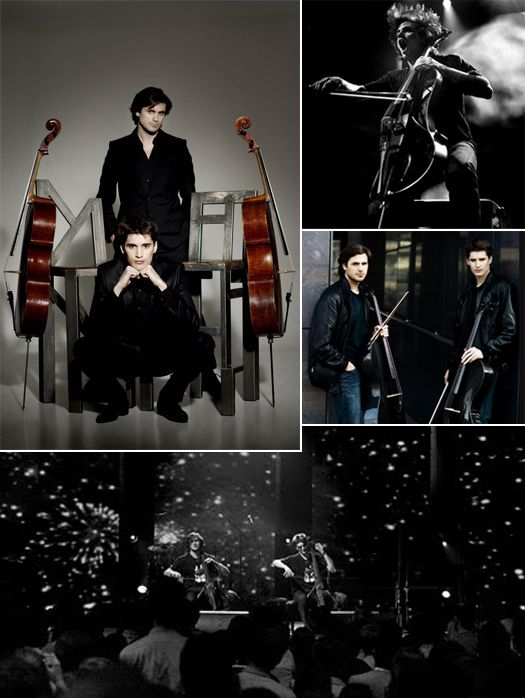 Nirvana. Guns 'N Roses. Micheal Jackson. Shostakovich. The Cello. New Classic Rock. Have I lost you? Well, when Luka Sulic and Stjepan Hauser play together, they go by the rather descriptive name of 2Cellos, and that string of words makes sense. The Croatian duo first took YouTube by storm, using a video of a song by the King of Pop to conquer the world. Soon, they were signed by Sony Masterworks, getting an album out, and touring with Elton John, opening his show. All the while, the boys were putting the classic back in rock, playing their cellos with a strength, passion, and talent that is hard to miss. And, of course, their dashing good looks.
Both Sulic and Hauser are classically trained cellists, and in fact went to school together, and often had to compete while playing at school. Now, instead of competing, they are playing together, making some incredible music. One of the things I love about the first clip I will bring to you, is the interpretive nature of their work. While you will be able to clearly recognize they are playing Guns 'N Roses
Welcome To The Jungle
, it certainly doesn't sound as if they are just imitating Slash. No, they are bringing something of their own to this very special song.
And if I thought Welcome To The Jungle was cool, I was blown away by their version of Nirvana's
Smells Like Teen Spirit
. I don't know if it is just the nature of the cello, but their
Teen Spirit
has an even greater moodiness, increased sexiness, and an almost heightened intensity that drew me in immediately.
But this was the video that started the sensation that is 2Cellos, Michael Jackson's
Smooth Criminal
. Within two weeks of the video being posted, it had over 3 million views, and grabbed a great deal of attention for Sulic and Hauser. Soon they were appearing on the Ellen Show, and with Perez Hilton. But first, there was the music.
In many interviews, both Sulic and Hauser maintain they have no plans on leaving Classical music behind, but instead would like to get to a place where they can play both the Pop songs and Classical compositions. Here is a clip of them playing their arrangement of
Prelude
by Dmitri Shostakovich.
For more about 2Cellos, check out their official website
here
. You can find their album on iTunes
here
, and on Amazon
here
. For me, this album is a breath of fresh air, bringing new beauty to the aural landscape. They combine the beauty and finesse one would expect to hear and feel from classical musicians, with a power and strength that, at times, exudes masculinity. Along with the above, I love their covers of U2, Sting and Nine Inch Nails, although I could have done without the Coldplay song. I am so glad this is a part of my music collection.