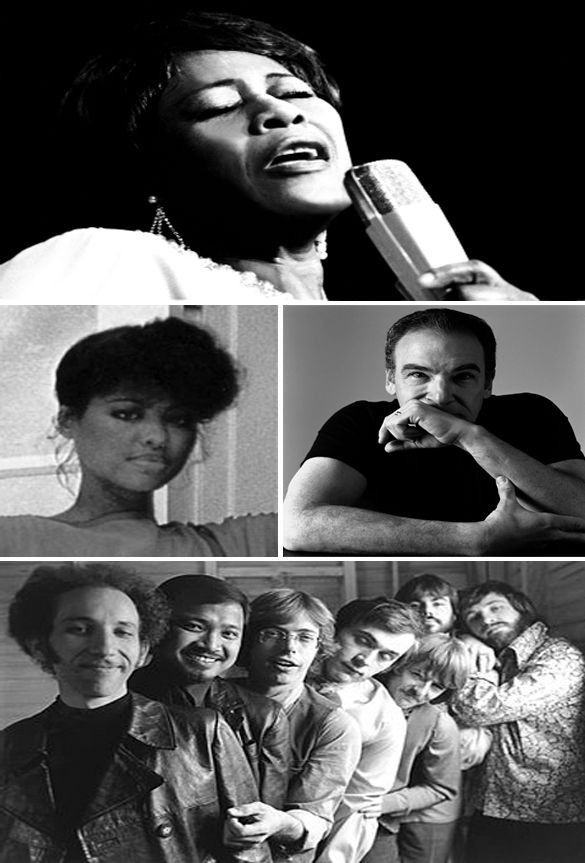 Clockwise: Ella Fitzgerald; Mandy Patinkin; The Association
;
and Phylis Hyman.
By the time this posts, we could very well be in the thick of things in the Mid-Atlantic area, being pummeled by Hurricane Irene. If so, I can think of no better post than to have some talented Jazz & Pop artists take on the atmosphere. First up is the incredible Ella Fitzgerald singing a song most associate with Lena Horne,
Stormy Weather
. I love Ella's version!
The Association are not Jazz, but are Pop, and do have a song that occurred to me while thinking of this post. They had a #1 hit on the Billboard Hot 100 with
Windy
.
Well, it is hard to beat the smooth and strong voice of the amazing Phylis Hyman, and I was happy to include her in this mix. Here is Phylis singing
Here's That Rainy Day
.
Looking for the storm to end, I wanted to have a great 'rainbow' song. While I was looking, I came across this version of Mandy Patinkin singing I'm Always Chasing Rainbows, and knew it had to be included.
Hope everyone is staying safe!