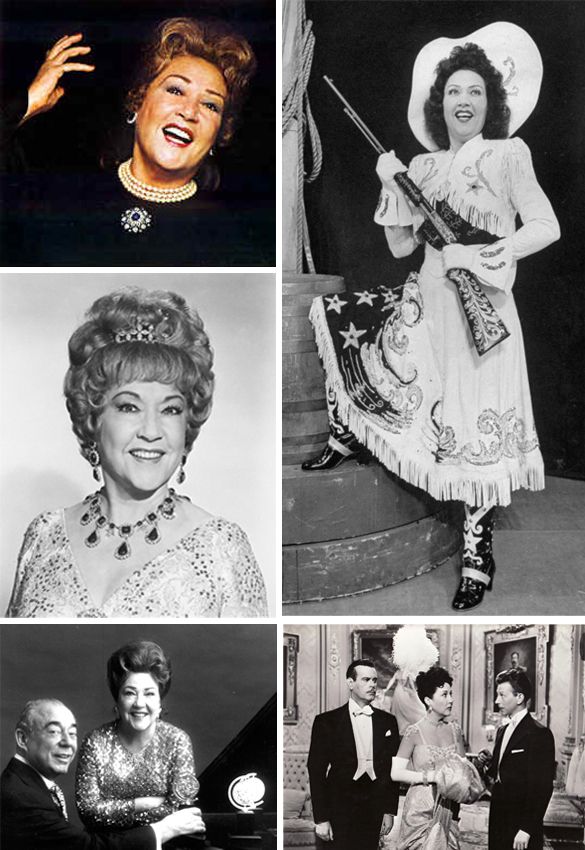 For many people, the voice of Ethel Merman was the definitive Broadway belter. Certainly, once you've heard her, you never forgot her, and realized there was no one else like her. And once she left us in 1984, we quickly came to the realization there would be no more like her. She was unique, a truly special individual talent. She was a box office tour de force, starring in show after show that were no only successes, they became some of the standout shows of the 20th century. With starring roles in such vehicles as
Girl Crazy
,
Anything Goes
,
Annie Get Your Gun
,
Call Me Madame
,
There's No Business Like Show Business
,
Gypsy
and
Hello Dolly
, how could she be looked upon as anything short of legendary.
In 1979, Merman appeared in a television special focusing on Broadway. Merman was 71 at the time, yet still performs with such gusto and bravado, you can't help but want to leap to your feet as she is finishing. She sings
Anything Goes
, after being introduced by Sylvia Fine Kaye, composer and wife of star Danny Kaye.
The song is from the 1936 film
Anything Goes
, which featured music and lyrics by the amazing Cole Porter. Merman starred in the Broadway premier in 1934, and later in the 1936 Hollywood film. This is a song from the show, using a clip from the film. This is
You're The Top
with a very young Frank Sinatra.
Few could ever try to compete with her performance as Mama Rose in
Gypsy
. With music by Jule Styne and lyrics by Stephen Sondheim, a book by Arthur Laurents, and directed by Jerome Robbins, the highly anticipated musical based on the memoirs of stripper/burlesque queen Gypsy Rose Lee. Merman's performance was memorable, and lauded by the critics. Here she is on a television special singing
Everything's Coming Up Roses
. The special was in 1982, and was one of the past times she sang in public.
In a side note, I have to point out I have seen countless drag queens performing as 'The Merm,' which only added to my love for her. And I hope that continues!