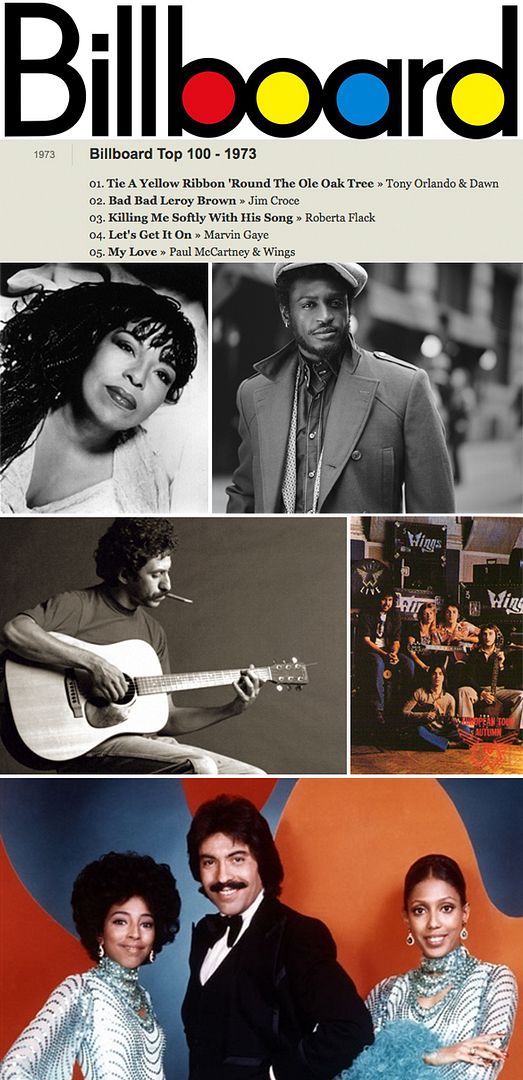 Clockwise: Roberta Flack, Marvin Gaye, Paul McCartney & Wings, Tony Orlando & Dawn, and Jim Croce.
When you look back at 1973, it was quite the tumultuous time in America, with national politics going through things no one ever thought possible. In January, President Richard Nixon held his second inauguration. Shortly thereafter, he announced the end of the involvement of US troops in Vietnam, a military action that had begun almost a decade earlier on the orders of President John F. Kennedy. But the honeymoon was soon over, as the Supreme Court ruled on Roe V. Wade, legalizing abortion in the US, and evidence was building in the Watergate Scandal. Vice-President Spiro Agnew was convicted of tax evasion, and Rep. Gerald Ford of Michigan was confirmed as his replacement. And in December, the American Psychiatric Association removed homosexuality from the list of psychiatric disorders. So perhaps it is with all this news coming 'round every corner, both political and social, that the musical tastes tended toward the escapism of fun Pop music. The #5 song from 1973 reached #1 on the US Billboard Hot 100 chart in March. McCartney wrote the song about Linda, his wife and bandmate. Here are Paul McCartney & Wings singing
My Love
.
Now, I think that Marvin Gaye is a gifted and strong songwriter. Still, I am not sure how the next song made it this high on the charts, no matter how much I love it.
Let's Get It On
made it to #1 on the Billboard Hot 100 in September for 2 weeks, topped the Soul chart for 8 weeks, and became the most successful single to come out of Motown. The song was sexually charged, and performed perfectly by Gaye, blending earnest feelings with hyped up desire. While I would think the materials was a bit too much for many, it was just right in 1973.
Coming off the success of
First Time Ever I Saw Your Face
, Roberta Flack was riding in rarefied air, to be sure. She was first known for her gorgeous duets with Donny Hathaway, but soon came into her own as a soloist with a stunning voice. She sang with Donny on
Where Is The Love
, which sent to #5 on the chart, but soon released
Killing Me Softly With His Song
, which brought her back to #1, this time for an impressive 5 weeks.
A boy from South Philadelphia, Jim Croce was singer/songwriter of note, parlaying his own music into a string of hits in the early 70s. He was certainly in line to reach superstar status, and in July he had his first #1 song on the Billboard Hot 100,
Bad, Bad Leroy Brown
. The song spent two weeks atop the chart, and was also nominated for a few Grammy Awards. Unfortunately, it was the only #1 Croce knew, for he was killed in a plane crash in September of the year, and his next success with
Time In A Bottle
came after his death.
The success of the top song for the year comes as no surprise to anyone who was alive that year. In a time of war in foreign lands, a war much of the country did not understand or support, when Tony Orlando &
Dawn sang Tie A Yellow Ribbon 'Round The Old Oak Tree
in support of the prisoners of war and soldiers still needing to come home, the public flocked to buy the single. It went to #1 on the US Billboard Hot 100 in April, and spent four weeks on top. In 2008, Billboard ranked the song as the 37th biggest song of all time in its issue celebrating the 50th anniversary of the Hot 100.