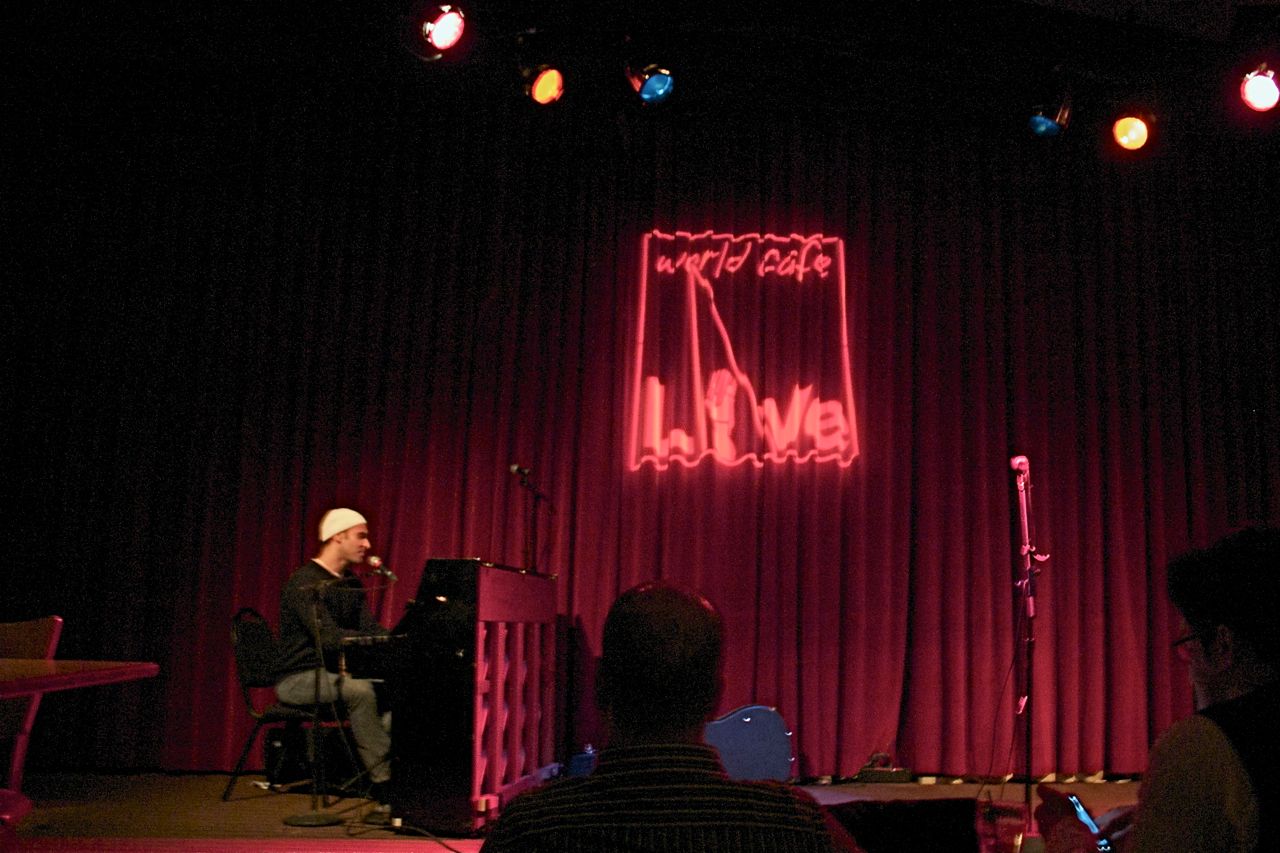 Top: Jason Antone; middle: Levi Kreis; bottom: Eric Himan.
Sometimes, I think I am leading a blessed life. I was able to catch the SideXSide Tour in Vienna, Virginia, earlier. The tour features Tony-winner Levi Kreis, multi-award-winning Eric Himan, and Billboard recording artist Jason Antone. This was the first time I was able to catch Levi performing his own music, having previously seen him in
Million Dollar Quartet
on Broadway. I have been lucky enough to see Eric Himan every time he comes to the area, cause I just love his music. It was also my first time seeing Jason Antone, although I did download his album before going, just to get to know his music. You can catch my review
here
. On January 3rd, the tour stopped in Philadelphia, and I couldn't resist, I saw them again. And man, was I glad I did. I was splitting duty, taking pictures and videos, all with the hope I'd end up with something to share with my readers. Luckily, there is a bit of both! Here is a montage of the music for the evening.
Now, there are two reasons for my joy. First, I caught the show with my sister, niece, two cousins, and a cousin's nephew, making for a great family outing. Second, the chance to see amazing out performers is something no one should pass up. And you know, they were even better the second time around. All three seemed more at ease, and all were in top form.
Once again, the show opened with Jason Antone performing 3 songs, starting with a really nice acoustic version of
Everybody Wants To Rule The World
. The first thing you notice about Antone is the fact he is just incredibly good looking, and you could hear the buzz in the audience when he came out, both the men and the women. Antone has scored a couple of top singles on the Billboard Dance charts. For the next two songs, he performed his own music, which I didn't recognize from the album I have, and so I will give them the names I think they should have - I wrote to ask Jason, but haven't heard back yet. The second song,
I'm On My Way
, is a lovely ballad, with a nice uplifting message. His final number,
What Too You So Long
, picked up the tempo, and showcased a really nice falsetto. When playing acoustic, Antone shows a vulnerability that isn't as obvious in his dance-oriented recordings. He showed some really nice range in his quick set. Here is a full clip of the second song.
Jason also got to introduce the next performer, Levi Kreis. I remember catching Levi on an episode of
The Apprentice
, and instantly tried to find out more about him. That lead me to purchase his first album,
One of the Ones
. I've been hooked since, and purchasing all his material. He is the reason I went to see him play Jerry Lee Lewis in
Million Dollar Quartet
, and his performance was most certainly worthy of winning the Tony Award. So I was really excited about getting to see him do his own material once again.
Once again, Levi kicked the show off with a couple of cover songs, both of which suited his amazing voice so well. First he did Merle Haggard's
My Favorite Memory
, which showcased a deep and rich bottom end to his voice. He then went into Ray Charles'
Hallelujah, I Love Her So
, which was also covered by Jerry Lee Lewis. It is a great song. But then the evening really took off, as he went into his own music, and some great stories about his career to date. That is when the show took a more intimate turn, one that was not only welcome, but refreshing as well.
Levi seemed even more comfortable in Philly, and was asking the audience for song suggestions, which he later laughingly regretted. Levi also had the assistance from a member of the audience who found the lyrics to a song he hadn't played for a while. He played
Gabriellle
from
Bygones
,
Just This Good
and
I Should Go
from
One of the Ones
,
The Reckoning
,
Standing Tall
and
We're Okay
from
The Gospel According To Levi
, and
Gonna Be Alright
from his latest album,
Where I Belong
. He tied them all together with wonderful stories, both factual and personal, and all full of wit and charm. The show ended with
Standing Tall
, which had the audience clapping along. I am just amazed the way Levi can use his voice to perfection, all the while singing with a bluesy and soulful way that communicates to well. Here is another compilation, this time including some of his interaction with the audience.
As he had in Vienna, Eric Himan closed out the show with a strong set, and again, he seemed to top the last one as well. He was introduced by Levi, and the two had a warm embrace before Kreis left the stage. Like Kreis, Eric has a wealth of material to pull from, with several albums of strong songs written by the singer/songwriter. He kicked it off with a new song, one he hadn't ever performed live before. While he mentioned being nervous prior to starting, with a request to keep it just between us, you certainly couldn't tell once he began. In fact, he sang a total of 4 new songs on the evening, all making me hunger to get the new album this Spring. In fact, Himan played 14 songs in his set, 12 of his own, and 2 covers. One of my favorites of the night was the beautiful and touching
No Urgency
, from his
I Go On...
album, released in 2002.
But Himan is never one to keep it too safe, so he kept up a rather interesting mix of rock and up-tempo songs as well as ballads. He shared his time between the guitar and a more recent addition to his arsenal, the piano. While he mentioned he was recovering from a cold, you certainly couldn't hear it in his voice, which is always remarkable. Take, for instance, his cover of the Simply Red song
Holding Back The Years
. He had included it on his album
Dark Horse
, the only cover he has recorded. At the show, he played it in a mash up with Fleetwood Mac's
Rhiannon
. At first thought, it might seem a bit odd, but in performance, it was beautiful.
Himan also did an amazing cover of Jefferson Airplane's
White Rabbit
, which had the audience cheering. There were also favorites of his own oeuvre, like
Little Boy Blue
,
Wish You Would
,
Clyde
and
White Horse
. After singing his 4th new song of the night, Eric ended the show with a big "Happy New Year" to everyone.
After the show, Eric stuck around to sell some CDs, and touch base with the fans. As usual, I was eager to see him and tell him how, once again, he raised the bar with another fantastic show. I was a bit disappointed to hear Levi and Jason hadn't stuck around, instead caught a train back to New York. Since I didn't get the chance in Vienna, I wanted to tell them how much I appreciated their performances. Hopefully, they'll read this and figure it out. But I did get pictures of family with Eric, who is always a good sport about that. I didn't get one with me, cause, well, I am a little bored with seeing my own picture at the moment. And I have several shots with Eric, although I would bet next time, I won't be passing up the opportunity.
Top: Kathy, Eric & Mandy. Bottom: Margie, Kathy, Eric, Jeff & Eileen.
If I could, I don't think I would pass up the chance to see them on the final stop of the tour, when they are performing at Joe's Pub in New York City on February 28th. If I could, I would go again. But if you are in the area, I would be taking the opportunity to see some great artists and hear some amazing music. If you want to check it out, you can see about tickets
here
. For more about the artists or listen to more of their music, you can click on there name:
Levi Kreis
,
Eric Himan
and
Jason Antone
.